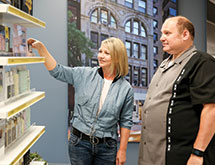 The connotation of the term "blowout" varies based on the industry. In tire care, blowouts are bad, but in hair care, they are good. In fact, they are at the heart of one of the fastest-growing phenomena in the beauty industry: a company named Drybar. 
Instead of having their hair cut, customers can have it shampooed and styled for professional results at Drybar locations nationwide. To provide customers with the Drybar experience at home, Drybar sells customers the same dryers, curling irons, presses and hair care products that they use in their 40-plus shops.
Drybar's product Line of electrical tools and liquid products are in full distribution nationwide – not only at Drybar locations (over 50 by year-end) – but also at all Sephora and Nordstrom locations in the United States and Canada, on QVC frequently and direct to consumers at www.thedrybar.com. This is managed by Drybar's supply chain department led by its director, Jeff Goad.
"As a company, we really have two revenue streams," Goad explains. "We have retail services, which is what the company was built on in 2010 when it was founded. We now have over 40 shops across the country doing 120,000 blowouts monthly. Our products and tools, created by our founder and longtime stylist Alli Webb, were developed with the same singular philosophy as our service business – to help achieve and maintain the perfect blowout.
"So the same products and tools we use in our shops can be purchased for use at home by our clients between visits," Goad continues. "We have a supply chain of curling irons, hair dryers, brushes, shampoos, conditioners and treatment and styling products. When the supply chain was born in March of 2013, I left a leadership role at Neutrogena–Johnson & Johnson to join this exciting, fast-paced, high-growth brand." 
East and West
The duality of Drybar's revenue stream carries over to its supply chain. Electrical products such as hair dryers and curling irons are shipped from manufacturers in China, while many of the liquids are manufactured in the United States. "Tools and brushes come over into New York and into our warehouse in New Jersey, and multiple liquid manufacturers are located across the country, some on the East and West Coasts and the Midwest," Goad says.
All Drybar products are distributed from the New Jersey warehouse to Drybar locations throughout California, New York, Texas, Georgia, Arizona, Illinois, Massachusetts and Washington, D.C. Drybar also has a third-party warehouse in Los Angeles through its transportation partner, PGS, as a back-up for emergencies. Drybar is a true omni-channel brand with distribution into Sephora's U.S. and Canadian distribution centers as well as Nordstrom and QVC's U.S. distribution centers around the country.
Although many of the company's initial contacts at manufacturers were on the East Coast, Goad anticipates eventually establishing a West Coast distribution center and a partner in Canada if the company's distribution there becomes large enough. 
"When we have that, we can look at more sophisticated forms of transportation," Goad says. "Right now, we're basically doing truckloads to Sephora, Nordstrom and QVC, but UPS pick-and-pack for our shops, because many shops are in areas where you can't take a truck – malls or locations where you wouldn't drive a truck in. We also ship direct to consumers via UPS through www.thedrybar.com, and like everyone, we are watching if the use of drones will be applicable for our brand."
One of the difficulties of shipping Drybar's products is that some are in aerosol cans. "Over a third of our business is aerosol," Goad estimates. "Aerosols in some municipalities are considered dangerous goods. You can't air-ship them cheaply. It takes five days ground to get aerosols out to the West Coast." The company is also examining various enterprise resource planning systems that will be integrated into each store's point-of-sale system, as well as links to its suppliers and big-channel customers like Sephora via electronic data interchange.
Goad attributes the company's success to its loyal customers. "We've been able to hang on from a customer service standpoint during the growth curve of doubling every year since launch and still do the things we want to do from a quality and offering perspective," he says. "People are fanatics for this brand, and our job is to deliver the amazing Drybar experience to their homes."