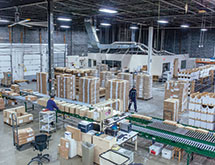 Founded in 1984 by Eileen Fisher, the Eileen Fisher Inc. company and clothing line was begun with $350 and a vision of creating simple shapes that could integrate with each other seamlessly. The company's mission is to inspire simplicity, creativity and delight through effortlessly chic and modern clothing for women. 
"As a socially conscious company, we are a pioneer in eco-fashion design and support global initiatives that empower women and girls," Vice President of Distribution Khaja Khateeb says. "The brand is known for timeless design, clothes that are simple, modern and always relevant." 
Eileen Fisher Inc.'s goal as a company is to help women solve their fashion problems through collections of clothing that take the guesswork out of dressing.  Offering comfortable, simple, beautiful and high-quality clothes helps women dress with ease and focus on joyfully living their lives. 
"Eileen also created the concept of 'business as a movement,' which recognizes that businesses can have a positive impact on how they view and care for human beings and the Earth," Khateeb says.
Seeking Synergy
The company has expanded into a half-billion dollars in sales over time. Maintaining and strengthening vendor relationships is a top priority. More than 20 years ago, the company only had a few vendors; now there are more than a dozen internationally. 
"We  work to understand the true impact of our supply chain on the environment, and we are consistently working to develop new relationships," Khateeb says. 
For many companies, creating and implementing efficiencies that are positive for the environment by enlisting sustainable practices are critical issues. Additionally, the consumer has more awareness of the impact their purchasing behavior has on the environment.
"We believe in business as movement, prioritizing positive environmental impacts against our business goals," Khateeb says. 
When evaluating new vendor partnerships, the company ensures that they share the same values such as women's empowerment and environmental issues. The emphasis on these values extends from finding new manufacturing vendors to the right employee candidates.
"We pride ourselves on mutual respect and trust with our vendors, making sure they understand the values of our company as well as Eileen's vision," Khateeb says.
Its relationship with ABCO Automation is the perfect example of a positive supplier/vendor relationship. The companies have worked together in a relationship that embodies mutual respect and collaboration. The partnership provides Eileen Fisher Inc. with valuable expertise on logistical issues. ABCO assisted the company with key investments into its distribution center and  helped the company study labor management. 
Ongoing Improvement
Eileen Fisher Inc. has established itself in all channels of distribution. It is also exploring how new technology can provide stronger operational efficiencies. 
One of its most vital technologies concerns its warehouse operations. With its global expansion, Eileen Fisher Inc. wanted to find a company that was established and trustworthy, and would align with its brand values. In March 2014, it began working with Manhattan Associates on a new warehouse management system.  
Other investment areas include installing new energy-efficient lighting to increase the efficiency of the company's picking and packing system. The company also implemented a new recycling initiative and installed a 500-kilowatt solar power system at its distribution center in Secaucus, N.J. 
Eileen Fisher Inc. also recently took over the wholesale business in Canada from Se Ce Apparel Ltd. By taking the wholesale account under its umbrella, the company believes it has become the eyes and ears of the Canadian consumer.
Eileen Fisher Inc. plans to analyze the benefits of recent investments and pursue organic growth domestically and internationally, moving forward with those companies that align with its brand.  
"Our priorities include a focus on retaining our customer base and welcoming new customers into the brand," Khateeb says. "Global expansion is an opportunity, and we continue to explore growth while building a sustainable business model."