Alabama State Port Authority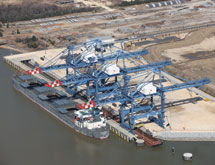 As the ninth-largest U.S. seaport by total volume, the Alabama State Port Authority in Mobile, Ala., has a statewide economic impact of $7.9 billion. In addition, the port is responsible for the direct and indirect employment of nearly 67,000 people.
The Alabama State Port is one of the most successful ports in the Southeast because its container, general cargo, Ro/Ro and bulk facilities have convenient access to two interstate systems, five Class 1 railroads and nearly 15,000 miles of inland waterway connections.
Under the tagline, "Well-Equipped for Lifting Entire Industries," the Al­abama State Port continuously seeks ways to improve efficiencies, generate employment and derive the largest economic impact possible, the organization says.
In late October 2010, the Alabama State Port Authority Board of Direct­ors approved a $360 million port-wide infrastructure im­provement program.
The infrastructure improvement program is ex­pect­ed to attract new business to the area, gen­erate new jobs and increase state and regional shipper competitiveness through efficient transportation and terminal solutions, the Alabama State Port Authority says.
Based on recommendations from the port's staff as well as market assess­ments for short-term and long-term growth, the infrastructure im­prove­ment program serves as a comprehensive seaport investment package. Its goals are to:
Construct new interchange and inter­modal rail yards;
Build a new warehouse and make cargo yard improvements to serve a burgeoning steel business;
Execute cargo terminal improvements that will accommodate growing regional exports and deep-water oil- and gas-field production service industries; and
Secure future public seaport expansion in the state.
"The program's estimated $360 million would be expended in phases over the next five years as needed to accommodate our growing business," Jimmy Lyons, director and chief executive for the Alabama State Authority, said in a statement.
Officials with the Alabama State Port Authority estimate that some of the projects underway at the port could generate 2,000 permanent new jobs within the port alone.
As of September 2011, Alabama's unemployment rate was at 9.8 percent, a 0.1 percent drop from the previous month, according to the Alabama De­partment of Industrial Relations.
Prior Successes
The 83-year-old Alabama Port Auth­ority underwent a similar infrastructure improvement program at the turn of the 21st century and found tremendous success, Lyons said.
"Back in 2000, the state docks identified a series of new infrastructure and seaport modernization programs that successfully leveraged a $100 million infusion of capital into $700 million worth of port improvements and attracted new manufacturers to our region," he commented.
The benefits of the infrastructure improvements to the port were plentiful he said. Aside from generating numerous job opportunities for local people indirectly and directly, the infrastructure improvements made at the port attracted prominent companies and well-known organizations to the area. This, in turn, fueled Ala­bam­a's economy even further by generating additional jobs.
"That funding over the past 10 years not only modernized or created new public port assets, but also was integral to attracting global players," according to Lyons.
These include:
APM Terminals
International Shipholding Corp.
Hyundai
ThyssenKrupp
SSAB
Berg Spiral Pipe
INEOS Phenol
Aker Solutions
"These companies, in turn, generated tens of thousands of construction jobs and an estimated 7,500 permanent jobs in our local region," Lyons ex­plain­­ed. "Now, we need to look forward to the next 10 years."