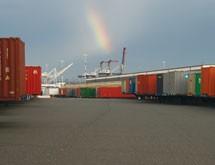 GSC Logistics boasts 23 years of success operating out of the Port of Oakland, Calif. However, the operation's business skyrocketed at the turn of the century when two of its co-founders, Andy Garcia and Scott Taylor, fully embraced the dawn of the Internet Era at its inception.
"We determined in 1999 that with the advent of the Internet, information was becoming more and more important," Taylor says. "Public warehousing was on its downside, and we realized that the Internet was an important opportunity to get involved in. It was the turning point of our business."
Back then, Taylor says GSC was the obvious leader in information technology as the company's competitors at the port glacially accepted the Internet Era. While the competition stagnated, GSC added web-based capabilities like deconsolidation and trans-loading to its already robust import/export business.
"No one else at the Port of Oakland at that time was sophisticated enough with their infrastructure, organization or financial wherewithal," Taylor says.
Since 1999, GSC Logistics has provided myriad logistics services to high-profile clients that include JCPenney, Crate and Barrel, Hewlett-Packard, Medline Industries Inc., Safeway, and "K" Line America.  As one of the dominant players at the Port of Oakland, GSC handles more than 15 percent of all imports that come through the port, which for the port surpasses 2.2 million 20-foot-equivalent-units (TEU) ocean containers annually. The port's operations are split 51/49 percent between exports and imports, respectively.
GSC offers deconsolidation and trans-loading services in northern California, along with transportation services throughout California and in the Seattle and Tacoma, Wash., regions through Best Way Trucking.  GSC acquired the Seattle-based intermodal and transportation services company in June 2011.
One reason GSC made the acquisition is because of Washington's more liberal weight limitations on trucks. In California, weight is limited to 80,000 pounds, but in Washington, rigs with triple axels in the back can pull as much as 105,000 pounds.
This translates to large loads being shipped with fewer trips across the ocean. If GSC wants to ship 150,000 pounds' worth of cargo from California, the company can send loads that weigh between 40,000 and 45,000 pounds at a time, which means as many as four ocean containers are required.  If shipping out of Seattle/Tacoma, GSC can load as much as 60,000 pounds in one ocean container, requiring only three ocean containers to ship 150,000 pounds.
"Our customers reduce their ocean traffic freight costs by using the heavy-weight container shipments," Garcia says.
New Ventures
GSC launched its intermodal drayage division last summer to support railroads with its transportation equipment. Through this division, product generated by GSC's deconsolidation facility at the Port of Oakland is transported via rail containers to the railroad yards throughout northern California.  Taylor says GSC expects this division to boost business by 8 to 10 percent in its first year.  
"We are providing transportation support to get product to its destinations in the Midwest or Northeast," Garcia says. "The railroads serve as transportation links, so it is no different than the maritime industry. It performs the same purpose except it transports across mainland United States."
Aside from organic growth, GSC is investigating acquisitions that can expand the company's reach in markets it already serves. Garcia says since the company already picks up domestic products throughout northern California, integrating those items with import commodities is a natural fit. Additionally, the company is already engaged in temperature controlled transportation, supporting retailers throughout northern California.
Technological Upgrades
Along with expansion, GSC Logistics is on the cutting-edge of the latest technological advances in its industry. Taylor boasts of the company's transportation management system, which was designed by Trinium Technologies. The company prefers this system because of its modules, which include an availability manager, mobile communication and web access to give customers the information they need to help manage their own business.
"We're probably one of their shining stars because they use us as a benchmark," Taylor says. "This allows us to help customers control costs and improve service levels."
GSC also utilizes eBiz which has allowed the company to go completely paperless for its operations. Users scan inbound and outbound products to produce real-time visibility for customers, as well as transparency to track their inventory throughout the supply chain while under the custodianship of GSC.
"There is immense transparency and visibility in the processes we take," Taylor adds. "[Customers] are able to easily and precisely know where a size 10 pair of shoes is within the supply chain, even if it is in a trailer already destined to Nebraska, Miami or New York."
Growing Together
Although Taylor and Garcia envision GSC doubling in size within the next five years, they realize the company can't do it alone. With that in mind, the company launched its own Truck Assistance Program (TAP), which, with the help of its larger customers, allows GSC to provide funding for independent owner/operators of tractors to trade in their vehicles for newer equipment, generating minimal fuel emissions. Any tractor produced before 2004 is no longer compliant with today's regulation unless it is retrofitted with a 2007 engine. In 2013, 2005 and 2006 tractors will encounter the same scenario, Taylor notes.
Through TAP, GSC will distribute more than $700,000 to its owner/operators, to upgrade their equipment and stay in business. Unlike similar programs run by the competition, GSC is not handing out loans. Instead, it is investing in the people and equipment that keep the company motoring.
"We rely on our relationships with owner/operators," Taylor says. "If we can't give them $700,000 to buy tractors, they'll go haul for someone else."