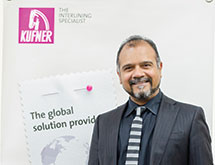 Kufner Holding GmbH has come a long way from its modest start more than 150 years ago. "We pride ourselves [on being] the innovator of the modern interlining product that is used in practically every kind of garment that you can conceive of," Sukesh Kumar says.
Kumar is the senior vice president of the Americas and global director of business development for Kufner Holding GmbH, the leading interlinings and technical textiles company based in Munich, Germany. Bartholomäus Kufner founded it in 1862 with a small factory to make non-woven felt. 
Kufner introduced innovations throughout its history, including the horse-hair thread in 1936, which enabled weaving of horse-hair interlinings at any desired width. In 1973, it introduced the Kufner Double Spot, which was a fusible interlining that did not harden or deform when ironed or washed.
The company's recent accomplishments include the DoubleSpot Extended Safety in 2004, which allows the fusing of sensitive, delicate outer fabrics at low temperatures, thereby maintaining the integrity of the shell fabric. In 2008, it introduced its greenside line, which consists of interlinings made from renewable and recycled raw materials.
Kufner currently has distribution offices and laboratories in 25 countries. "[We employ] a highly qualified and experienced staff to manage these offices," Kumar says. "We primarily work with fashion brands in Europe and America, which range from Ralph Lauren, Calvin Klein and Express to Hugo Boss, Zegna and Max Mara amongst a slew of many others."
The company also serves automotive clients, including Audi, BMW and Bentley Motors. "We have products that stabilize leather and enhance the life of car seats in luxury automobiles," Kumar says.
Answering the Call
Kumar joined Kufner in 2000 after working for one of its competitors. "Ever since, it has been a very exciting, challenging and satisfying move," he says, noting that his experience has included managing a creative subsidiary in India and Singapore.
He came to the United States in 2010 to restructure Kufner Textile Corp. currently headquartered in Bayonne, N.J., and improve its profits. "I was able to accomplish [that] over the last three years," Kumar says, noting that he used approaches that worked on previous turnarounds, including moving the company closer to its clients.
"You need to be at a customer's beck and call," he says, explaining that Kufner Textile was based in Greenville, S.C., five years ago. "Back when, the manufacturing migrated eastward, the textile mills started to close. There was hardly anything left.
"We were far from the decision-makers who would adopt our products," he states, adding that he moved the company to its current location in New Jersey. This brought Kufner Textile closer to New York, "where most of the brands are."
Kumar carefully evaluated the company's costs and staff. "It was kind of an open heart surgery that was performed in each of these operations, where you needed to weed out unnecessary costs in terms of overheads and personnel, and bring in competent people and optimize costs," he says.
Strong Backup
Kufner has backed its global supply chain with software called Movex by the Swedish company Intentia. "It's primarily an ERP which basically tracks the movement of goods across the world," Kumar says. "However, we're in the process of upgrading that system now into systems applications and products based specifically for textiles."
The company will complete this transition by the end of 2016, he predicts. "There will be added efficiency, not only from the standpoint of inventory management, but from production, finance and receivables management," he predicts. "All of these functions would be integrated into the ERP package."
New Areas
Kufner is gearing up to move into the outdoor and hiking industry, Kumar says. "A product we have innovated amongst many others called 'Textile Heating Systems' [is] based on yarns that can conduct heat," he says.
"It's being used in Europe today in hiking/biking jackets," he says, noting that it can be used for heated seats in outdoor/patio furniture. "We exhibited at the Atlanta Textiles Show and there were potential clients who extremely interested."
Never a Dull Moment
Kumar is proud of his work at Kufner. "Re-structuring and turning around a company that is not doing well has been my forte, apart from forging strategic alliances and building new markets," he says. "I wish to believe I have helped grow the company in many different markets around the world. Most importantly, none of this would have been possible without the cohesive efforts of the global teams. We are extremely cohesive within our company, with each of us rising to the occasion no matter what, and this factor motivates to strive for better."
He adds that the work is consistently interesting. "The greatest thing about this company is that there's never a lack of a positive challenge," he says. "There is never a redundant moment. There are always new things to attempt.
"I believe the future, in one word, is growth," he says, noting that the company experienced up to 14 percent growth this year (first six months).  
"We thrive on innovativeness not just in terms of product but also in respect and our ability to be a global solution provider for our customers due to our extensive technical knowledge and prowess our international offices possess and impart. This is what our customers and markets love us for."