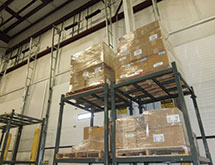 More and more people are reading on their iPads and Kindles every day, but companies such as Christian publisher LifeWay will continue to depend on its transportation partnerships. "As the publishing market becomes more digital we are certainly reacting to that, but there's always going to be a need for physical goods movement in our business," says Chief Supply Chain Officer Mike Harry. With 180 retail stores across the country and a dedicated customer base made up of the religious faithful, LifeWay continues to find ways to improve its supply chain and make itself a priority for shipping companies.
LifeWay was founded in 1891 with the goal of providing literature to churches. After nearly a century of organic growth, in the last 20 years the company began to rapidly expand by acquiring other retailers, including purchasing Berean Christian Stores in 2014. "We basically doubled the size of the store chain from the mid-'90s to now," Harry says.
Today, the company is one of the largest publishers and retailers in the Christian industry, offering more than 100,000 SKUs, from educational materials to bibles and music. Most of its market is located in the southeastern United States and LifeWay serves as the publisher for the Southern Baptist Convention, a 16-million-member Evangelical network with 41,000 places of worship. 
Although the company is run like a business, its materials and products are designed to support its Christian teachings. "We can't and won't compromise our message," Harry says. Likewise, the company adheres to a strong ethical code and Harry says most LifeWay employees are Christians who regularly attend services. "We hold our folks to a very high standard of personal conduct and ethics," he explains.
Spreading The Word
To support its business and religious message, LifeWay operates a 350,000-square-foot distribution center in Lebanon, Tenn. The distribution center and two outside storage facilities, also located in Lebanon, ship directly to LifeWay stores, churches, trade accounts and individual customers. 
The center's team utilizes a variety of systems to keep shipments running smoothly such as Dematic software to track inventory, Novotran Solutions for transportation management services and Vitech Business Group voice solutions for picking. "We're very mindful of technology and how technology can support us and make us more successful," Supply Chain and Systems Manager Justin Sullivan explains.
Finding the right partners and vendors to support its operations is critical for any company that sits on multiple steps of the supply chain. With both a distribution and retail component to its business, LifeWay follows strict procedures to secure products and find the suppliers that can help the company reach its financial targets.
Securing its place with its shipping providers has become even more important as rising transportation cost have affected every industry. "It's certainly becoming a carriers' market rather than a shippers' market," Sullivan says. As the cost of transportation has risen, LifeWay and other companies must compete more to secure shipping.
Those concerns have led the company to focus on ways to make LifeWay more attractive to carriers such as UPS – which transports 90 percent of LifeWay's shipments. 
"We really are striving as much as we can, to work with our carriers to be considered a shipper of choice," according to Harry. 
Smashing Rocks
LifeWay has helped make itself a priority for carriers by adopting lean practices and becoming more efficient in distribution. The company follows 6S lean methodology – sort, set, shine, standardize, sustain and safety. Now, it wants to translate those 6S principals into its corporate and retail operations. Procurement and IT staff are learning lean methods while 6S practices are being reviewed in the retail stores to streamline operations and give employees more face time with customers.
The adoption of 6S and lean practices is one way that LifeWay is accomplishing its goal of continuous improvement. It's more than just developing better processes at work, but also a mindset LifeWay wants its employees to carry on at home. "Continuous improvement for us is our culture," says Continuous Improvement Manager Nicole Hudson. 
Representing the philosophy of continuous improvement is what Hudson calls "the rock." On the river of waste, rocks are the obstacles that prevent the boat from traveling downstream. "We want to bust those rocks and keep everything streamlined," Hudson explains. But like a ship captain worried about the boulders that lie just below the surface, LifeWay is always on the lookout for those hidden problems that affect its supply chain. "If we're not finding problems, something's wrong," Hudson says. 
LifeWay encourages positive reinforcement when workers find a new problem to solve and employees feel safe in bringing feedback to managers. The policy has resulted in noticeable improvements, such as one worker's suggestion to place pallets on movable racks during the busy Christmas season, when the distribution center often ran out of floor space. 
"We've made it OK to say, 'We have a problem,'" Harry says. "We celebrate the solving of the problem together."
After two decades of expanding its retail locations, LifeWay is now focused on sustaining its business by determining how it can best serve the church – whether that is through new Bible studies or introducing more products to its existing stores. "It's going to be important for LifeWay to stay with the changing practices and technologies of the church and not get behind that," Harry says.