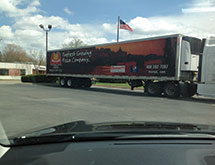 Don Vlcek finds himself on the road quite a bit these days, but it comes as no surprise. Vlcek is vice president of purchasing and distribution for Marco's Franchising, the company that franchises Marco's Pizza, which calls itself the fastest-growing pizza chain in the country.
Vlcek meets with vendors and distributors, talks to franchisees and meets with other members of the restaurant's executive team in a continual effort to grow the company. So far, that endeavor has been a success.
"We're shooting for 200 stores next year," Vlcek says. That's double the growth the company realized in 2013 when 102 restaurants opened. The following year, Marco's Pizza added 155 locations, and the company expects to close 2015 with another 138 locations. Marco's Pizza has 641 restaurants in 36 states and three countries, and the growth plan remains aggressive in the $46 billion pizza industry, he says. The goal is to quadruple the store count over the next five to seven years, he says.
Lessons Learned
Vlcek is no stranger to working for a growing national pizza chain, having spent the early part of his career with Domino's Pizza. He says the lessons he learned at Domino's are valuable today. "We were learning the franchising business," he recalls. "We would stub our toes and hit our heads sometimes."
Today, Vlcek is more prepared for the challenges that accompany building a national food franchise. For example, Marco's Pizza relies heavily on business intelligence and social media to track customer trends and determine its next steps. But managing growth remains tough, especially because Vlcek is trying to work with franchisees across the country, he says. 
Additionally, the executive management team would prefer to spend more time strategizing about the company's long-term growth, he says. To that end, management and franchisees meet quarterly to "align ourselves with where we want to be," Vlcek notes. 
Marco's Pizza has taken numerous steps over the past few years to build its business. For example, the company's top franchisees are "sharing their secrets for fast growth" with new storeowners, Vlcek says. The company also has initiated a program that helps successful store managers pay the startup costs of owning a franchise. "We have great store managers," he says.
Supply Chain Success
Vlcek credits the restaurant's supply chain partners for helping it succeed. In fact, Marco's Pizza routinely meets with its partners to come up with ways to lower costs without sacrificing quality, he says. "The more profitable our stores are, the more we will build," he says. "We're a team. If we grow, we're both going to win."
Performance Food Group handles distribution for about two-thirds of Marco's Pizza locations out of its 13 distribution centers. The company's rapid expansion led to the decision to outsource the majority of its distribution, Vlcek says. The remainder of distribution is handled internally out of a company distribution center in Maumee, Ohio. 
The company sponsors Suppliers Working Actively Together (SWAT) Camps to bring supply chain members together to share ideas, Vlcek says. "Our vendor base is made up of good people," he says. "The group is so willing to work with us. They think about us and our profitability."
Company Beginnings
Marco's Pizza got its start in 1978 when Pasquale "Pat" Giammarco followed his father's footsteps into the restaurant business and opened the first Marco's in Toledo, Ohio. Giammarco expanded to 112 restaurants by 2004 when he met current Marco's CEO Jack Butorac.
Butorac had decades of experience marketing food franchises and bringing them to market nationally. He started as a consultant and soon bought the franchise rights to Marco's, with an eye toward national expansion. Giammarco continues to operate Marco's Pizza locations in Ohio and Naples, Fla.
One of Butorac's first steps was to assemble a team of managers with decades of franchise experience at other national pizza restaurants, Vlcek says. "They came up with a plan to grow the company," he says.
"We're still growing in our core market," Vlcek says, referring to the Midwest states. But Marco's expansion has included a significant presence in Texas, Florida and the Atlanta hub, which includes Alabama, Tennessee and the Carolinas, he says. The company is moving into the Southeast to take advantage of a population boom and rising economy in the region, Vlcek notes. 
Family Video, the largest movie and game rental chain in the United States, also owns 120 Marco's Pizza restaurants. The company owns several strip malls and has been able to provide prime locations for the pizzerias, Vlcek notes. 
In a crowded pizza market, Marco's Pizza ties its success to high-quality, fresh ingredients, Vlcek says. Americans want convenience but they are particular about their culinary selections. Americans are growing choosier about what they feed their families, and they want their convenience foods to be high quality, too. 
Marco's Pizza competes with other national pizza chains, but its primary goal is to compete with local, privately owned pizzerias. "We are more competing with the independent pizza parlors," Vlcek says. 
Pizza is the restaurant's primary offering, but some locations serve sub sandwiches and chicken wings. Alcohol is available in some stores as well. Although most of the locations are carryout, the chain is adding sit-down restaurants to the mix, he says. The pizza menu strikes a balance between traditional favorites such as sausage or pepperoni and newer favorites that include chicken, spinach and other trendy toppings, Vlcek says.