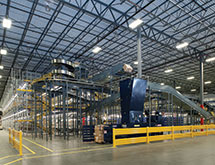 Mizuno Corporation stands the test of time, both in the rich history of its business, which began in 1906 in Osaka, Japan, and in the long-lasting quality of its sports equipment and products. Mizuno USA, Inc. manufactures and distributes baseball, golf, softball, running, track and field and volleyball equipment, apparel and footwear for North America.
At the core of its business are Mizuno's products. It prides itself on being a one-stop shop to service all sporting goods needs, from head-to-toe baseball gear to its world-renowned golf clubs to its innovative running shoes and more. Customers can find Mizuno's products at a number of retailers, including big-box retailers such as Sports Authority, Dick's Sporting Goods and Academy, specialty retailers such as Fleet Feet and e-commerce shops like Zappos.com. 
Josh Creasman, vice president of supply chain at Mizuno USA, joined the company in 2011 and explains that the company has to be nimble and flexible to compete, given the current competitive landscape. "Mizuno's approach has changed dramatically over the last 10 years," Creasman says. "We're a fighter brand that has to find new and unique ways to compete against the larger more well-known brands."
Logistical Operations
The supply chain has become a competitive weapon for Mizuno USA. It allows the company to deploy flexible and nimble infrastructure and processes, and lets employees provide services such as same-day shipping, gifting and the fastest custom-designed golf club in the industry. These changes have reshaped Mizuno USA and how it deals with its operations and logistics.
Creasman continues to lead the charge in distribution, logistics and manufacturing capabilities, and in implementing Mizuno USA's new, high-tech distribution center. The company's new 520,000-square-foot facility significantly increases the current supply chain footprint to fulfill and sustain ongoing business growth, supply chain demand and morphing customer base and consumer buying behavior. The facility features the resources necessary for efficient supply chain distribution, including over two miles of conveyance, a high-speed merge sorter, zone route technology supported by camera-based scanning technology and two-story flexible dense picking area. 
"Decisions of this magnitude are not made lightly," Creasman says. "This multimillion-dollar IT and distribution infrastructure investment will play a major role in our continued growth. From a network optimization study detailing logistics infrastructure of the region connected to our customer base, to the proximity to the Mizuno USA corporate offices, there were big advantages to selecting Braselton as our distribution hub for the North American region," he says.
In fourth-quarter 2015, Mizuno USA will launch its Free Trade Zone (FTZ) in the new distribution center. The FTZ benefits its customers in two main ways. First, with duty deferment, Mizuno USA no longer has to pay duties on any containers coming into the company; it only needs to pay when sending items to its customer. Second, for the merchandising processing fee port surcharge, the FTZ clears all containers once a week as opposed to clearing each container individually. These advantages save customers and Mizuno USA valuable time and money. The management systems, technological investments and FTZ allow Mizuno USA to reduce lead times. 
Global Teamwork
Mizuno as a whole has been able to leverage the thought leadership of Mizuno USA to help reshape what it does on a global scale, driving value for all facets of the company. For example, much of the recent strategic sourcing and global logistics strategies were influenced by Mizuno USA. 
"We've built an amazing team over the last three years that are fully committed to taking us to the next level," Creasman says. "I'm most proud to work for a company where people recognize that there's a need to change and to take ideas and incorporate them. You don't find that in a lot of companies. I like being able to shape the future of the company."
Creasman believes that to be successful, companies need to command and control the information flow, develop and deploy clear strategies and drive the flexibility and ability to be nimble into current and new processes. "Most importantly, get out from behind your desk," he says. "Get out on the floor, talk to people. Many opportunities for the business are found simply by listening to people and gaining different perspectives."