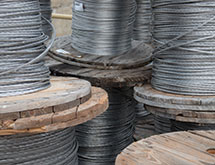 Like many other utilities, OGE Energy Corp. believes strongly in customer service. For the Oklahoma City-based energy company's supply chain organization, this service goes beyond providing energy and timely maintenance to its residential, business, commercial and institutional customers. 
"When I joined the company six-and-a-half years ago, the one thing I learned was you have to partner with internal customers, which are the other business functions supported by supply chain, so you can align goals and objectives and get moving in the same direction," Enterprise Supply Chain Director Sherryl Love says. 
The parent company of utility Oklahoma Gas & Electric, OGE serves approximately 819,000 accounts in a 30,000-square-mile territory in Oklahoma and western Arkansas. The supply chain organization is responsible for procuring materials and equipment used by utility crews and other segments of OGE's operations.  "Our goal is to get the right material to our people at the right time, at the right price and at the right location safely," Love says, noting that this includes ensuring equipment and materials are ready on a timely basis in the event of an outage.
The supply chain organization distributes supplies and equipment to 22 district/generation locations from a central warehouse in Oklahoma City managed by industrial product distributor HD Supply Power Solution, which rents space from OGE. "This allows us access to more than $12 million of vendor-managed inventory [VMI] that we don't pay for until we use it," Love says. Additional VMI items include steel structures, wood poles, transformers and automotive parts. 
Realignment Success 
OGE in recent years has greatly improved its ability to serve its outside customers by first focusing on aligning its internal teams. Last year the company reorganized the supply chain department to better align it with the company's business functions of power generation, power transmission and distribution, and corporate services. "The realignment helped the supply chain organization get early involvement in the utility's business strategy, planning and budget processes," Love says. "It also allows us to build a strategy around strategic sourcing initiatives."
The company also blended the tactical functions of its supply chain such as procurement with its strategic functions – which include contracts, purchasing, and supplier relationship management – into a single more cohesive team. "We'd had a centralized operation for a while, but learned that while both of these functions were under the same leadership, they still weren't communicating effectively," Love says. Strategic and tactical supply chain employees are now seated near each other, which encourages interactivity between the groups. "We've had wonderful success with this," she adds. "When a strategic person is not available, an internal customer can call a buyer, who is now also quite familiar with the terms of our supplier contracts. This level of constant engagement has served us well."
The blending of strategic and tactical functions to support OGE's business functions has led to an increase in the amount of total spend the company has under formal contract and an optimization in the number of suppliers the company retains. This streamlining has realized savings of roughly $35 million a year on its supply chain spend, and reduced suppliers from 11,000 to 2,600. The majority of OGE's spending – roughly 95 percent – is now handled by the supply chain organization.
The supply chain organization meets monthly with its business function partners to discuss team progress and future opportunities. The organization also meets quarterly and semi-annually with its top 20 suppliers to review their performance.
The company recently enhanced its technology to communicate with vendors.  OGE is in the final stages of implementing SMART by GEP, a cloud-based sourcing and procurement platform. This relationship management software incorporates supplier management, sourcing, contracts, spend analytics and P2P activities under one umbrella.  
Focused on Safety
OGE's supply chain team members and vendors serve an important role in preserving the company's culture and values. Safety is chief among these values. "Every member of our company is responsible for safety," Love says.
Every employee goes through three days of standard safety training. In addition, monthly training sessions focus on various potential hazards team members might encounter on a daily basis. 
Safety is one of the topics covered through the company's online training program, which notifies employees when training is needed or when commercial drivers licenses are up for renewal. Employees and managers are also notified when they need to review and acknowledge the company's ethics policy. 
Suppliers are also expected to conform to OGE's safety and ethics policies. Suppliers are required to register with ISNetworld, a service provider that maintains OGE's required safety records and insurance certification. 
Training programs supporting supply chain members and initiatives are maintained and developed by OGE's Supply Chain's Center of Excellence group, which partners with its corporate training team to train on new technology, policy and procedures. 
An Industry Leader
In addition to constant emphasis on safety in its operations, OGE's members regularly discuss values and culture. The company has several accountability and culture initiatives that influence its actions. Every member has gone through two stages of accountability training, and the company continues to develop its culture training, which includes emphasis on OGE's newest company belief of diversity and inclusion.
"One of the things that makes us special is that we are a company that spends a lot of time developing our members and our culture," Love says. "It is exciting to work for a company that does that."
OGE's emphasis on safety and maintaining a positive culture has earned it recognition from its industry peers, who named it "Utility of the Year" in 2012 Electric Light & Power Magazine.  OGE also was awarded the electric utility industry's most prestigious honor, the Edison Award, from The Edison Electric Institute, for "distinguished leadership, innovation and advancement of the electric industry." The company in 2013 was ranked No. 1 in J.D. Power and Associates residential customer satisfaction survey in 2012, 2013 and 2014.
"OGE is a leader in the industry," Love says. "We are considered among the top ranked smart grid initiatives in the country. Our Smart Grid platform serves as a launching pad for new future products and services." The company offers programs that help customers manage their energy costs including rate plans, weatherization and various billing options. "Our use of these programs really sets the company apart," adds Jesse Langston, vice president retail energy, which includes supply chain.