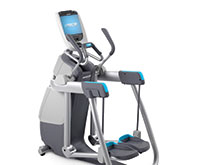 Founded in 1980 as Precision Corp., Precor has become a leader in exercise equipment. Known for quality, innovation and performance, Precor provides state-of-the-art fitness equipment to health clubs, hotels, spas, fitness centers and private homes around the world.
"The major driver of our success is highly talented people who are drawn to a company culture focused on work/life balance," Director of Global Sourcing and Supply Chain Management John Fogerty says. "We make fantastic products that enable people to live the lives that they desire. The freedom we give our people in a great place to work allows us to design and make great products." 
Long-Term View
The company's history has been full of pioneering efforts. It created the first ergonomically sound rowing machine in 1980 and the first cushioned treadmill in 1990. Other breakthroughs include the Elliptical Fitness Crosstrainer in 1995 and the Adaptive Motion Trainer in 2007.
Since day one, Precor has been on a mission to develop personalized health and fitness experiences through ergonomic motion, proven science and superior engineering. The company studies and anticipates the needs of the people and organizations it serves, always seeking to redefine the levels of innovation, quality and service it provides.
When Fogerty joined the company four years ago, Precor began moving away from a highly transactional approach to sourcing that was focused on the short term. Now the company possesses a skillset that thinks globally and works with its vendors and engineering teams to better understand what is taking place in the supply markets.
"Working with our supplier base helps us understand what is happening in different categories so we can take Precor into a different dimension," Fogerty says. "We have worked to bring our supply costs down and to have less inventory in terms of raw materials and sub-assemblies for production while also looking for higher off-the-shelf efficiency."
Precor's efforts around sourcing have helped bring its product inventory down so it can be more efficient and lower its carrying costs. By working closely with the company's IT team to make sure its SAP system is functioning at optimal levels, Precor's sourcing team can better support the company's customer-service profit center. 
"Our sourcing skillset, currency and commodity market understanding, inventory management and longer-term buying strategies have all been essential," Fogerty says. 
Precor's sourcing team supports the company's factories and its efforts around product innovation. The team has two category leaders that support engineering, ideation, new product design and development. In the past, the people making decisions in those areas would come up with plans around what would be made and what vendors are chosen. Now the category leaders are more involved in making those ultimate decisions. 
"Our engineering people work with production to come up with ideas and we now have better discipline with regard to vendor selection," Fogerty says. "Our supply selection program now has sourcing at the top of the chain for working with vendors." 
In production, Precor has vendor categories including plastics, metals, overseas, electronics, MRO and labeling, compliance, indirect buying, castings and forgings. The sourcing team supports production with a vendor-managed inventory process in place that is operating at 99 percent efficiency. 
"We are supporting the production process and working with the production teams to look at any supply problems and make sure we don't have a lot of lost time in the production process," Fogerty says. "We help them keep the line running, encourage supplier development and work with our quality team. Our goal is to make sure we are sourcing higher-quality products." 
Tightening Up
Among the areas of investment focus for Precor has been in-house manufacturing. The company has a workshop in Woodinville, Wash., that makes rollers and piece parts that go on the production line. The sourcing and engineering teams work together on insourcing products to help the company save money.
"We've been able to accelerate the insourcing program in many ways through the investment that the company has made in procuring new capital equipment and training people on building some products that we want to make internally," Fogerty says. 
The company also recently acquired Queenax, a functional training systems provider. Supported by its parent company, Helsinki, Finland-based Amer Sports, Precor thinks that is a game-changing acquisition because it gives the company opportunities to fill vacant floor space in the club markets it serves. 
Another recent initiative was the introduction of the TRM14 treadmill in 2014. To support that product launch, Precor had to ramp up within 80 days, going from 60 products per day to two shifts making 170 products per day due to product demand. 
"We support that through flexibility in supply chain and working with suppliers to keep the production lines running," Fogerty says. "On the back-end, we are adding competitive advantages by bringing products in and looking for ways to take cost out." 
Indirect buying has been an additional focus for Precor. The company brought in an indirect buyer that looks at everything from brokerage deals for real estate and the delivery and installation of products to LTL and other transportation modes and purchases of vehicles for service technicians. Indirect buying helps Precor better source a wide array of goods and services.
Looking forward, Precor knows that supporting growth will be a massive challenge. The company is seeing growing demand for products and expanding its product offerings, and the company must be able to support newer product lines with existing suppliers. Ensuring adequate speed to market is key, so Precor needs suppliers to be able to support product launches. 
"We must have the right capacity with our suppliers, and we need to understand the capacity the suppliers have to offer us and make sure it won't impact production as we bring new products into the mix," Fogerty says. "From a distribution perspective, we need to have adequate warehousing and ensure good transportation contracts that can support the growth initiatives we have. Our outsourced factories must be able to support our product development initiatives by having the necessary capacity."