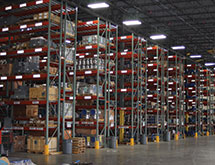 Having assembled a portfolio of companies with more than three decades of experience in industrial pipes, valves and fittings (PVF) distribution, Shale-Inland delivers products and services to industrial markets around the world. The organization provides specialized and engineered products that are essential to its customers and their operations.
"In my role, I have functional responsibility over all of our branches' operations around the world," Senior Vice President of Operations Rick Kerrigan says. "We support and manage everything from warehousing and inventory management, shipping and receiving and quality assurance to health and safety, transportation, purchasing and sourcing."
Global Reach
Shale-Inland has more than $290 million in inventory of more than 75,000 unique products. It connects approximately 1,900 vendors with around 5,900 customers. The company has a strategic distribution network with 46 locations in North America, Saudi Arabia and China, as well as representatives in Latin America and Singapore. 
The company's products are critical to processing plants, as it serves customers in markets that include refining, petrochemical, mining and power generation. Shale-Inland is able to deliver value to customers through the experience of its technical salesforce, an emphasis on specialty PVF products, extensive inventory and value-added services.
With business units focused on valves and automation (V&A) and pipe, fittings and flanges (PFF), Shale-Inland has many companies in its portfolio. These include Sunbelt Supply, Southwest Stainless & Alloy, MultAlloy, Polar Pipe and Fittings, Stainless Tubular Products (STP) and J&J Alloys/J&J Bar. 
Sunbelt Supply, Flomax and Major Sourcing are part of the V&A business unit. This division has 16 locations in the United States, Saudi Arabia and China, totaling more than 50,000 square meters of warehouse space and more than $105 million of inventory from 50+ valve manufacturers designed for global industrial markets. 
Sunbelt is recognized throughout the industry for automation and value-added services as well as technical and product expertise and customer plant knowledge. The offering includes automation centers in seven of its branches with in-house capabilities for CAD design and drawings, CNC machines and assembly shops, field service and valve actuator repair, retrofits, and automation repair. In 2014, Shale-Inland opened a new V&A headquarters in Pasadena, Texas, which includes 185,000 square feet of warehouse and office space and a state-of-the-art automation center.
"The Pasadena move allowed us to combine four facilities into one, as well as drive operational efficiencies to better serve our customers" Kerrigan says. "We also opened a new shared services headquarters in the Galleria area of Houston."
In Pipe, Fittings and Flanges (PFF) operations, Southwest Stainless & Alloy, MultAlloy, Polar Pipe and Fittings, STP and J&J Alloys/J&J Bar each have a wealth of knowledge and solid relationships with top global suppliers of specialty products. With $185 million worth of inventory in stock and an extensive geographic reach through 20 North American locations, their offerings include purchasing power to deliver cost savings, vendor consolidation, materials management, simple transaction processing, quality assurance, and IT solutions.
"Sourcing strategically and balancing our inventory investment have been our biggest challenges," Kerrigan says. "In the past, our individual companies purchased in non-traditional ways that drove a 'roller coaster' approach to inventory management which would sometimes jeopardize service to our customers depending on the market situation. Our focus now is to partner with our suppliers to develop programs that allow us to buy on a more consistent basis. Supplier relationship management is critical as we look to have strong partnerships that provide us with excellent price, superior service, quality and flexibility." 
Investing in the Future
The organization continues to add to its arsenal. This summer, Shale-Inland acquired Major Sourcing LLC, a leading valve automation, integrator and distributor, primarily focused on the power industry. Headquartered in New Jersey, Major Sourcing will be a part of Shale-Inland's V&A platform. Also taking place in V&A is the recent construction of a facility in Freeport, Texas, to support a strategic chemical customer. Construction is also underway on a new 50,000 square foot facility in Luling, La., to support the growing PVF business in that region. The V&A group is continuing to expand the footprint with new locations opening soon in Mobile, Ala., Charlotte, N.C. and Corpus Christi, Texas.
In PFF, Shale Inland is preparing to shake the industry up with a major expansion effort in the Houston area. The company has recently broken ground on a new 200,000-square-foot facility in Pearland, Texas. The new distribution center will have a seven-acre concrete pipe yard, brand-new racking and equipment as well as a state-of-the-art warehouse management system and machine shop. "This PFF facility will enable us to turn customer orders around more efficiently via world-class operations and an inventory offering matched by no one else in the stainless steel and nickel alloys market," Kerrigan says.
Other investments are taking place behind the scenes. Shale-Inland recently implemented the GAINSystems' software to improve demand planning and detailed forecasting. "Our diversified inventory and ability to service our customers is our competitive advantage," Kerrigan says. "The GAINSystems provides us with the tools to properly manage thousands of SKU's and constantly improve our purchasing leverage in the industry." 
As Shale-Inland has worked on improving and expanding operations, it has also kept a close eye on the markets it serves. As oil and gas prices have dropped, the upstream, midstream and downstream markets have all been impacted. At the same time, Shale-Inland deals primarily in stainless steel, which is driven by the price of nickel. 
Many of the PFF products offered are directly impacted by the ever-changing price of nickel, adding more complexity to both the purchasing and commercial teams. 
"We are seeing project delays and a lot of available capacity on the supplier side, as well as an inventory build within the entire supply chain across the industry," Kerrigan says. "The challenge has been to ensure that our inventory is healthy by cleaning up slow movers and obsolete products. By 2016, we hope to see the market rebound, so our inventory and supply chain processes must be solid and ready to go when projects come back on line."
Much remains on the table for Shale-Inland. The company is working on a new marketing and branding strategy, while continuing to ensure that customer service levels remain high. Looking ahead, Shale-Inland will continue to strive for a healthy inventory position to provide flow solutions for its customers' needs and remain an industry leader within its markets.
"We have invested in demand planning and purchasing resources to drive supply chain efficiency," Kerrigan says. "Supplier relationship management, operational discipline and becoming ISO certified in our two main locations are all part of our plan to improve and drive out cost so that we can be leaner, stronger and faster when the market rebounds. We want our customers to know that Shale-Inland and all of our companies and brands are here for them and here to stay."