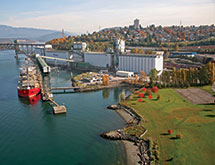 Based in Regina, Saskatchewan, Viterra is a leading grain, oilseeds and pulses marketer and handler, and is also involved in canola processing. The company partners with growers in North America to help them market and deliver their grains in more ways and to more markets.
"Our company buys, markets and handles the leading share of western Canadian grain," Supply Chain Manager Fernando Lamk says. "For more than 100 years, Viterra has earned farmers' business with our expertise and commitment to service, tailored to their needs."
Growth Period
The company's roots date back to early 1900s when in 1924 a cooperative named Saskatchewan Wheat Pool (SWP) started as a grain-handling, agri-food processing and marketing organization. Growth came during the following decades by acquiring small companies and building new grain elevators. The co-op diversified itself across western Canada and parts of the United States.
SWP became public in the 1990s and in 2007 acquired the Manitoba-based agribusiness Agricore United, with the combined entity becoming Viterra. During the following six years Viterra grew substantially and steadily, diversifying into four main divisions: grain handling, agro-products, feed processing and food processing. Reaching almost 500 locations in North America, Viterra's global footprint was complemented with operations in Australia, New Zealand, China, India and marketing offices throughout Europe.  
In 2013, Glencore International, an Anglo-Swiss multinational commodity-trading company, acquired Viterra. Glencore has three main business segments: mining, energy products and agriculture. To align business models, Viterra went through a restructuring and integration process, reaching global alignment in 2014, keeping the grain handling and canola-processing divisions.   
Currently in North America, Viterra has 65 grain elevators, 12 special crops facilities, six port terminals and one canola processing plant in Canada. 
"We have industry-leading marketing, facilities and logistics capabilities, encompassing the largest global network of marketing offices, as well as handling, processing, distribution, transportation and storage assets," Lamk says. "Our company has significant international marketing expertise and knowledge of industry trends and fundamentals, along with strong, longstanding relationships with global customers in diverse geographies."
Supporting the Plan
Having a very diverse organization, every Viterra division is very unique and their needs vary. Its supply chain services division was created and designed for optimizing the supply chain process, forming categories big enough to support the daily operations of all the facilities without altering the essence of each division.
Due to the nature of the industry, most facilities are in rural areas and distant from hub cities. Because of this, concepts such as inventory management, logistic structure, competitive pricing, customer service and technical support become big challenges when managing the supply chain structure. 
"That is why it is crucial to optimize every single step in the process and involve the right partners," Lamk says. "This provides efficiency and potential savings to the organization. Many processes have been evaluated and improved, making Viterra's supply chain, sourcing and procurement structure a very unique, successful and key component in the organization."
ERP standardization, strategic sourcing, vendor and contract management, implementation of a unified procurement process, category management, policy implementation and supply chain risk management have all been focal areas for Viterra's supply chain team.
"In these days, globalization and problems in the supply chain generated by external causes and in other geographies are just a couple of many situations that make the overall supply chain management much more complex," Lamk says. "All parties have to do their best in working toward improving whatever the situation is."
Among the company's key priorities has been an emphasis on growing globally and diversifying. In doing this, it opens a world of possibilities for the supply chain team, allowing it to have the necessary size, volume, structure and complexity.
"This was complemented with the creation of strategic categories to better support the operations of the facilities," Lamk says. "Currently we manage approximately 20 categories, more than 63 programs and hundreds of pertinent agreements. We standardize key categories globally, where feasibility and regulations permit."
As the company looks at the current trends impacting its operations, as well as its growth and improvement goals, Viterra has needed to factor in the fact that its global reach and network have grown exponentially after the Glencore acquisition. It is working with a sister company in Canada, the mining company Glencore Canada, as well as with Glencore's headquarters, on finding and developing synergistic opportunities. 
"This integration will keep expanding our success globally," Lamk says. "We are growing and expanding in North America, building new sites, improving existing ones and making acquisitions. We are seeking operational excellence through significant reinvestment in our asset network and constantly evaluating our asset network to address gaps in our footprint. 
"Viterra is focused on innovation and creating strong partnerships to improve western Canadian agriculture," he says. "This will give supply chain services the opportunity to re-evaluate existing processes and keep improving them, aligning them with the objectives of the organization."