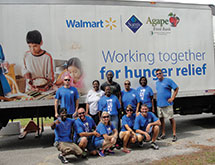 Few retailers have the size and scope that Walmart does, and that means few retailers have as complete of an understanding of the consumer as Walmart does. As the world's largest retailer, Walmart has a bird's eye view of virtually every significant market on the planet, so it's safe to say that if there's a trend happening somewhere in the world, Walmart knows about it. As divisional vice president, supply chain, Sherry Harriman is responsible for ensuring that Walmart's supply chain is up to the task of staying in front of those emerging trends. According to Harriman, all of Walmart's leadership understands how important the supply chain is for changing along with the trends. 
"You have to keep adapting," she says. "Our customer is changing and has changed significantly, and the companies that aren't changing their supply chains are getting left behind." 
With the advent of ecommerce, consumers' expectations for retailers are changing substantially, and Walmart is working hard to ensure that it not only lives up to those expectations now but exceeds them in the future. Harriman says the company's size and scope give it exceptional efficiencies when compared to other retailers, but the company always is looking for more and better ways to leverage those efficiencies to improve its supply chain operations. Through technology, new business models and the willingness to change, Walmart is staying out in front of the rolling wave of changes sweeping through the American marketplace. 
Witness to Change
Harriman has been in good position to witness many of the most recent changes to the American consumer, having spent more than 25 years with Walmart. Her career with the company started in 1989, working as an order filler while she worked her way through college. Later, she was transferred to help open a distribution center in California, and with that experience she moved on to open another distribution center for Sam's Club in Wisconsin. 
After receiving her degree, Harriman was promoted to management and oversaw the establishment of another distribution center in Kansas. From there, she moved to the transportation side of the business, working to open a regional dispatching division in Arkansas. In 2007, Harriman was promoted to her current position, where she oversees all of Walmart's logistics for Florida and Puerto Rico. 
Leveraging Size
In all the time Harriman has spent at Walmart, the expectations of the consumer have undergone a significant evolution. It isn't enough for a retailer like Walmart to have a wide selection of products at highly competitive prices anymore – they want to receive their goods without delay and from a variety of channels. "The customer wants it now, they want it right and they want it timely," Harriman says. "We're finding ourselves making sure we leverage all our stores and all the options we have available to us."
In Florida, many of Walmart's top competitors are driven by ecommerce, spurring the company to test and develop new supply chain processes. "The thing that's driving us a lot now is just the changing customer," she says. "We might not be able to get them into the store, so how do you make sure you're the retailer of choice?" 
Although many consumers have latched onto online retailers such as Amazon because of their promises to have goods shipped directly to their homes, Harriman says there remains a significant portion of the customer base that prefers not to have products delivered to their homes because they don't want to be stuck waiting for the delivery. Walmart is looking into developing an option where they can make purchases online and pick them up at a local store. With the direct-to-store option, customers would be able to save the time they would have spent shopping in the store, Harriman says. 
Unique Situation
The region of the country that Harriman oversees is unusual not only because it includes Puerto Rico, but also because Florida has a large number of smaller-format Walmart stores. These locations occupy a smaller footprint than the typical Walmart store, so they utilize the company's distribution center network in a different way. While Walmart's traditional supply chain is built around economies of scale, Harriman says, these smaller stores allow the company to leverage its distribution centers for smaller cases and smaller quantities of items. 
Servicing Puerto Rico is another unique aspect of Harriman's responsibilities, and she says the company is working hard to leverage the best practices of its U.S. operations to take the added costs of transporting goods to the territory out of the equation. She says the company has a multifaceted distribution center for grocery and general merchandise on the island in addition to the three grocery distribution centers and three general merchandise distribution centers Walmart has in Florida. 
No matter how the company utilizes its distribution centers, Harriman says the key to Walmart's success in that regard is rooted in the ground rule founder Sam Walton established in the company's early days. 
"His goal was to always keep that distance between a distribution center and the store at 100 miles or less," she says. 
Staying Nimble
Although the nature of the consumer base continues to change and the expectations of consumers change along with it, Harriman says Walmart knows it can't afford to remain static, even with its dominant position in the global marketplace. By being proactive and finding new ways to leverage its scale and drive greater efficiencies, Walmart is maintaining its position as a global leader because out in front is the only place the company can afford to be. "At some point we've got to get in front of it," Harriman says. "If you're reacting to the changes, you're one step behind." 
In the near future, Harriman says Walmart can see a world in which the traditional distribution center model may not be the most efficient or effective way to serve its customers. With ecommerce becoming a much larger portion of the business, she says, Walmart's supply chain of the future may not look anything like the supply chain it has in place today, with a network of distribution points rather than distribution centers. 
No matter what form the supply chain of the future takes, she adds, Walmart and its supplier partners will need to be sure they are ready to make the changes necessary to succeed in that future. "We've got to make sure our network is nimble," she says.