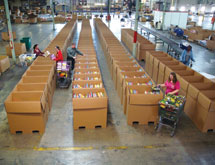 When publishers have overstocked copies of books in their warehouses, these unsold tomes do not spend the rest of their lives gathering dust. Instead, they are often sent to American Book Co., which distributes them to sellers that give them a second life, President Pat O'Connor says.
Chairman Dean Winegardner founded the Knoxville, Tenn.-based firm in 1997. Initially, he operated the business out of his car and sold bibles at flea markets. "From that, he turned it into the business that it is today," O'Connor says.
American Book has sales offices in Knoxville and New York City, and a distribution center in Jefferson City, Tenn., that has a combined space of more than 900,000 square feet. In addition, the firm has more than 20,000 book titles in stock, across 60 categories.
The company has a broad reach, as well. "We're in all 50 states and 27 foreign countries," O'Connor says. American Book's customers include most major grocery stores, Barnes & Noble, Books-A-Million, department stores, convenience stores, military bases, drugstores and college book stores.
These clients can order cardboard displays that can be set up quickly on site, with the books already inside. Although some competitors provide displays that require retailers to spend more assembling them, "We came up with retail-ready ones," O'Connor says.
Meeting Clients' Needs
A factor that has enabled American Book's longevity is its ability to meet customers' needs. The company's culture is to identify and meet the needs of its customers. "We can tailor these programs right down to the individual need and the individual store, if necessary," O'Connor says. "We deliver anywhere from a single book to a consumer from our customers down to multiple truckloads."
Even if a customer has a challenging request, the firm is usually able to fulfill it, as long as the book is in stock. "Over the last 10 to 15 years, we've never really had to turn down a customer," he says. "If a customer comes to us and says, 'I need [a certain number of books] and I need them in five days,' we always find a way to get it done, regardless of how daunting the request is."
O'Connor credits this ability to the firm's staff. "We've got a great group of people who can just get in a room and say, 'Here's the challenge,'" he says. "Ninety-nine percent of the time, we're able to meet the challenge."
 American Book's staff is driven to meet these challenges thanks to the fact that it is 100 percent employee-owned, O'Connor says. "Everyone in it has a vested interest in the success of the company," he says. "I think that shows."
Changing With the Industry
Within American Book's operations, books are stored in racks and pulled using forklifts and order pickers. And as technologies have advanced, so have the ways that American Book oversees its supply chain, Senior Vice President of Logistics and Transportation Scott Cornett says. "We've changed with the industry over the years," he says, noting that the firm has implemented its own radio frequency systems that allow it to track products.
 "We can track where we bought a book, how much it cost us and how much money it made," O'Connor says. "Our system sets us apart. It's able to handle the electronic data interchange of the products going in and out."
Staying Diverse
Like many of its competitors, American Book is coping with the challenges presented by industry consolidation and e-books. "We're constantly trying to stay ahead of those changes," O'Connor says. "Publishers are printing less with the loss of Borders and the advent of the e-book."
To adjust, American Book is focusing on diversification. For instance, it has started printing its own juvenile books, and moved into distributing paper items including journals. "[Those] are a good tie-in and fit for our business," he says, adding that it also has started selling music CDs.
American Book also plans to add more retailers to its customer base, O'Connor says. "We do a very good job of packing, picking and getting it to the customers on time," he says. "Our execution level is near 100 percent."­­­