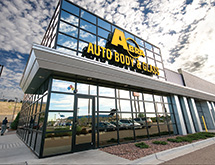 ABRA Auto Body & Glass was already a growing company when Ed Litman joined the company in September 1997. To prepare for accelerated expansion, the Minnesota-based national damaged vehicle repair company needed to centralize procurement and develop standard operating procedures for its repair centers to follow. Litman's mission was to identify and select preferred suppliers, streamline vendor interaction, establish internal business controls and to standardize the company's product lists. "When you're empowered by the leadership of an organization to accomplish a task, it's like a running back getting a handoff," Litman says. "Take off and run with it; you have the full support of the company."
Improving those operating systems and documenting the procedures each location follows has allowed ABRA to produce repeatable, quality results throughout the enterprise. Now vice president of purchasing, Litman says ABRA's investment in operational excellence has streamlined the integration of acquired, independent and regional collision repair centers. He credits the company's leadership team including ABRA's president and CEO, Duane Rouse, for investing in people, process and technology; making the implementation of standard operating procedures possible.
ABRA's latest round of accelerated growth, which began in 2012, wouldn't have been sustainable without its strong operating model giving the company an advantage over other national collision repair businesses. Litman says, "As we grow, we feel our investment in acquisition integration is a key differentiator."
Creating a National Footprint
The first ABRA repair center opened in Fridley, Minn., in June 1984. Even in its early years, ABRA grew quickly through the addition of company-owned locations and franchises. It wasn't long before ABRA became the dominant player in collision repair in the Twin Cities market and began opening locations throughout the Midwest. "In our industry, we're a leading operator in multiple markets that have major metro and rural locations," Litman says.
In 1989, the company added mobile auto glass installation and repair, making it a complete resource for automotive collision repair.
The first round of significant consolidation in the collision repair industry came in the late 1990s. Litman was a part of ABRA's acquisition efforts and in 2002 became the director of integration and purchasing. Litman oversaw the integration of newly-built and purchased collision repair centers into the ABRA family and coordinated the implementation of ABRA's standards and methods. The company had 75 locations when Litman took over integration and purchasing, and added another 20 collision repair centers over the next three years.
The company's most recent wave of consolidation is even more impressive and aggressive. In 2009, ABRA conducted formal strategic planning and developed a lean model with a focus on operational excellence. Those plans positioned the company for its latest growth. Between 2012 and fall 2015, ABRA grew from 126 locations to 332, 278 of which are company-owned. ABRA expects to add more repair centers before the end of the year.
The most recent period of consolidation is being driven by financial backing from private equity firms. That is allowing multi-shop collision repair operators such as ABRA to consider absorbing more single-unit and regional multi-unit repair centers. Recently, ABRA acquired Kadel's Auto Body, a chain of 23 repair centers in Portland, Ore., southern Washington, and Boise, Idaho. "We're continuing to execute our growth plan with a systematic approach focusing on truly integrating new locations with control," Litman explains.
Defining Procedures
Having created a successful formula that caters to the needs of vehicle owners and insurance partners, ABRA strives to replicate its processes and procedures to drive consistent outcomes for customers across its network. "With a centrally developed operating model, ABRA can deliver predictable outcomes consistently across the platform. ABRA takes the time to instill its culture, operating methods and lean models into each acquisition while professionally supporting new team members," Litman says.
The company continues to invest in refining. In 2015, ABRA added more internal resources and split the acquisition integration role from procurement, redefining Litman's role to focus solely on optimizing ABRA's supplier network and building new relationships with suppliers. Narrowing his role has helped him better address the needs of ABRA's markets. "2015 has been a very exciting year at ABRA," Litman says. "As we've continued to grow rapidly, we've also completed several new supplier agreements that reduce overall cost, while driving efficiency throughout the organization. Our relationships with our preferred suppliers has been strengthened through a renewed effort of continuous improvement."
ABRA's centralized operating model is a key differentiator from its competitors, but Litman says the company also distinguishes itself through its talent at every level; from technicians to the front office. "We operate with a significant sense of urgency," Litman says. "That happens because we have the people to execute on the process."
Timely Information
Ensuring standardization requires ABRA to view its repair centers from both a company-wide and individual location standpoint. Early on, ABRA recognized having timely information on work-in-progress would help it recognize and solve problems before they arose. The company invested in a data warehouse system that tracks all the key data points ABRA needs to operate the business. It grants the company visibility into the progress on every repair job throughout the repair process. "We feel our access to timely, useful, and valuable information is critical to meeting the expectations of our customers."
If a repair-in-progress is not meeting target outcomes, such as expected completion date, the company can identify the problem and develop solutions. "We have visibility into those types of issues before it's too late so we can fix them," Litman explains. That often results in better final outcomes for the customers and allows ABRA to live up to its motto of "right the first time, on time." Customers want a quality repair done in a timely manner and ABRA's focus is to deliver on that promise, Litman says.
ABRA doesn't know what parts will be needed on a damaged vehicle until it arrives for repairs. Collision repair centers typically only have widely used supplies on site, such as vehicle paint, which means it must work with suppliers to quickly receive parts for each job. "Our lean supply philosophy is just-in-time delivery," Litman says.
Accomplishing lean inventory management requires strong relationships with vendors. On the national level, ABRA's central procurement department conducts negotiations with large suppliers such as LKQ Corp., Kent Automotive, Pro-Spot International, Sherwin Williams, PPG, CCC, Audatex and Mitchell International for items such as parts, equipment paint and software agreements. But much of the relationship-building occurs at the market level where ABRA has developed regional strategies for many of the parts and services.
Those relationships have given ABRA an advantage in obtaining equipment. "Right the first time, on time means having the right equipment in the center," he says.
One of the most significant model changes in recent years was Ford's introduction of the aluminum-bodied F-150 truck. The F-150 has been the best-selling vehicle in the United States for more than three decades, so it was important for ABRA to make sure that its centers were capable of properly repairing aluminum vehicles.
That seamless capability is possible because of ABRA's engagement with its suppliers. Litman says every business can benefit by inviting its suppliers to be part of collaborative problem-solving and thoughtful, service-level objectives that drive desired outcomes. Those approaches have helped ABRA thrive and prime it for the rapid growth it is experiencing today and in the future.