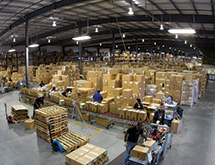 ADS Inc. plays a critical role in ensuring the success of military, humanitarian and other critical missions around the world. The company procures everything from weapons systems to combat boots, making it a premier single-source provider of equipment, procurement and support solutions to the U.S. Armed Forces. 
"The foundation of ADS is that we will do whatever it takes to get our customers what they want, when they need it," Senior Vice President of Operations Lushana Offutt says. 
     The Virginia Beach, Va.-based company works with all branches of the military as well as federal, state and local government organizations, law enforcement agencies, first responders, the United Nations and the defense industry. ADS has access to more than 4,000 vendors, through which it is able to provide equipment, supplies and other solutions to troops around the world. "We have great relationships with our customers as well as our suppliers, understand their needs, and serve as a connection between them," she adds.  
ADS assembles equipment and supply packages based on mission and other needs in as cost-effective a manner as possible. "We understand the complexity of the procurement process for the military," corporate communication specialist Ellen Bock says, noting that many members of the company's staff are Armed Forces veterans. "We take that knowledge and develop processes internally that make what we do work. We can solve any problem our customers have, and get whatever they need to them, anywhere in the world."
ADS operates two warehouses in Virginia Beach with a total of 182,000 square feet of space. Roughly 50 percent of the items handled by the company are routed through the warehouses before being delivered to customers; the other half is drop-shipped directly from manufacturers to mission sites. 
Founded in 1997 as Atlantic Diving Supply, the company initially provided commercial diving equipment to customers including local Navy SEALS. The quality of the company's products and its high level of customer service prompted many customers to request different types of equipment beyond what the company was providing at the time. In 2000, ADS bid on and was awarded its first Defense Logistics Agency (DLA) prime vendor contract for marine, lifesaving, diving and search equipment. This contract allowed the company to provide a much broader scope of products to additional Department of Defense customers (DOD). Today, the company is the seventh largest DLA supplier and one of only 15 DLA Gold-Tier suppliers. ADS currently holds more than 35 contracts with the DLA and DOD. 
Increasing Efficiency
Since starting in her current role in January, Offutt has overseen a number of improvements to ADS' internal procurement and vendor management processes. 
These improvements include developing and implementing a dashboard for the company's Oracle ERP system that provides ADS staff with real-time vendor performance information including shipment due dates.
"We deal with a lot of vendors and items, so with that volume there's naturally a lot of complexity," Offutt says. "With this dashboard, our inside sales reps can accurately quote up front to a customer when their shipment will arrive, as they can now see by part number what the usual days to ship are for that item."
The dashboard also includes a notification system that informs vendors if they are not meeting anticipated delivery dates or other metrics. The company regularly issues scorecards to vendors and has a team that looks into root causes of delivery or other problems. "We ultimately want to make sure the item we're providing is what it is supposed to be, does what it is supposed to do and is shipping on time," Offutt says, noting the company works with more than 5 million items annually.
Future system improvements include a vendor portal and dashboard that automates packing slips, labels and shipping notifications. "We need to make sure our systems are easy to use as well as efficient," she adds. 
Field Hospital Solutions
One recent example of ADS' ability to provide solutions to complex issues is its development of a mobile hospital kit for the U.S. State Department. The department in 2012 first approached ADS about providing beds, laboratory and x-ray equipment, tents and medical supplies used in field hospitals African nations. "What the department found in the past is that they were contacting one company for tents, one company for equipment and so on, and they didn't have a single source to answer their questions," Senior Business Development Manager Brad Stewart says. 
ADS's medical team worked with vendor partners to develop a complete, turnkey field medical facility that meets United Nations Level II basic field hospital requirements and standards. The kit can be procured as a single part number that can be customized to meet specific mission requirements and can be delivered using six shipping containers anywhere in the world. ADS staff can train personnel on the use of the facility and have it up and running within 10 days of its arrival, he adds. 
"Because of our strong ties with our manufacturing partners, we were able to develop a fully-integrated solution – every component in this kit works seamlessly with each other," Bock says. "By developing the field hospital solution from the ground up with our partners, we were able to provide our customer with the capabilities they required when and where they needed it, without the massive time and resource investment that would have been needed on their end had they tried to develop it on their own."
Another ADS solution story is the work the combat support team did to locally source all of the construction materials needed to build 12 Ebola treatment centers in Liberia in 2014, Account Manager Erinn Otterson notes.
Close to Home
Offutt credits the company's success to its staff. "We have an amazing culture where we hire awesome people who are driven and take the initiative to solve our customers' most complex problems," she says. "I'm proud that when our customers – who are those who are fighting for our freedom – have a question, they can call us."
In addition to its work internationally, the company is involved in a number of community and veteran-related projects closer to home. This includes its work with numerous local organizations including Old Dominion University's "Treat the Troops" program, which provides free tickets to athletic events to veterans. ADS also works with local nonprofit organizations including the Combat Wounded Coalition, the Navy Seal Foundation, the USO of Hampton Roads and Central Virginia, Spartyka Foundation, 31 Heroes and Habitat for Heroes. 
"We believe in giving back to the community, growing our business and having fun as we do it," Offutt says. "We truly recognize and appreciate our customers."