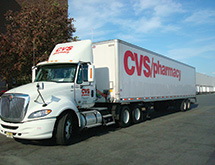 CVS Health's rebranding strategy was launched in 2014 to reflect the organization's broader health care commitment and its expertise in driving innovations needed to shape the future of health. This significant evolution has led to substantial changes in the company's supply chain and logistics operations.
"We view ourselves as a healthcare company," says Ron Link, senior vice president of logistics and supply chain. "The company is changing the way health care is delivered to increase access, lower costs and improve quality." The company's supply chain operation continually seeks new ways to enhance its operation to meet company goals, he says.
The company's role in the new healthcare delivery system is a meaningful one. "We are taking an active and supportive role in shaping the future of healthcare through our medication-adherence programs, delivery of care by walk-in medical clinics and support of patients with chronic and complex conditions," the company says.
Indeed, CVS Health now meets a variety of customer needs through its retail pharmacy, walk-in medical clinic, specialty pharmacy and pharmacy benefits management businesses.
CVS Health also offers:
+ Programs to help manage chronic disease;
+ Programs to connect patients with pharmacists to help them stay on their prescribed medications;
+ Alliances with physicians and health plans to provide clinical support, medication counseling, chronic disease monitoring and wellness programs.
Snuffing Out Tobacco
A key part of the rebranding effort came in February 2014 when the company announced it would no longer carry cigarettes and other tobacco products in its retail stores. CVS Health said there was an obvious conflict between good health and using tobacco. "Getting rid of cigarettes was an important move for us," Link says. "It was not consistent with our role as a healthcare provider. It was the right thing to do."
Target on Growth
CVS has continued to grow since the rebranding initiative. CVS Health in August 2014 acquired Omnicare, a provider of pharmacy services to long-term care facilities. In June 2015, the company agreed to acquire Target's pharmacy and clinic businesses.
MinuteClinic is a significant part of CVS Health's success story. In fact, the company in October opened its 1,000th clinic, located in Washington, D.C. The first clinic was opened 15 years ago. The facilities offer expanded access to convenient and high-quality health care services in communities across 31 states.
CVS Health also is taking steps to offer more specialized care. For example, the company opened hearing centers in seven CVS/pharmacy stores in the Dallas and Cleveland markets and will provide optical services at five stores in the Baltimore/Washington, D.C., market.
Supply Chain Challenges
The company's growth and evolution has led to significant supply chain and logistics challenges, but the department has been equal to the test, Link says. "The business is evolving, and our logistics and supply chain operations have to stay ahead of that," he says.
To accomplish that goal, Link says his department focuses on various "blue chip" objectives to ensure that it is serving the company appropriately. "These are the things we align our organization around," he says.
Those goals include:
+ Delivering excellent service to stores and clinics;
+ Meeting the operation's financial milestones;
+ Remaining in compliance with government regulations.
Employee Feedback
One important way Link's department determines if it is on the right track is through the use of annual engagement surveys, Link says. "They offer extreme value because they create an environment of continual improvement," he says. "We're soliciting feedback, and we can build an action plan against that. We use the survey to provide network feedback."
The department relies on other forms of response to determine its efficacy, including routine meetings with partners and suppliers. But the annual survey provides a direct connection between the leadership team and staff, he says. "It's a part of a portfolio that allows us to be actively engaged with our associates," Link says. "It helps create a better work environment. "We're able to capture information and identify emerging trends."
But the surveys do more than simply help gather data. Instead, they help CVS Health generate new ideas. "The surveys create an environment for trust and alignment," Link explains. "They foster a lot of innovation." That innovation is critical, Link says, for CVS to remain competitive. "We've always got to be thinking about reinventing ourselves," he notes. "We're a growing company."
Servicing Stores
One key to Link's department providing excellent service is to effectively manage delivery. To accomplish that, the company follows specific "delivery windows" designed to help stores "align their labor," Link says. Naturally, reliance on the latest technology tools also is essential.
For example, CVS Health uses the Telogis platform to track fleet movement, Department of Transportation hours of service, driver performance and on-time delivery execution. CVS Health also uses Descartes routing software for route planning, scheduling and optimization.
"It makes us more efficient," Link says. In fact, the routing tool helps delivery drivers take the most efficient routes, thereby decreasing miles and fuel. "We continually align with our core business partners to serve our stores and clinics," he says. "At the end of the day, we're constantly measuring and tracking." The accumulated data is used to improve the operation and make sure mistakes are not repeated, Link says.
Quality service would not be achievable without CVS Health's ongoing relationship with its partners including suppliers, technology providers and delivery companies.
"There's dozens of partners that we work with," Link says. "It's an integrated process. It starts with having an aligned strategy, which is easier to execute. In the end it comes down to execution and accountability. We have to be doing the right thing to drive value. Our supply chain continues to evolve."
Building Leaders
Link says the appropriate leadership team is also a key to an effective supply chain.
"Everything starts with our core leadership team," he says. "We hold ourselves accountable."
He adds that he's "very fortunate" to work with others who share his passion for providing a top-notch supply chain and logistics operation.
Although a qualified and capable team is in place, Link is responsible for identifying emerging leaders who will eventually step into larger roles. "We're planning for the future," he says.
To accomplish that task, he continually seeks "individuals with a broad knowledge base who know the core fundamentals of supply chain and logistics," he explains. Those individuals are given opportunities to develop their leadership skills. "They are in involved in cross-functional opportunities and high-profile projects to further develop their skills, Link says.