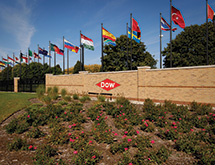 Incorporated in 1897 in Midland, Mich., The Dow Chemical Company is one of the largest chemical manufacturers in the world. Dow strives to combine science and technology to drive innovations that extract value from the intersection of chemical, physical and biological sciences. In this way, Dow can help address challenges such as the need for clean water, clean energy generation and conservation, and increasing agricultural productivity.
There can be no understating the impressive reach of the Dow organization. In 2014 alone, Dow had annual sales of more than $58 billion and employed approximately 53,000 people worldwide. It manufactures more than 6,000 product families at 201 sites in 35 countries around the globe.
Through this footprint, Dow has built an integrated, market-driven, industry-leading portfolio of specialty chemical, advanced materials, agrosciences and plastics businesses. It delivers a broad range of technology-based products and solutions to customers in approximately 180 countries and in high-growth sectors such as packaging, electronics, water, coatings and agriculture.
Increased Visibility
Dow's supply chain receives more than 110 billion pounds of raw materials and intermediates each year from 4,000 suppliers. The company works with 650 service providers in 160 countries and transports around 130 billion pounds of product each year through 450 warehouses and 150 managed contract terminals to 45,000 customer locations.
Handling approximately 6,000 shipments per day, Dow is among leading edge chemical companies for shipping safely and securely.   The company also manages the second-largest private railcar fleet in the world, meeting or exceeding the stringent regulations that govern chemical transportation globally, in more than 100 countries. 
"[Supply chain] visibility is not new for Dow; we've been focused on it for many years and are now amplifying our efforts," Global Director of Logistics Mady Bricco says. "We've been working for more than a decade to track information on how railcars are flowing, installing RFID GPS transceivers on tank cars in 2006 and investing in the next generation of that technology in 2011."
Dow is embarking on a market- and demand-driven collaborative approach to enable seamless supply chain operations and profitability. One indication of the kinds of massive transformations taking place at Dow in recent years is the split-off of a significant part of its chlor-alkali and downstream derivatives businesses. Today, its market segments include agricultural science, automotive, building and construction, consumer, electronic materials, energy and water, industrial, infrastructure and packaging. 
"We have a complex supply chain, which gives us a leading edge and makes things exciting," Corporate Vice President of Supply Chain Noelle Walsh says. "Because we are market focused, our customers determine the markets and the markets determine our supply chain. Our focus now is to gain more speed and to get closer to customers. We have the speed and agility we need, and are focusing on improving our horizontal process to enhance the customer experience and simplify the way we work, making Dow easier to work with internally and externally. " 
As the company works to ensure visibility with customers and logistics providers, it is creating an end-to-end connectivity of the value chain. Dow has embarked on the largest single ERP implementation ever. It now has the most comprehensive and updated platform in the industry, which provides increased visibility internally. 
"We engaged in large implementations in Europe and North America to get that infrastructure in place," Bricco says. "We can enhance internal data and get it to external sources, plugging into analytics and helping with transportation visibility. Integrating with logistics suppliers and working with strategic customers help us understand product and volume cycles."
"We can bolt on enhanced external and cloud-based connectivity solutions to link with customers and suppliers," Walsh adds. "We are working with strategic, targeted suppliers and customers on the early days of that effort. Getting better connectivity between us and suppliers will allow us to better use analytics and communicate with each other so we can anticipate needs as opposed to reacting."
Critical to this effort is engaging with suppliers to ensure that they are partnering with Dow in its ongoing supply chain transformation. The company works with many major external suppliers, but it also supplies a lot of materials internally. Dow has worked to be highly integrated to ensure that it has product moving well internally and externally. 
"It is critical to get that process working correctly internally as we also work with external suppliers on improvement initiatives," Walsh says. "It allows us to streamline operations, increase our speed and operate at volumes that are higher than ever."
Bricco says engaging with targeted suppliers and transportation partners is helping to improve the entire fulfillment process. Dow has already implemented its transformation plans in the rail sector and is in the process of moving toward the ocean and the road. 
"We are gaining enhanced understanding of performance with carriers and can tie that information back into decisions around freight," she says. "As we see cycle time improvements, we get a better understanding of where congestion is and can proactively route railcars around it. As we get into the marine sector, we will be able to see issues at ports and correct it. Data isn't just sequentially focused anymore; now we can all see data in real time."
Clearly, analytics and big data are playing a large role in reporting and accountability. Dow has long been using data to model its operations in real time and find ways to minimize its footprint, but it can now use data coming in through the Internet of Things to provide more visibility into many different factors. 
"We have multiple analytics departments in different levels of the organization and the supply chain," Walsh says. "Data allows us to sense and anticipate demand, and we are looking for ways to do more."
Another major project that Dow's supply chain organization has been focused on in recent years is preparation for Sadara Chemical Company (Sadara) in Saudi Arabia. Announced in October 2011, Sadara is a joint venture developed by Saudi Arabian Oil Company (Saudi Aramco) and Dow. It is currently constructing the world's largest integrated chemical complex ever built in a single phase, with 26 integrated world-scale manufacturing plants, and expected to produce more than 3 million metric tons of capacity at full operation.
Seeking Sustainability
As its portfolio and product offerings change and its marketshare grows, sustainably meeting the varying needs of customers with speed and agility becomes more complex. Dow has won nine U.S. Presidential Green Chemistry Awards and has been named to the Dow Jones Sustainability World Index 15 times. It was the first chemical company to earn the National Safety Council's Robert Campbell Award.
In the supply chain arena, Dow is focused on reducing losses of primary containment (LOPC) and positively influencing the sustainability index. In 2014, Dow's LOPC performance was at a record low, meaning fewer incidents while having the largest number of shipments in its history, and at lower unit cost than the previous year.
In addition, Dow is focused on influencing the sustainability index by driving industry best practice through active leadership and collaboration. Dow was the first to bring up the Next-Generation Rail Tank Car, which is now a reality. As it leases the second-largest private railcar fleet in the world, Dow actively participates and advocates for sustainable, safe and secure practices.
Dow continues to work with suppliers, warehouses, safety providers and through speaking forums to promote product stewardship. Its supply chain organization is mobilized and engaged in the industry, chairing various councils and serving on the boards and in subcommittee positions concerning safe shipping.
As Dow has a global supply chain and wide sphere of influence, it aims to take a leadership position in sustainability and to drive continuous improvements that power its own reliability, effectiveness and efficiency. But it is also committed to elevating best practices across the chemical industry, which requires collaboration with suppliers, customers, agencies and universities. 
In April 2015, Dow launched the third stage of its sustainability journey with the announcement of its 2025 Sustainability Goals. Dow's 2025 Sustainability Goals continue to build on its sustainability commitment, extending its focus from the footprint to the blueprint of its products and operations. "There is a link between visibility, security, safety and sustainability," Bricco says.
Ultimately, supply chain transformation should improve enterprise-wide reliability and maximize efficiency. The new ERP system is in place, and Sadara is ramping up. The supply chain team is at the table at every level within Dow, helping to provide the company with a competitive advantage. "The supply chain is a solution provider and enabler, helping to understand customers and focus on value," Walsh says. "We must perform and deliver, which will take a lot of teamwork and collaboration across the chain."