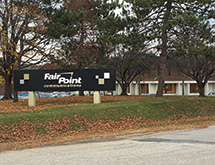 Meeting the challenges associated with the operation of a leading telecommunications company can be difficult, but the supply chain and logistics department at FairPoint Communications is equal to the task.
"The entire economy of this state is running over the FairPoint network or utilizes our infrastructure," says Mike Reed, FairPoint Communications' state president for Maine, the company's largest territory. Indeed, clients including those in the healthcare, banking, education and government sectors rely on the technology services FairPoint provides and cannot afford to be without them particularly during extreme weather conditions or other emergencies. To ensure that the critical services the company provides are continually up and running, FairPoint Communications looks to its supply chain and logistics team.
"FairPoint Communications is a technology company," says Reed, a veteran of the telecommunications industry. "These services have got to be up and running 24/7/365. We are providing the latest in technology to our customers and supporting all of this, behind the scenes, is logistics. The operation may often go unnoticed, but FairPoint Communications' supply chain and logistics serves as a backbone for the organization and much of its success. "We kind of want to be invisible in the process," says Bill Greene, manager of supply chain.
Infrastructure Upgrade
FairPoint Communications has provided telecommunications services in 17 states since 2008 when it acquired Verizon's landlines and related operations, and FairPoint's largest territory is northern New England's Maine, New Hampshire and Vermont. Since that time, the company has taken significant steps to improve services in the northern New England region, spending $700 million to upgrade the technology infrastructure.
FairPoint Communication's offerings include Ethernet services, hosted PBX services and high-speed broadband, Reed says. The company also is a major provider of services to cell phone towers and operates back-up data centers for customers, he says. It also provides 911 services in Maine and Vermont.
FairPoint Communications is continually changing to meet customers' needs.
"It's always evolving," Reed says. But the supply chain and logistics operation is always prepared and able to respond. "They're always available," he says. "The company's needs are diverse, but they have an excellent system in place."
Industry Veteran
That system is led by Bob Oldmixon, director of supply chain management. A 42-year veteran of the supply chain industry. Staying connected with Reed and members of other departments is one way the supply chain can anticipate needs and be responsive. "Every two weeks I attend planning meetings to understand what projects are coming up," Oldmixon says. Specifically, he works with members of the engineering, product management and marketing teams to determine which vendors his department will be working with as new technology, products and services are launched, he says.
Oldmixon's job is a challenging one. He and his team oversee a department that has $20 million worth of inventory made up of more than 25,000 items. The department also works with more than 5,000 vendors, he says. Inventory ranges "from a wood screw to a line truck and everything in between," he says.
But despite the enormous amount of inventory, the supply and logistics department has an effective system in place to ensure that everything runs smoothly, Oldmixon says. The company uses a "hub and spoke" system to manage and deliver inventory. Specifically, FairPoint Communications has four trans-ship locations – one in both Vermont and New Hampshire and two in Maine – that have a combined 70,000 square feet of space.
A fleet delivers inventory from those locations to 37 garage/work centers and 61 offices situated in the three-state region.
Weather A Challenge
The northern New England region served by FairPoint Communications deals with a significant amount of inclement weather including severe snow and rainstorms. FairPoint Communications understands that the extreme conditions cannot get in the way of continued service, Reed says. "The first thing people want is communications," Reed says. "In our business, weather doesn't matter."
Greene says experience makes the job easier. "We know what materials are going to be in the most demand," says Greene, a 26-year supply chain veteran. As a result, extra supplies of drop wire and pole line hardware are stored at the company's warehouses.
Sometimes, however, having the equipment on hand is not sufficient. Extreme snowstorms can make transportation the greatest challenge, Greene says. In those instances, the company relies on all-terrain vehicles to transport equipment to crews, he says.
Partner Relationships
Quality partners aided FairPoint's 2008 transition, Oldmixon says. For example, the company's affiliation with KGP Logistics, its procurement and warehousing partner, was a big step in the right direction. The company provides valuable services to FairPoint Communications that improve efficiencies and save money.
"KGP Logistics procures all outside plant [OSP] material requirements on FairPoint Communications' behalf," Oldmixon explains. "They then warehouse it in their inventory, and it's available when FairPoint has a demand." Evidence of KGP Logistics' reliability was shown when FairPoint Communications prepared in 2011 for Hurricane Irene. The vendor provided additional material within one day, Greene recalls.