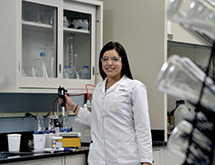 Today, strong relationships have proven to be an organization's most important business strategy. These relationships help companies meet increased demand and allow business to grow. Such is the case for GOJO Industries, a world leader in hand hygiene and skin health solutions and the inventor of PURELL® Hand Sanitizer.
"The relationships we have developed with our suppliers are very important to us," says Michele Cerminaro, global sourcing vice president. "Not only do they help us to gain a broader perspective of what is taking place in the industry, but these relationships also serve as a springboard for us to work together to find efficiencies and generate innovative ideas."
Relationships have been the cornerstone to the company's success since its founding in 1946. A relationship between GOJO founder Jerry Lippman and a scientist at Kent State University led to the development of the first GOJO hand cleaner. Today, GOJO places importance on its relationships with suppliers. 
One example of where the company's strong relationships with suppliers came into play was in 2009. Cerminaro was at the Rock and Roll Hall of Fame in Cleveland when she received news of the H1N1 influenza pandemic. The word came on a Saturday, and Cerminaro needed to get in touch with the company's suppliers. "We were able to respond, and we met the need," she recalls.
GOJO reacted to the global demand for its products by collaborating with critical suppliers that provided bottles, pumps, raw materials and labels. "We were able to get all of our suppliers ramped up and have these needed supplies coming into GOJO," Cerminaro recalls. GOJO was able to distribute its hand sanitizer and other hand hygiene products as part of a worldwide effort to combat the pandemic. "We know what it takes," she adds. "We understand our supply chain, and it's because of this understanding we are able to react quickly."
Trusted Relationships
The relationships GOJO has established have been key to the company's continued growth. "Having trusted suppliers helps you to navigate an ever-changing landscape and to ensure you have the right supplies at the right time," Cerminaro says. "Our suppliers are very important to us. We meet with them on a monthly basis to discuss business processes, products, cost savings and new ideas. The goal is to tap into innovative ideas that will help all stakeholders succeed. Collaboration is critical to our success." 
Sustainability Goals 
Sustainability plays an integral role in everything GOJO does. In fact, sustainability has been a part of the GOJO story from the beginning. GOJO founders Goldie and Jerry Lippman instilled a culture of practicality, resourcefulness, perseverance and social awareness during the company's early days. Today, that culture remains intact, and sustainability plays a pivotal role in how GOJO operates, Cerminaro says. 
The company's focus on social (enhancing people's quality of life and reducing risks to health and well-being), economic (building economic strength and prosperity for GOJO and its stakeholders) and environmental (increasing the positive impact and reducing the negative impact on our ecosystem) sustainability is inherent to the company's history and culture. "Sustainability is part of who we are," Cerminaro says.
One of the cornerstones to the company's sustainability efforts is its commitment to stakeholder collaboration. GOJO makes it a priority to listen to all of the company's stakeholders and engages in meaningful dialogue to advance respective sustainability objectives. Additionally, GOJO seeks relationships with stakeholders that create attachment, accomplish breakthrough results and lower risk. "GOJO is dedicated to leading the industry in sustainable practices and solutions while continuously expanding our knowledge base to finding better ones," Cerminaro says.
One example of how GOJO is working with its suppliers to advance collective sustainability goals is through the development of a sustainability scorecard. The Global Sourcing organization will deploy a Supplier Sustainable Value Scorecard by the end of 2015. The scorecard will contain measures of supplier sustainability impacts. The program will leverage GOJO supplier relationships to advance sustainable value innovation in support of the company's long-term sustainability strategy, Cerminaro explains.
Innovation at Work
Innovation drives everything GOJO does. From creating the hand sanitizer category with its invention of PURELL® Hand Sanitizer to continuing to bring innovation to the forefront of the industry with new hand-hygiene technology and formulations, GOJO continues to lead, and its supply chain plays a huge role in this leadership position, Cerminaro says. Indeed, GOJO recognizes and values external collaboration for innovation. A source of innovation is through linking with current suppliers. "Our suppliers are viewed as more than partners," she says. "They are regarded as an extension of the company. We recognize and value our suppliers' market intelligence, core technical strengths and commitment to building the business together. Our Innovation Without Walls program at GOJO is our commitment to leveraging those relationships." 
And while innovation and sustainability are synonymous with GOJO, they have always been a part of Cerminaro's career.  
She has worked on projects to that drive efficiency and sustainability efforts. For example, Cerminaro is leading a project to renovate a large manufacturing facility in Wooster, Ohio, that will be used to support the organization's growing operations. 
Building relationships comes naturally for Cerminaro – both from a supplier and community standpoint. It is the formation of such relationships that have served as the key to success for not only her but for the companies in which she has worked as well.