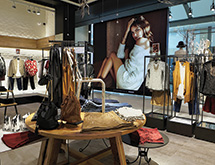 Few industries are as demanding from a supply chain perspective as the fashion industry, where what's in demand one month can be on the clearance rack the next. With nearly 380 stores in nine countries, Groupe Dynamite has become one of the best-known retailers of women's and young ladies' fashion through its Dynamite and Garage brands, and Director of Business Process and Sourcing Strategy Katia Berlin says that's due in large part to the company's drive to be looking forward all the time, its creativity and its teamwork.
"I think it's the fact that we're not scared to change. We are constantly evolving and trying new things," she says. "Following the status quo is not a motto here at any time."
Groupe Dynamite's dedication to improving its speed to market for customers means it is always looking at updating its supply chain resources and investing in the newest and best technologies. As fashion trends become more fleeting thanks to the influence of social media and the Internet, Groupe Dynamite is hard at work strengthening its supply chain infrastructure to be in a better position to serve its markets and have more presence globally. With the experience Berlin brings to the company, Groupe Dynamite is well on its way to a new era of supply chain excellence that the company believes will keep it at the top of the market.
Speed to Market
Berlin joined Groupe Dynamite recently after spending more than 10 years developing software for the apparel business. She says the company was looking for someone who knew the apparel business as well as strategies and enterprise resourcing planning systems. Berlin understands that what matters to a fashion retailer is more than just keeping in touch with the latest styles, but also being able to get those styles into customers' hands in time. "It's about our product and how quickly we react while differentiating ourselves," Berlin says.
Groupe Dynamite has undergone a major upgrade and redefinition of how its supply chain will work. Not only is the company putting new technology to work, but it also is changing how its distribution network is structured. Although this is a major undertaking with a lot of moving parts to consider, Berlin says Groupe Dynamite is handling the transition with aplomb and will come out of the transformation as a much stronger retailer.
Shaving off time and improving the speed to market is a major component of success for Groupe Dynamite's supply chain transformation, and Berlin says the company is working to improve that by changing its distribution model. After many years of having a single point of distribution for all of its products, Groupe Dynamite is expanding to multiple points of distribution to get products to its stores worldwide faster than ever before. "[We wanted to solve] how do we create fashion closer to when it actually gets to the stores. This will ensure we're even more relevant and in the prime time of when it needs to be there without all of these supply chain processes bogging it down," Berlin says.
New Technology
Groupe Dynamite has always been dedicated to finding new ways to improve its operations, and in recent years the company has placed a significant emphasis on overhauling its technology platforms in stores and throughout its supply chain. Berlin says the implementation of platforms such as Pivot88 and GT Nexus have helped the company make great strides in improving coordination with its suppliers and vendors.
For example, the use of the cloud-based Pivot88 platform has allowed Groupe Dynamite to centralize its operations and utilize any third-party quality control inspection company as easily as it would one of its own facilities. Berlin says vendors can log into Pivot88 software to do inspections and Groupe Dynamite will have access to all data on a single dashboard. The GT Nexus platform will allow the company to work collaboratively with any freight forwarder as it continues to grow internationally and within the United States, which is expected to open up many more opportunities for Groupe Dynamite.
The company already has seen big improvements in its merchandising system after implementing Oracle software about two years ago. Berlin says up until that point, Groupe Dynamite had used the same proprietary software for more than 30 years. The company also recently updated all of its POS systems in its stores. "That in and of itself was a huge investment of time as well as a financial investment," Berlin says.
Global Presence
The improvements Groupe Dynamite has made over the last several years have helped it enormously, especially when it comes to e-commerce. Berlin says the company's growth in that area has been impressive, and would not have been possible without the investments it has made into technology and supply chain improvements. These improvements also are expected to sustain Groupe Dynamite in its continued expansion objectives.
With both the Dynamite and Garage brands expanding throughout the United States, Berlin says the expectation is that the company's profile continues to get bigger in the future.