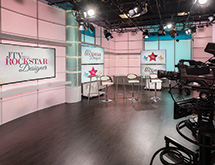 When Jewelry Television first went on the air from a studio in Greensville, Tenn., in 1993, no one knew what lay in store for the channel or the company. What started out as a home shopping channel focused on collectibles and jewelry eventually evolved into one of the leading retailers of fine jewelry of any kind in the United States. 
Indeed, the company has grown a lot since its earliest days, and Senior Vice President of Global Operations and Logistics Steve Walsh says its supply chain operations have played a crucial role in its growth over the years. 
The key to Jewelry Television's success has always been rooted in the company's ability to provide the highest-quality jewelry and gemstones to its customers, and that means the company has a strong sourcing presence where the world's finest gemstones can be found. 
Walsh explains that Jewelry Television scours the globe for the best available stones to turn into the best possible jewelry, but it knows there's more to success than having the best products. 
Over the last few years, Jewelry Television has undergone a significant transformation in its supply chain operations – one that Walsh says is still underway today. By adopting the newest technology and investing heavily in its internal infrastructure, Jewelry Television is keeping up with the demand for its products from customers throughout the United States. 
These enhancements are expected to raise the company's profile even higher in the coming years, and Walsh says the company and its customers are sure to benefit. 
Best in Class
Jewelry Television already had a strong supply chain operation before it started on its recent improvements, and Walsh explains that its sourcing has helped make it one of the nation's leading jewelry retailers. "We are extremely well integrated, from the ability to buy gemstones in the rough format to relegating them to the cutting facilities and to utilizing our global positioning to source product at the absolute best prices," Walsh says. 
The company's presence around the world makes it much easier for Jewelry Television to find the highest-quality gems. 
"We have teams on the ground," Walsh says. "We have a large staff in Bangkok where we source and design product. We have sourcing agents on the ground and quality assurance teams on the ground in multiple cities abroad."
Walsh says not only do Jewelry Television's own teams help guarantee its success, but also the strong relationships it has with its long-term suppliers. "Many of our vendors have been with us since our early years," Walsh says. 
Making Improvements
Although Jewelry Television has had great success over the years thanks to its strong supply chain operations, Walsh says the company knows that it can never stop working to improve those operations to better serve its customers. A continued strong sales growth and a significant market share capture has given Jewelry Television the impetus to make some major improvements to its facilities. "We have experienced a strong turnaround in our business, and in order to react to that we are adding significant storage capacity with the automation from Schaefer Inc.," Walsh says. 
Ground has been broken on a new 55,000 square-foot addition to its facilities that will incorporate the automation from Schaeffer Inc. The new addition will be a major improvement to the company's supply chain operations and give it greater capacity and efficiency when serving its customers. "This is going to allow us the ability to double our SKU count and take advantage of the process improvements that come with automated bin retrieval systems," Walsh explains. "We expect by September of next year for our automation processes to be in place." 
For the Future
Once the improvements Jewelry Television is planning for its supply chain operations are in place, Walsh says the company will be in a strong position to deliver even better fulfillment and shipping times to its customers. Already, the company fulfills orders from its customers seven days a week, thanks to its ecommerce presence as well as its 24-hour home shopping channel, Jewelry Television has evolved greatly from its humble origins, and remains one of the strongest companies in the jewelry retail segment today. By concentrating on what it does best while also working tirelessly to prepare itself for the future, Walsh says the company expects its success to continue for many years to come. "We want to be able to bring the largest selection at continued extremely favorable pricing with speed to customer as our No. 1 priority," he says. "We want to be able to open the world of jewelry and fine gemstones to everyone."