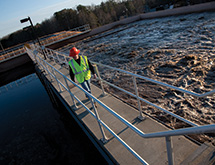 KKR is a leading global investment firm that manages investments across multiple asset classes including private equity, energy, infrastructure, real estate, credit and hedge funds. KKR Capstone is a separate, independent company comprised of more than 50 operations professionals who work exclusively with companies in KKR's investment portfolio. KKR's ownership interest in the companies in its portfolio varies; however, regardless of ownership percentage, KKR and KKR Capstone work closely with a company's management team to drive strategic and operational improvements where relevant.
"KKR typically only invests in companies when it believes it can bring differentiated support – whether access to capital, improved processes or innovative tools – which help the management team create an even stronger company," emphasizes Todd Cooper, managing director in KKR Capstone. KKR Capstone works with KKR's portfolio companies to improve their operations in many areas, including a company's supply chain. When working with companies on operational improvements, services are customized to a company's needs, and KKR Capstone only engages at a company's request – it is never mandated or required.
"Even if KKR has 100 percent ownership, Capstone's engagement is driven by the company," Cooper stresses. "Our culture and model is one of partnership and mutual interest. We may become engaged at the start of a deal or after many years of ownership. Regardless of how long KKR has invested in a company, our relationship generally begins with a conversation with the management team and substantial research. Then we develop and discuss opportunities as we see them. If the company agrees with the opportunity, and they think KKR Capstone is the right partner, that's when we officially become engaged. The decision is in the hands of the management teams at the portfolio companies."
KKR Capstone has two primary goals: to improve asset selection and deliver outsized operating performance in the KKR investment portfolio. It thinks and acts like an owner. "We come at it with an ownership mentality totally aligned with the management teams," Cooper says. "We propose the initiatives based on our experience because we believe they will drive real bottom-line value for these companies."
Although KKR Capstone advises companies in KKR's portfolio on how to improve their operations, that is where the resemblance to consulting companies ends. "Even if most of us come from consulting backgrounds, there are several differences," Cooper insists. "First and perhaps most importantly, we are owners and are focused on delivering long-term, sustainable results, while also building management team capabilities. On operations-related efforts, we stay engaged at the portfolio company until the impact materializes and the management team is in a position to run the effort going forward. Additionally, we work in small teams. We're pretty lean – 50 people across scores of investments.
"When we become engaged, part of our mandate is not only to help realize the value or the opportunities that we identified previously, but also to work with the management team and other key members of the company to ensure active engagement," Cooper explains. "They work alongside us so we can complete our work as soon as possible; we're transferring skills to the employees of the companies so that they can continue on in a sustainable manner. As odd as it sounds, we are constantly trying to work ourselves out of a job."
Less-than-Truckload Consolidation
Among the many specialties that KKR Capstone's executives work on in the supply chain are strategic sourcing, purchasing, logistics and transportation. One example of KKR Capstone's work in the supply chain was for a $2.5 billion industrial manufacturing company that was spending more than $10 million annually on logistics, the bulk of which was less-than-truckload (LTL) shipments in a mix of air, ocean and ground. The company made more than 65,000 LTL shipments in the United States annually.
"When we acquired the company in 2012, they lacked a centralized logistics function," KKR Capstone Director Steve Schepps describes. "We worked with the company to put in place a head of supply chain – who covered purchasing, logistics and transportation – and a logistics director. We built a system to ensure centralized management of logistics across this large entity and created a team to manage the enhancements."
The next step was to competitively bid all of the company's transportation spend – air, ocean, truckload and LTL – for its 10 plants across the United States and for its European air and ocean freight. Based on responses to a request for proposal, vendors and transportation providers were consolidated geographically by mode and costs were driven down in the bidding process.
Then, KKR Capstone examined the 65,000 U.S. LTL shipments. "We identified opportunities where we could deploy dedicated trucks and do milk runs and go to multistop truckloads instead of point-to-point LTL," Schepps says. KKR Capstone ended its active involvement with the company following KKR's first year of ownership when its team handed the new system over to the company's employees.
A company that manufactures reusable metal crates used by various industries to ship products globally also benefited from the expertise of KKR Capstone. "Its customers use the crates to transfer materials between facilities and to transfer materials/products to customers," Schepps explains. "The company provides a crate at the source and collects the crate when the customer, or the customer's customer, no longer needs it."
This is a global business for the Asian-headquartered company. "I spent a good amount of time working with their head of network optimization to implement a more cost-effective network solution," Schepps says. "Under his guidance, it was determined that a surplus of crates existed in North America, due to greater importing than exporting, and the most efficient strategy was to collect the surplus crates in specific geographic zones where they were not needed. The unused or surplus crates can then be shipped back to Asia where they reenter the network and are transferred to 'deficit areas.' As a team, we developed and implemented an enhanced network solution to collect the crates in three different geographic regions so they could more efficiently be gathered and shipped back to Asia."
KKR Capstone has also worked with a group purchasing organization named CoreTrust to reduce parcel-shipping costs by bidding them in a group on a single contract. "We are very active in the selection process and in the contract negotiation process, and we are one of the anchor customers," Schepps says. "Over time, we have been able to demonstrate to the vast majority of KKR's North American portfolio companies the savings and opportunities available from use of these contracts."
In addition to the aforementioned capabilities, KKR Capstone helps to drive aspects of KKR's environmental, social and governance (ESG) efforts, including eco-efficiency initiatives that promote fuel savings and reduce transportation costs. In this instance, KKR Capstone engaged portfolio company leaders about routing optimization software and vehicle selection to promote purchasing trucks with higher gas mileage, speed governors and idling shutoffs. These technologies both have proven impacts for the bottom-line and the environment.
KKR Capstone sees improvements in the supply chains of KKR's portfolio companies as a key contributor to a company's overall success. "The reason that KKR Capstone focuses so much on the supply chain is that it is a meaningful part of the business in a lot of the companies in which KKR invests," Cooper says. "We have found that there is often an opportunity to work with the KKR portfolio companies to drive tangible improvement through capability building, optimization, negotiations and vendor consolidation within the supply chain."
For the future, Cooper sees an even stronger focus on supply chain improvement. "We're likely to continue to build our in-house logistics capability, as well as develop deeper partnerships with consultants who specialize in this area," he says. He also foresees an increasing emphasis on energy efficiency and sustainability.
"Our goal is to continue to do more," Cooper concludes. "It could be route and network optimization or improving equipment efficiency. All of those factors have the potential to drive significant reductions in operating costs, while also reducing environmental impacts. It's a double bottom-line impact; that's what we are all about."