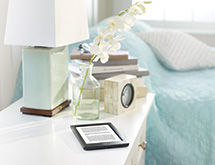 At most entrepreneurial companies, the sales team is responsible for forecasting sales. But when Scott Cleaver joined Rakuten Kobo Inc. three years ago, he wanted the e-reader and e-book company to approach its sales predictions from the supply chain side. Being able to more accurately estimate how many devices would sell would allow Kobo to streamline its supply chain and lessen its inventory, making the company more flexible and capable to react to new market trends.
But there was an inherent challenge in the e-reader market. E-commerce has allowed manufacturers to skip the traditional brick-and-mortar retailers and now more than 70 percent of all e-readers are sold directly to consumers. Most companies guard those sales carefully, meaning there is little available data on industry trends or sales figures for comparable devices. So Cleaver and his team developed their own demand forecasts. "We rely heavily on Kobo's historical sales data and how our product is selling in the market," he explains. 
Making a fundamental change to how product forecasts were devised took trust from Kobo's sales team and the rest of the organization, Cleaver says, and he had to convince others the process was flexible enough to allow Kobo to increase the supply of e-readers if a device took off. But since implementing a more balanced supply-focused approach, Kobo's forecast accuracy is typically between 90 and 95 percent, close enough that it can create efficiencies throughout the rest of the company.
The Toronto-based company was founded in 2009 and is a subsidiary of the Japanese e-commerce giant Rakuten. The company offers more than 4.7 million e-books across 97 languages and 190 countries. Although the company is centered on e-books, its e-reader devices make up the physical side of the supply chain. "We're the e-reading company purely for readers," Cleaver boasts. 
Device hardware is commoditized to an extent. Every e-reader company uses the same screens, plastics and components so Kobo differentiates itself from the Kindles and iPads of the world through its software. Where companies such as Amazon want to draw customers into its ecosystem, Kobo is about giving avid readers a dedicated experience. The company considers traditional books its competition as much as it does rival e-readers. "We're competing against something that's been around for hundreds of years and is very successful," Cleaver says. "A lot of attention goes into the planning and production of our devices to ensure they are easy to use."
With each new iteration of its e-readers, Kobo strives for a design that lowers the barriers to entry and creates a pure reading experience. Simple things like putting the light on the front of the device allows for an improved experience during long reading sessions. "More so than ever, even on upcoming products, we listen to our customers to find out what they want and how we can improve the overall experience," Cleaver says. 
It's all about driving the consumer toward Kobo's e-book store. "If someone is willing to invest $100 into an e-reader they're likely to be a good customer of e-books as well," he adds. 
Worldwide Market
Kobo uses various distribution channels to get its e-readers into customers' hands: direct to retail, warehousing and authorized distributors. When entering a new market, Kobo's strategy is to partner with the most successful  bookstores in the country. That gives Kobo access to people buying print books while creating a partnership for the bookstore. Kobo has developed supply chains in 20 key countries to support those relationships.
Kobo relies on three logistics partners to manage its inventory and warehousing operations: Kerry Logistics in Hong Kong, Panalpina in Europe and Ingram Micro Logistics in Canada. "We run our inventory pretty lean in terms of how we operate now," Cleaver explains. The lead time for manufacturing a device is about eight weeks, so Kobo tries to clear out its inventory in eight-week schedules to avoid building up stock. Those smaller inventory levels have the added benefit of allowing the company more flexibility to make strategic business decisions on when to launch its next product or end a device's lifecycle without worrying about discounted versions of the previous model cannibalizing sales.
Although there is a seemingly never-ending march of new devices, the manufacturing space for electronics is limited. Kobo must lean on its relationships to secure the production that enables a streamlined supply chain. "We try to avoid being in the battle for components because we can't compete against a company making 300 million cell phones when we make a million devices," Cleaver says. "It is very difficult to get priority when components are on allocation" 
The lack of choice in e-reader component makers also complicates production. For example, E Ink makes the majority of the industry's e-reader screens, including for devices from Amazon, Barnes & Nobel and Tolino, which Kobo has little choice in supply decisions. "It is important to build up a strong relationship to make sure you are getting your lion's share of attention for product availability and supply," Cleaver says. Kobo values and creates those relationships by including suppliers like Netronix and E Ink in its decision-making process and supplying them with its internal forecasting numbers.
The company will continue to develop those relationships as it grows. In October, Kobo entered the Mexican market through partnerships with two of the nation's largest brick-and-mortar booksellers. "We're constantly rethinking our overall supply chain in terms of where we think our business is heading," Cleaver says.