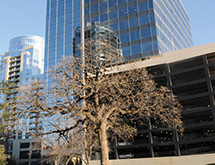 Dating back to 1940, MoneyGram is a global provider of money transfer and payment services. Today, MoneyGram is a publicly traded company with about $1.5 billion in revenue and approximately 2,500 employees. 
Headquartered in Dallas, MoneyGram's history dates back to the founding of Minneapolis-based Travelers Express Co. Inc. in 1940. Over time, its current makeup came about after a merger between Travelers Express and Denver-based Integrated Payment Systems Inc. 
The company recently opened a new business center in Warsaw, Poland, and it has many satellite offices located around the world. MoneyGram currently has around 357,000 agent locations worldwide, and it offers services in 200 countries and territories. MoneyGram is also focused on new technologies and expanding its services online and through self-service kiosks.
"Our company mantra is 'bringing you closer,'" Vice President of Strategic Sourcing Chris Chandler says. "We see our company's business as a way of connecting people in the global economy." 
MoneyGram has historically connected its customers through traditional money transfer service. However, as technology improves, Moneygram is also making changes to the ways it offers its services to customers. The company is now heavily focusing on building its self-service channels through innovative technologies that allow its customers to make more of their transactions online or at self-service kiosks.
Becoming Strategic
Strategic Sourcing activities at MoneyGram are having multiple, significant impacts on the organization. This is having a positive influence on its success as a money transfer company. 
One of the biggest pieces of the Strategic Sourcing function is centered on expense management. Growing top-line revenue is a key focus for the company. 
"Given the industry and the environment that we operate in, cash and expense management are key," Chandler says. 
"We need to see a meaningful return on what we spend by maximizing the value of what we are spending," Chandler adds. "We have to take a look at our spend and supply base consolidation across the enterprise." 
At one time, MoneyGram had no central sourcing operations and most of the decisionmaking was left up to the individual business units. That ultimately led to an environment where the company was not leveraging the potential of its purchasing power.
"We play a key role in bringing all of the regions of the world together wherever it makes sense," Chandler says. 
"Some of the business we oversee works on a global scale and some of it works on a regional scale, but we look for cost savings on the expense side," he continues. "At the same time, we are focused on finding way to mitigate risk and making sure we have the right agreements with our suppliers and are adhering to regulations within each market." 
Global coordination has been one of the most pressing issues facing MoneyGram. The company doesn't want its local operations to lose their identity, but they have to fit into the big picture. Change management has been a big part of that effort. 
"Global Strategic Sourcing is a fairly new function for the company, as this department used to be focused on procurement alone," Chandler says. "Procurement is part of Strategic Sourcing, which requires looking further down the road and being more than just transactional. We have reorganizedourselves in ways that allow our team to become more strategic. While we are doing that, we are also involved in developing a Supplier Excellence platform. That will focus on added value and supplier performance management, moving beyond simply tracking metrics and reporting scorecards."
The company is also working to ensure that it has the right vendor relationships. MoneyGram is focused on fostering a competitive environment around expense management while it is also looking at issues such as contract lifecycle management. 
Building strong supplier and vendor ties is critically important, as the company has addressed competition through RFPs and risk management initiatives in contracts. At the same time, contract lifecycle management is helping to enhance the company's focus on deriving the maximum value possible out of all of the contracts it is negotiating. 
However, MoneyGram's cost innovation efforts are striving to go far beyond simply negotiating the best price for services. The idea is for the company to truly partner with vendors so they bring added value to the table and help MoneyGram to be innovative about what it buys and how it is buying. As it focuses on sourcing and procurement, Chandler's team must be able to get both internal business partners and suppliers on board with its initiatives. 
"Our team has to be in front of people internally and externally to proactively manage relationships and get our partners to bring more to the table than just a transaction," Chandler says. "We've built a diverse group utilizing best practices so we can leverage our knowledge and achieve optimal operations."
Driving Forward
Opening a new office in Warsaw, Poland is one initiative that has helped MoneyGram to reorganize. The company is still headquartered in Dallas and has operations in Minnesota, but the move has allowed MoneyGram to strategically align some specific operations in Warsaw, Poland, while also centralizing certain other operations in the Dallas headquarters location. 
"We are now better positioned as a company to run the business through three main hubs, consolidating business processes and creating efficiencies," Chandler says. 
In the years ahead, expense management will continue to be important as the company strives to spend effectively. MoneyGram is looking for more transparency in the goods and services it purchases. 
This can be challenging when it comes to Indirect spend categories. However, achieving more transparency in those costs will help MoneyGram understand where the value is coming from. 
Compliance without sacrificing service will be another challenge. The aim there is to find ways for the company to be more cost effective than the competition, so every dollar of revenue growth will have the greatest impact.
"One of MoneyGram's strenghts is that it is committed to being an innovative company," Chandler says. "We want all of our customers to have the ability to send, receive and transact whenever and wherever they choose. Strategic Sourcing will help our company to deliver on our commitments by providing the most cost-effective  services possible."