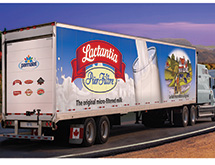 Some companies are content just selling products, but Parmalat Canada focuses on doing much more. For example, "Our employees' continued commitment to quality and innovation has helped [us] become one of the largest, most-dynamic food group companies in Canada," National Vice President of Supply Chain Taras Korec says.
Based in Toronto, Parmalat Canada specializes in milk and dairy products, fruit juices, cultured products and table spreads. The company, a division of Parmalat S.p.A. in Parma, Italy, has become known among Canadian consumers for such dairy brands as Lactantia, Black Diamond, Balderson and Galbani, Korec says.
It is also one of the largest food companies in Canada with a workforce of 3,000 people and 17 dairy-processing facilities. In addition, Parmalat produces dairy products for the foodservice industry and dairy-based ingredients to other processors, he adds.
People and Products
Parmalat Canada's success is partially due to its staff, Korec says. "These people develop and produce the fantastic and award-winning products that our customers and consumers love," he says.
These include its Balderson Cheese brand. "[Balderson] has been making and aging award-winning cheeses that have become internationally acclaimed as the best in aged-Canadian cheddar," Korec describes.
Parmalat Canada also has its Galbani cheese brand, which it brought from Italy to the Great White North. "Our fresh mozzarella is crafted in the same traditions that have made Galbani Italy's favorite cheese brand for over 150 years," Korec describes.
Parmalat Canada's customers expect high-quality products delivered on time, when and where they need them. The company's supply chain is structured to fulfill that expectation.
Its integrated sales and operations process ensures "alignment between the voice of the customer and our manufacturing capabilities," Korec says. "Using this process, all stakeholders are encouraged and expected to voice their concerns and opinions in order for us to reach decisions as quickly as possible. Supply chain transparency is a key value that we exercise."
Parmalat Canada strives to improve supply chain efficiencies by engaging all levels of its team, Korec says. "We're implementing things like new operational metrics and we're focused on operational excellence," he describes.
It also concentrates on streamlining its business process and partners with customers to collaboratively drive agility. Parmalat Canada recently had a meeting with a retailer that brought both firms' supply chain teams face-to-face. "We identified opportunities to collaborate together," he recalls. "We're going to start spending more time identifying opportunities to collaborate with other retailers." 
Getting Closer
Although Parmalat Canada performs warehousing, transportation and freight payment services, it also uses third-party providers. "We like to have a close relationship with key vendors to ensure they understand our business challenges and to promote transparency for both sides," Korec says. 
The company's partners include Go Smooth Transport Ltd. in Brampton, Ontario. "We provide Parmalat with refrigerated transportation services," President Gord Crowther describes, noting that he  worked for the company as a supplier for more than a decade.
"I've always found them very good to work with," Crowther continues. " [They have a] very knowledgeable staff with regards to difficult deliveries, temperature requirements [and] time sensitivity."
Another proud partner is Wendell Erb, the president and CEO of The Erb Group of Cos., which has offices in Ontario and Pennsylvania. "We've been a transportation provider for them for 30 plus years," he describes. "They're a great customer of ours and we appreciate them entrusting [their] business to us."
3PL Links has been working with Parmalat for three years, auditing its freight invoices to 100 percent accuracy, including disbursing weekly payment to its carriers, 3PL Links President Walter Grossi says, noting it has been a real pleasure to work with Korec and his management team. 
"Taras is a very focused individual who knows how to drive maximum efficiencies throughout Parmalat's supply chain," he says. "He challenges both his team and service providers to continually optimize and improve Parmalat's supply chain solution."
Logistics In Motion (LIM) also has enjoyed working with Parmalat Canada. Kevin Kendall, the vice president of operations for LIM, says the company has been a warehousing and logistics partner since 2003. "Most significantly, we operate the Mississauga, [Ontario], distribution center where a dedicated team receives fresh milk and dairy products from the production lines and pick, pack and collate shipments from Parmalat's customers in the strategically important greater Toronto area zone," he says.
 Murray Brabender, the COO of consumer logistics for the LIM, adds that the partnership between the two has been strategic. "LIM has been engaged in initiatives to assist Parmalat with long-term plans on overall network design for Canada and service enhancements to its customers," he says.
A Fantastic Place
Korec joined Parmalat Canada 18 months ago. "I've run supply chains in the automotive, electronics, healthcare and the consumer packaged goods industries," he recalls, noting he has enjoyed his time at the company. "Parmalat is a fantastic place to work."
 He sees a strong future for the company. "We're going to continue to focus on growth by providing excellent services," he says. "We're also going to continue to drive operational efficiencies on the supply chain side of the business by focusing on metrics and automation."
Korec sees growth with Parmalat S.p.A. and its own parent, The Lactalis Group, the largest dairy company in the world. "[We] are looking for growth opportunities, and Lactalis continues to acquire and consolidate companies around the world," he says.