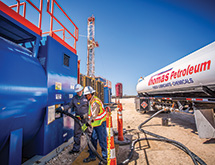 One good way to get acquainted with Pilot Thomas Logistics is to take a look "inside the numbers," to borrow a phrase from the world of sports.
Those numbers include nearly 70 years of experience, approximately 3,500 team members, 3,000 specialized trucks and trailers, 25 million gallons of bulk storage and terminal capacity, 30,000 mobile tanks and pieces of equipment, 45 warehouses, 20 marine barges and vessels, as well as operations in 27 states and all major ports on the West Coast. Indeed, the numbers say a lot about a company that has become a premier provider of fuel, lubricants and chemicals in the energy, marine, mining and industrial markets.
The Fort Worth, Texas-based company has steadily grown through several acquisitions and consolidations throughout the country allowing it the reach and resources it has today. "It happened over a period of time," President and CEO Scott Prince says. "Pilot Logistics has been very strategic in aligning itself with companies that further enhance the core products and services offered to our customers."
In a highly fragmented industry occupied by numerous smaller companies, the consolidation required a very focused approach to ensure the level of quality and customer attention remained high, and there was no disruption in services to our customers, Prince says. Pilot Thomas Logistics capitalized on opportunities over the years to build a company that today provides fuel, lubricants and chemicals to oil rigs, fracking operations, natural gas engines and compressors, mining operations and the marine industry, Prince says.
Merger Expands Reach
The company, formerly Pilot Logistics Services, merged last December with Thomas Petroleum to combine the two companies energy services businesses. "Bringing the two companies together allowed us to solidify our position as the premier provider of fuel, lubricants and chemical solutions to the North American energy, mining and marine industries," Prince says.
"The merger also enabled us to improve and expand services, exceed industry and customer safety expectations and invest in innovative products and technology to enhance the operating efficiency of the business," he adds.
The latest equipment and resources set the company apart from its competitors, Prince says. "We have the resources to support operations of all sizes," he says. "Our fuel and lubricant trucks are outfitted with high-pressure transfer pumps capable of delivering up to 150 gallons per minute of fuel and 55 gallons per minute of lube oils. The average truck capacity is more than 6,500 gallons, and many of the newer fleet vehicles feature a custom-built boot added to the tractor to hold additional barrels and a crane to lift them out during product delivery. We can meet the sophisticated supply chain needs of the largest companies in our industry. We have the resources that allow us to respond efficiently and expeditiously with an ongoing focus on safety and customer service. That is the role we play. We are our customers' core logistics partner," says Prince.
Response time is of primary importance for energy exploration and completion operations that frequently relocate, often with short notice, Prince says. And the next location is not always easily located on a map. "Companies are moving every day and often in the middle of the night," he says. "We have to pinpoint crews' destinations; we [accomplish that] with sophisticated technology most of the smaller companies don't utilize in their operations." 
The company's technology investment also extends to transportation logistics optimization. "We know where our equipment and our people are at all times," Prince says.
Additionally, energy exploration and mining companies routinely work in extreme conditions that include temperatures that reach 120 F in West and South Texas or drop to 40 F below zero in North Dakota. Despite the harsh environments, the operations continue 24 hours a day, seven days a week, and Pilot Thomas Logistics must be ready to respond. "Our customers' performance expectations are extremely high," he says. "We provide fuel and resources as expeditiously as possible while focusing on the safety of everyone involved at all times." 
Marine Operations
The company maintains a significant marine operation, serving international shipping, cruise lines, military vessels and commercial and industrial fleets in several West Coast ports including Los Angeles, San Francisco, Portland, Seattle and Vancouver. The company's West Coast blending plant produces lubricants to support the unique requirements of the maritime and industrial markets.
In addition to its terminal and bulk storage activity, the company's mobile transfer units are built specifically for the unique demands of the marine industry. Barges are designed specifically for marine fuel and lubricant deliveries and are fitted with cargo pumps capable of delivering up to 1,800 gallons per minute of diesel and up to 135 gallons per minute of lube oils. The largest barges have diesel capacity of more than 630,000 gallons and lube oil capacities up to 80,000 gallons in multiple tanks, Prince says. 
Pilot Thomas Logistics has established a significant presence across the United States with plans to expand operations, Prince says. "We will continue to seek out growth opportunities in all areas of our business," he says. That expansion likely will include additional investments in the marine industry to serve ports along the Gulf Coast and East Coast, as well as further mining and lubricant market expansion, and hopes to expand further into Canada and Mexico, he says.