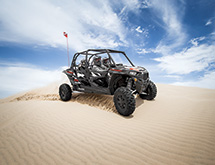 Already the world leader in off-road, all-terrain and recreational vehicles for more than 60 years, Polaris Industries fuels the passion of riders, workers and outdoor enthusiasts around the world while delivering innovative, high-quality products, services and experiences that enrich its customers' lives. The company has transformed itself for the future by diversifying it product offering, growing internationally, fine-tuning its supply chain and focusing on strategic growth.
With procurement staff located all over the world, from India, Mexico and China to Switzerland, France and Poland, along with manufacturing plants in the United States, Mexico, Poland and a joint venture in India, Polaris is able to reach a wide range of diverse customers with different needs. Polaris also plans to open a new facility in Huntsville, Ala., which will go into production in second-quarter 2016. The company invested about $150 million in this 725,000-square-foot facility that will house approximately 1,700 employees and primarily focus on outdoor recreational vehicle production.
Its Asian presence was established in 2006 by stationing Tony Wixo, senior director of global procurement and supplier development for Polaris, in Shanghai for three-and-a-half years, which allowed him to oversee an abundance of organic growth as well as broaden Polaris' international reach. Wixo moved back to the United States in 2010 and was given increased leadership responsibilities and developed the company's global presence from a supply chain perspective.
Because the company has tripled in size since 2009, Polaris realized it needed to change its recruiting objectives to attract those who were new to the industry, but talented and wanting to grow a career with Polaris. Therefore, Wixo established solid connections with local universities such as the University of Minnesota, Iowa State and University of North Dakota to recruit capable supply chain degreed college graduates into entry-level positions. "In the past we would try to hire people with experience, but we found the students duly capable and had the right attitude and were very eager to learn, start and grow their career with Polaris," Wixo says. "We grew the relationship with the universities because of the abundance of talent. We just couldn't find or hire enough people with experience to fulfill our needs."
Thanks to organic and strategic growth, the company has tripled its sales, growing from $1.6 billion in 2009 to almost $5 billion today.
Some of Polaris' third-quarter 2015 growth highlights include:
+ Sales increased 12 percent year-over-year to a record $1.45 billion (up 16 percent in constant currency) for the quarter.
+ North American retail sales increased 7 percent year-over-year.
+ Net income increased 10 percent to $155.2 million year-over-year.
+ Motorcycle consumer retail demand remained strong in the third quarter, up over 60 percent, while the motorcycle production rate improved sequentially from the 2015 second quarter.
"Our record third-quarter results continue to reflect the efficacy of our long-term strategy and the resiliency of the Polaris organization, as motorcycle growth accelerated, outdoor recreational vehicle share gains continued and our developing adjacencies built momentum," says Scott Wine, CEO and chairman of Polaris. "We accomplished this in a difficult environment, with the combination of weakening currencies and softening economies adding to the pressure we face from the sluggish oil and agriculture markets, all in the midst of the most competitive powersports landscape we have seen in nearly a decade. It is encouraging to see our Polaris team use these challenging times to get better and stronger, while displaying renewed determination to win across all our markets."
Polaris Spirit
Thanks to the company's tremendous growth providing scale and its global reach expansion, more supply markets are available to Polaris, and as such the company has access to a broader range of suppliers. The relationships are truly collaborative and in many ways Polaris has transparent communications with its supply base. Early supplier involvement is key, and suppliers are involved from the inception of many projects.
Polaris does rely heavily on its vendors for input on its design and processes. The company hosts a supplier conference every February to review the previous year's successes and failures while planning for the coming year of business.
"We think this paves the way and provides a solid foundation for a successful relationship," Wixo explains. "We are also moving towards a tiered approach with our strategic partners to illustrate levels of understanding for how we interact with our suppliers differently."
But it's not just about working well with the suppliers; the Polaris team around the globe has to be in sync. "We all have a can-do attitude and spirit here," Wixo says. "Through brute force, speed and teamwork, we've transformed from a $1.6 billion company to a $5 billion company. I believe that is due to the drive Polaris brings and the passion we possess every day."
"Successful innovation requires agility, in order to react quickly to ever-changing market conditions," Wine adds. "This applies not only to product design but also to our internal organization, which we demonstrated in the third quarter by realigning our international business structure to become more efficient and effective in response to challenging markets outside North America."
Because Polaris has tripled in size, it has to continually meet its growing customer demand with inventory management and increased capacity for production. Also, it has to keep up with the trends in the market that can influence its production schedule and forecast. For its most popular products, the company drives a shorter lead-time and increased flexibility to get them to the market faster.
"We want to be producing and manufacturing what's selling in the marketplace," Wixo says. "About 75 percent of our top-line revenue is from new product introduced within a three-year span. So in this short time, you're completely reiterating with new product. We have to be fast and agile, and this carries over to our supply base. Our most successful suppliers embody this passion as well."
Never Stopping
Polaris plans to increase its revenue to $8 billion by 2020, which means its recent abundance of growth is only the beginning.
To achieve this goal, Polaris is guided by principles of having the best people and the best team, safety and ethical standards and customer loyalty, while also focusing on delivering innovative and high-quality products, margin expansion through product and quality leadership and operating as a lean enterprise.
The company's strategic objectives continue to drive it forward, and include:
+ Becoming the best in Powersports PLUS products with 5 to 8 percent annual organic growth;
+ Growing more than $2 billion revenue from acquisitions and new markets;
+ Dedicating 33 percent of its revenue to global market leadership;
+ Through strong financial performance striving to sustain and grow its net income margin by more than 10 percent year over year.
"We will deliver the best off-road and on-road vehicles and products for recreation, transportation and work supporting consumer, commercial and military applications," Wixo says. "Our advantage is our innovative culture, operational speed and flexibility and passion to make products that deliver value to our customers."
Looking to 2016, Polaris believes that its international growth prospects are positive, but it will continue to focus on its current procurement locations, along with launching its new Alabama facility. Additionally, mergers and acquisitions' role in strategic growth are expected to increase and the company's LEAN evolution will become more visible. Every step towards growth brings more customers to Polaris and helps the company on its journey to becoming the No. 1 choice for on and off-road all-terrain vehicles, the company says.
"Polaris has delivered solid financial performance in the first nine months of 2015, and despite facing stiff headwinds that show little sign of abating in the near term, our financial position remains robust and our growth opportunities plentiful," Wine says.
"We have a competitive advantage because we believe we understand the customer better than others in our market space," Wixo explains. "Polaris employees use our product, we ride our product. We 'live' the riding experience every day; we understand it and we'll work to make it better always."