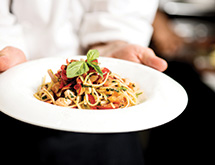 Founded in 2008, SpenDifference helps emerging and mid-size restaurant chains be more competitive across the supply chain. The company understands the challenges faced by restaurants, and it can provide the infrastructure its clients need to gain market advantages.
"When the company was started, we recognized that there was a great opportunity to create synergies within the foodservice industry from a supply chain perspective," Vice President of Supply Chain DeWayne Dove says. "Our model drives leverage toward the cost of goods. If you are a single operator, you can get more leverage and find ways to create synergies, reducing the number of suppliers and creating efficiencies in manufacturing while maintaining brand specification requirements."
Key Qualities
Today SpenDifference has offices in Denver, Atlanta and Louisville, employing 50 people. The company has management agreements with close to 5,000 restaurants and oversees more than $1.2 billion in spend. This all represents significant growth since its beginnings, when it had nine employees and managed $350 million in spend. 
Among the qualities SpenDifference possesses that allow it to provide restaurant brands with a competitive edge are three key components: leverage, expertise and risk management. The leverage aspect is easy to understand. SpenDifference's clients can increase their buying power by being part of larger-volume orders with the supplier community, thereby driving out cost. 
As for the expertise factor, the typical companies that work with SpenDifference are small operators with personnel that wear many hats. SpenDifference has the experience in the business organized by category, such as beef, poultry and packaging.
"We know the industry and understand the key issues within the categories, allowing us to help drive out more cost," Dove says. "We look at everything from raw material costs to finish costs and everything in between, such as labor, packaging, overhead and freight. We can negotiate each of those components."
As for risk management, the company has a department dedicated to identifying risk and putting strategies in place around market timing. Among the biggest challenges impacting SpenDifference's clients is the nature of the commodity environment. Commodity prices have been volatile, driven by multiple factors, such as geopolitical issues, weather and supply and demand. With many drivers influencing commodities, the industry needs the ability to identify causal factors and take proactive steps to address them. SpenDifference knows how to take the right positions on commodities, helping to protect its clients' margins from commodity perspectives. 
"If you are a heavy beef user, for example, the past two years have been tough," Dove says. "But our risk management department identifies opportunities to get into the market, develop forecasts and present options such as running LTOs, changing the product mix, adapt menu pricing or play up other proteins to offset increased commodity prices. Risk management around commodities and understanding industry drivers helps us devise forecasts and come up with offsetting strategies." 
End to End
What SpenDifference has been hearing from its clients has been the need for end-to-end, farm-to-fork supply chain solutions. When looking across the entire supply chain in the industry, from culinary and custom contracting to logistics and marketing, SpenDifference continues to stay ahead of the curve in an effort to offer a true end-to-end solution, identifying key components and reinvesting in resources.
"For example, we have addressed software to manage freight lanes on the logistics side," Dove says. "We are taking client synergies, sharing suppliers, utilizing geographic proximity and filling trucks to minimize freight rates. We have placed a significant focus on logistics and adding value there. 
"Over the next year, we will be making additional investments into our logistics department and adding resources and expertise in that area." 
Building strong supplier and vendor ties is a key focus for the company. SpenDifference initiated a client advisory council four years ago to create alignment between the company and its clients, ensuring in-sync strategies and helping the company further develop its business model. The council illustrated the need to develop strategic supplier partnerships, which SpenDifference has done. 
"We have key supplier partners that will begin to meet with our client advisory council in the coming months at our Denver office to discuss issues such as major market events and ideas around specific categories," Dove says. "We represent 18 brands across the country, and our partnerships with suppliers helped us developed a stage that allows suppliers to get in front of our brands instead of having to meet each brand one at a time. 
"That is valuable to suppliers, and it gives them opportunities to move more volume. As we have grown, our supplier partners have grown, and our model helps to drive growth and efficiency at their facilities." 
In the years ahead, finding an end-to-end supply chain solution will continue to be a focus across the food industry. 
The brands working with SpenDifference seek guidance in regards to key consumer demand areas that surface like organic, cage-free, non-GMO and clean label products. Staying on top of those kinds of trends will help SpenDifference connect its client to consumer demands. 
"There is a lot of value for our brands that all comes back to us having the 5,000 restaurants to manage in our portfolio," Dove says. "We have the expertise to offer them the right product mix so we can drive value for clients and suppliers."