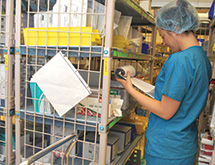 The national rise in insurance costs, combined with a reduction in the amount of reimbursement paid by insurance providers, has proven to be one of the biggest challenges faced by healthcare systems.
Cutting costs while not compromising the quality of healthcare is a high priority for healthcare providers across the United States. Susquehanna Health, an integrated health system including four hospitals, two skilled nursing facilities and 45 physician practices, is looking to its supply chain operations for answers.
"Hospitals are getting squeezed more and more, so when it comes to the supply chain, we're trying to drive costs out of the system so the system is able to provide quality affordable healthcare to the communities we serve," says David Peck, assistant vice president and chief supply chain officer of the Northeast Pennsylvania-based healthcare provider.
Many into One
Peck is spearheading supply chain initiatives that will allow Susquehanna Health to attain his goal of reducing $5 million within the next fiscal year. The system within the past few years took its first step toward greater efficiency by implementing a single enterprise resource system (ERP) across its four hospitals, which formerly managed ordering and supply chain functions individually.
The four hospitals and other facilities are supplied through two warehouses, which will be condensed into a single warehouse and distribution center early in 2016. The system partners with national distributor Owens & Minor to supply products, which Susquehanna Health personally delivers to hospitals and other facilities. "We're going to one distribution center for material management efficiency reasons," he adds. "By going to one warehouse, we can cut distribution costs and better manage products."
In addition to combining warehouses, Susquehanna Health is driving efficiency throughout the system by looking seriously at the amount of items it stocks. "We're in the process of a data scrub," Peck says, noting that the system's existing item master data file contains more than 30,000 line items. "We have a lot of junk [in the master file] that we need to clean out."
The system has a goal of reducing its item master data file to 7,000 items. To do this, the supply chain team is reducing the number of similar or identical items it stocks from multiple manufacturers and assigning new United Nations Standard Products and Services Codes (UNSPSC) to the items the healthcare provider stocks. These codes are used across all facilities as well as by distributors and manufacturers to quickly identify supplies.
"By combining distribution sites and standardizing item master codes, I can buy one product and distribute it throughout our system instead of buying one product for one hospital and the same product made by a different manufacturer for another hospital," Peck says. "It doesn't matter if we use one item or 30 supply items, we're getting the same reimbursement. We're putting an emphasis on standardization and lowering at many SKUs as we can so there's less deviation and less variation in the products we use."
'Like an Orchestra'
Susquehanna Health's relationship with Owens & Minor and other suppliers is one of the partnerships that are central to the healthcare provider's supply chain operation. "I consider it my job to build relationships with physicians and clinicians as well as suppliers and bring those two very different cultures together to get the best value for the system," Peck says. "I understand healthcare and am able to translate my supply chain knowledge to clinicians to help them make the best decisions for the patients as well as the health system."
Healthcare supply needs differ from those of manufacturing, which are able to forecast further in advance based on sales or demand cycles. "In the operating room, when a patient is on the table, if I don't have an item a physician needs, we're in trouble," he adds. "I partner with them to make sure we can get them what they need at the right time and to the right place."
Susquehanna Health's supply chain operation is mostly on a just-in-time basis, with generally no longer than two to three days of advance forecasting given. Peck's supply chain team regularly analyzes stock levels in the OR and uses barcoding and automated replenishment systems that send orders to Owens and Minor when levels are low. Commodity items are typically delivered five times a week, and more critical clinical items are shipped more as needed.
"It's like an orchestra," Peck says of the replenishment process. "I have orders in to Owens & Minor by 5 p.m., they let me know of any out-of-stocks by 7 p.m., and we receive the ordered items to our warehouse by 6 a.m., the next day."
Peck says he is proud of the progress Susquehanna Health has already made toward making its operations more efficient, and anticipates the completion of the data cleansing process within the next three months. "Our mantra is 'one Susquehanna, one supply chain,'" he adds.