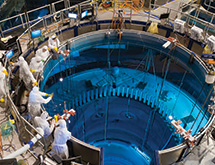 After spinning off from PPL Corp. earlier this year, Talen Energy is shifting its mindset from that of an energy provider to an electricity manufacturer. "That's our only product: generating power," Senior Director of Supply Chain Steven King says.
King joined PPL in May 2013 and became a transition lead for the supply chain's separation when the spinoff was announced a year later. His background working for Pratt & Whitney, a turbine engine manufacturer, and Westinghouse Electric Co., a builder and servicer of power plants, was invaluable through the transition process in helping the new independent power producer adopt a manufacturing model. The company is one of the largest independent power generation companies in the United States, with more than 16,000 MW of capacity in eight states.
The decision to separate the competitive energy supply business from PPL's regulated utility businesses was driven by differences in regulated and competitive business models, and to create two "pure play" businesses from a hybrid utility model in which the competitive energy supply business was undervalued. 
"PPL sought to unlock the value of the competitive generation business," King explains. "So it was actually advantageous from an industry perspective to spin the power generation off and give it the opportunity to grow and to be more competitive."
On June 1, 2015, PPL Energy Supply was spun off from PPL and immediately merged with the competitive generation business owned by Riverstone Holdings, a private equity firm with its own stable of power plants, to form Talen Energy. The new public company was then 65 percent owned by PPL's shareholders and 35 percent by Riverstone. PPL's competitive-market power plants were located in Pennsylvania and Montana. By combining with Riverstone, Talen Energy gained new power plants in Texas, Maryland, New Jersey and Massachusetts. Further, in November Talen Energy closed on a deal to acquire Mach Gen LLC for $1.18 billion, adding natural gas facilities in New York, Massachusetts and Arizona.
From a supply chain perspective, Talen Energy sources and procures $1.3 billion worth of materials and services, not including fuel costs. King's department is responsible for securing all of the items needed to generate power and ensure safety in Talen Energy's facilities, such as pumps, valves, motors and generators. Those materials make up about 30 percent of the company's procurement costs; the remaining 70 percent covers contracts for services such as engineering, security, maintenance and outages.
"The supply chain is in the middle of a major transformation away from a transportation and distribution model," King says. In adopting a manufacturing perspective, Talen Energy must move from a maintenance, repair and operations (MRO) supply chain model to a material requirements planning (MRP) model. The change is driven by the new business model, which no longer values a large inventory to quickly manage outages and restore power, but instead is focused on keeping only critical spares  necessary for operations on hand. "We're moving from a stock-everything [approach] to stocking what's required for generation and safety," King says.
Because regulated utilities pass through costs to consumers they don't have the same incentive to drive prices down with suppliers. But as a competitive electricity producer, Talen Energy is transitioning to a category management and strategic sourcing model to better integrate its supply chain with the engineering part of the business. The company is working with suppliers to adopt just-in-time delivery processes to avoid tying up Talen Energy's cash in large inventories. "We're paying close attention to our cash flow and our EBITDA so it makes a profound difference to us when and how much we spend," King explains.
The continuing growth of Talen Energy brings new talent and facilities to the company, but also brings old contracts and inefficiencies. Talen Energy has more than 15,000 suppliers today, only a third of which are up for negotiation in 2016. King says the company is reviewing those suppliers and the services they provide and will eventually consolidate its list of vendors into a more manageable number. Narrowing the number of suppliers will mean more business for each of those companies, allowing Talen Energy to take advantage of its buying power to obtain better agreements. To get the best deals, King says Talen Energy will begin competitively bidding contracts starting with its bulk chemicals and some of its fuels.
The company is also in the early stages of changing the organization of its supply chain. Previously, the nuclear, oil, gas and enterprise divisions were all treated as one unified supply chain. But King says the varying needs of each area require specialization to most effectively procure items. Enterprise, for example, covers supplies needed for Talen Energy's corporate offices and should be viewed through the total cost of ownership, while a gas plant needs a more responsive supply chain because the facilities are being directed to run by the grid operator and if they aren't running they aren't making money. To help address those specializations while making the supply chain more efficient, Talen Energy is hiring a category management person who will work with its divisions to issue major contracts to key suppliers.
Blending Operations
The transition period leading up to the spinoff gave the new company took two years to sort out systems and disengage from PPL's operations. "We had to separate the work management enterprise system from PPL," King explains. Talen Energy stripped out all the power generation data from the electric utility's information and created its own asset management system. However, it also had to make sure that new asset management would work with Riverstone's existing software. PPL used an asset management system called Asset Suite while Riverstone worked with both Maximo Asset Management, an IBM product, and INFOR Enterprise Asset Management. To solve the compatibility issue, Talen implemented software from Ariba and WorkDay that overlays on Maximo, INFOR and Asset Suite to allow the systems to communicate. 
Moving to Ariba is helping Talen Energy shift its focus from every small and large transaction to larger procurements and sourcing events, which enables the company to create more efficiencies in its supply chain. "We're driving that from the center out to the business lines for the supply chain and then using that system for the whole company," King says. 
The merger that created Talen Energy is expected to create $200 million in cost savings, and better supply chain operations are expected to realize about one-third of that amount. King says the company is in the process of defining those cost savings and is working to implement methods that will capture those efficiencies. "We're definitely a leaner organization today," he says. "We have fewer staff and we have to work smarter as a company.
"It's the most challenging job I've ever had but also the most rewarding," King continues. "I've seen what other companies have done and our CEO [Paul Farr] has a very good vision. We're aligned on helping meet our business objectives and making Talen Energy a leader in the competitive power generation business."