The HoneyBaked Ham Company LLC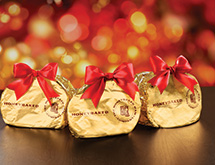 The holiday season is already in full swing for The HoneyBaked Ham Company LLC. During its busiest time of year, the Atlanta, Ga., company increases its volume from 80 to more than 600 cases of product per delivery beginning in November. Earlier this year, HoneyBaked implemented a new distribution network that it expects will offer a cost savings and better service year-round.
"We have traditionally moved our hams – that's our highest-volume product – from suppliers to the stores and the other hundreds of SKUs from foodservice centers to the stores," Vice President of Supply Chain/Quality Assurance Randy McAdoo says. "In May, we combined all of our hams and SKUs into the same distribution network."
HoneyBaked products will now go from the supplier to the warehouse and distribution center and then to the store under the new model. The change in supply chain took two years of planning and trials before it was implemented this year, and McAdoo expects the company to be able to respond quicker to stores in need and provide better service in the field. 
Essential Planning
HoneyBaked began combining all of its SKUs into one distribution network in January so all of the possible challenges it could face would be worked out before its busy season. The company hired a manager for its ham supply and a logistics manager to oversee the new supply chain. 
"We learned some things, but it has been a smooth transition," McAdoo notes. "Today, we are 100 percent onboard with the process and we haven't seen a lot of volume yet, so this holiday season will be the true test when we deliver millions of pounds of ham."
To prepare for worst-case scenarios, HoneyBaked not only has a plan B, but also a plan C that resorts back to its 20-year-old model of moving hams directly from the supplier to its store. The new distribution network includes onsite storage, third-party storage facilities and trailer leases to ensure stores are always stocked. "In some cases, we are going to two deliveries instead of one and we will have onsite storage at some locations," McAdoo explains. "We have refrigerated trailers we are leasing that we will park outside of the store with a full truckload of hams and the product can be pulled from there as needed."
Consolidation Efforts
The change in its supply chain started in May just as HoneyBaked consolidated its three regional operating divisions to capitalize on efficiencies and provide an enhanced customer experience. "One of the challenges since May has been combining all the distribution into our network and adding hundreds of products from different suppliers," McAdoo explains. "There were hundreds of SKUs we had to eliminate and it has been a big project we have taken on in supply chain. We are excited about the opportunity and it's a dream come true for someone in supply chain."
McAdoo's team plans in January to put RFPs out on a dozen products – more than it has ever done before. "The divisions didn't share suppliers, marketing or distribution," he explains. "We are really big on partnerships and many suppliers we have worked with for 25-plus years. The quality of our product is important to us and maintaining those relationships are important." 
Today, HoneyBaked remains family owned as one organization and operates 400 brick-and-mortar locations as well as an e-commerce division. During the holiday season, the company adds more than 100 seasonal stores. 
Efficient and Effective
In 2016, HoneyBaked will take a more active role in managing freight from its suppliers to its distributors to manage cost. The supply chain will eliminate two of its distribution centers to better support the field and its stores.
Next year, HoneyBaked will start to evaluate which products go through Mount Sterling, Ill.-based distributor Dot Foods. "We need to evaluate what suppliers can go direct or which ones need to go through Dot Foods and further consolidate the number of distributors," McAdoo explains."