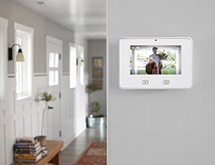 There are numerous players in the smart home market, but Vivint's approach sets the company apart. "We shake things up. We like to ask, 'Why not?'" says Wayne Dupin, vice president of supply chain. "We can rival any mainstay company today."
The Provo, Utah-based company's approach to the market is a bold one that relies on continual advancements to stay ahead. "It's a very competitive market," COO David Bywater says. "It keeps you sharp every day. You need to continually innovate."
That's been the company's goal since its beginnings in 1999 and again when it transitioned from marketing third-party security products and services to creating its own smart-home platform and products in 2005. The reason for the conversion was simple, Bywater explains. 
"We looked at the industry and thought we could do better," he recalls. "Customers don't have to settle for inferior products."
For example, the nine-digit keypad used to control home security systems had been in place for years, but was not attractive and could not be controlled remotely. Vivint modernized the keypad by adding an LCD screen and other enhancements, such as the ability to control lighting. "It's the modern way," Bywater says. "We're not in the 1970s anymore."
Vivint experienced immediate success after becoming a full-service residential security company. In fact, between 2005 and 2010, the company expanded its customer base by 825 percent. The following year, the company, previously known APX Alarm, formally changed its name to Vivint.
It also launched Vivint Solar, which soon became the second largest residential solar company in the United States. In 2014, Vivint introduced the Vivint Sky smart-home platform and then the Vivint Doorbell Camera, which is proving to be the new "it" product for the smart home. Homeowners can now see, hear and talk to anyone at their front door remotely using a mobile device.
A Growing Industry
Vivint is eager to take advantage of a huge untapped market. Indeed, the global smart-home market is expected to reach $100 billion in total revenue by 2018, according to Strategy Analytics' Smart Home Strategies forecast. Gartner, meanwhile, projects the smart connected home to grow from between 100 million and 200 million homes today to between 500 million and 700 million homes by 2020. 
For many years, the primary barrier to adoption was cost, as a majority of homeowners could not afford a security or automation system that could easily exceed $10,000, Bywater says. "What Vivint has done is crack that equation and brought smart home systems to the masses," he says. The company accomplished that by offering equipment at no upfront cost and charging monthly service fees, starting at $49.99 a month.
Simple, Affordable Solutions
Vivint offers three packages for customers, ranging from basic security to a comprehensive smart home system. Today, more than 80 percent of new customers are choosing at least two smart home services, such as an automatic door lock, smart thermostat, indoor and outdoor camera, or a doorbell camera. Clients also can choose from a variety of other options including glass break detectors, panic pendants, smoke detectors, as well as door and window sensors. Homeowners can monitor and control their homes remotely via a smartphone, tablet or computer. 
Vivint also offers local cloud storage and high-speed Internet solutions. Using wireless technology, Vivint Internet offers the fastest wireless broadband service to single-family homes in the United States. The other advantage is the company's high level of customer support, which exceeds that of the incumbent telecom operators.  "We are driven to please the customer," Bywater says. "That's really what we've been doing for the past four years."
Home security and automation systems appeal to all demographics. "It really applies across all market segments," he says. "The young technocrats love it." Many features are attractive to parents who "like to keep an eye on things."
Supporting the Workforce
Vivint's innovations are not limited to customer offerings. Rather, the company continually looks for ways to support its workforce. For example, it recently opened a state-of-the-art central monitoring center in Eagan, Minn., near the Twin Cities.
At the prompting of Vivint founder and CEO Todd Pedersen, the company recently upgraded the facility for 140 employees. In addition to walls of windows for natural light, the center includes standing workstations, a gaming area, a cafe with free lunch, a fitness center, putting green and picnic areas. The campus features a mile-long walking trail and a large pond for recreational activities. The building includes new furniture, equipment and the latest multimedia technology for conference and training rooms.
Bywater credits an efficient supply chain for making the company a success. "Today, the supply chain is a strategic weapon," he says. Vivint prides itself on requiring only a 48-hour period from sales to installation, an objective that can be achieved only when all supply chain partners are meeting expectations. "We achieve great quality the first time," he says.
Vivint's efforts have not gone unnoticed. Blackstone acquired Vivint for $2 billion in 2012. Since then, Forbes has included Vivint on its lists for "America's Promising Companies" and "America's Best Employers." In September 2015, the Vivint Smart Complete package earned the Consumers Digest "Best Buy" rating.