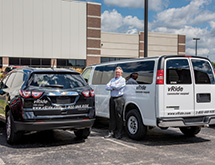 People are always looking for ways to save time, save money, and improve the environment when it comes to their commutes to work. Troy, Mich.-based vRide provides a less costly option with a ridesharing platform that connects people with similar routes, Purchasing and Supply Chain Manager Jerry Glynn says.
Although it may not be easy to get people to give up use of their cars, "We do that by explaining the benefits of the program, from a standpoint of not only personal savings, [but also] by not having the wear and tear on your personal vehicle," he says. "[There's] also the benefits to the environment where we're reducing the carbon emissions and pollution."
vRide started operations 37 years ago as a division of Chrysler that helped its staff members commute to its headquarters location in Highland Park, Mich., various outstate facilities, and eventually Auburn Hills, Mich., Glynn says. Over time, Chrysler spun off vRide and it became a private firm. 
Today, "The business has grown from a few groups to a nationwide ridesharing company that services commuter groups across the country," he says, noting that it has 7,500 vehicles in its system that are driven by commuters.
vRide's business model has made it a successful business over the long term, Glynn says. "We satisfy a need for people to reduce their costs in commuting to work," he adds. "We provide the vehicles and take over all the responsibility for maintenance, insurance and accident repairs."
A Streamlined System
vRide has improved the efficiency of its supply chain in the past two years. Before 2014, "[It was] pretty much a build-to-order company," Glynn recalls. When it needed a new vehicle, it placed an order that was delivered in more than 180 days.
When vRide wanted to speed up the process, it hired Glynn, a longtime veteran of the automotive industry. "My role was to come in and start working on how do we transition from a build-to-order model to more of a replenishment process," he recalls.
The company now analyzes its needs for vans and works closely with manufacturer General Motors. "We'll lay out our anticipated demand for a vehicle model," Glynn explains. "We work directly with GM's planning and scheduling group, which will try to target production weeks for us."
If vRide tells General Motors that it needs 100 vehicles, "They'll deliver them to a bailment pool located at Adrian Steel in Wentzville, Mo.," he says. "Those vehicles are staged and available to pull as we need them."
Once vRide needs them, it works with Adrian Steel, its vehicle conversion center supplier to pull them out of the pool and convert them into a finished road ready vehicle. Afterward, they are returned to General Motors' logistic group for delivery to a dealership. 
"We've eliminated more than 150 days out of the lead time," Glynn says. "It's streamlined the process and provided the efficiency of getting the vehicle quickly to the customer. We've been doing really anywhere from 30 to 50 vehicles a week."
Glynn's initiatives also include creating more connections with the major players in its supply chain, including General Motors, Adrian Steel and Hickory Spring Manufacturing (HSM). "[They] are critical with us in carrying out the execution of our plans," he says. "We have to work closely with all of those companies to be able to seamlessly connect our business systems."
This has included a conversion optimization team that focuses on improving throughput and simplifying tasks. "That team meets regularly once a month," he says, noting that it includes associates from General Motors, Adrian Steel, HSM and vRide's staff. 
The team's initiatives have included a simpler and lighter seat mounting grid system. "It makes it a lot easier and quicker for Adrian Steel to put in the structure needed to mount the seats that meet all of the highway safety standards out there," he says.
vRide also has formed a seat design team with HSM to improve comfort, weight and overall costs. "We've got a whole new seat design in place," Glynn adds. "We'll be introducing those in 2016."