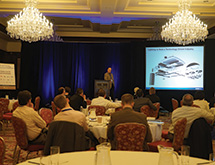 Technology has changed the face of many organizational roles and processes. Consumers are demanding increased transparency and visibility in the sourcing and procurement of products that they purchase. Sustainability has become the battle cry of both consumers and the world's leading organizations.
The idea of omnichannel has infiltrated every industry. Supply chain leaders need to adapt and make the most out of these new realities and demands to continue to not only survive, but thrive, in today's increasingly global marketplace.
Since these changes are taking place at an alarmingly rapid pace, many leaders are struggling to both keep up with and get ahead of the curve. So how do you succeed in the new supply chain landscape?
To find answers to this question and to discover solutions to the aforementioned challenges, consider joining the world's most prominent supply chain executives at the 2016 Chief Supply Chain Officer Exchange, March 9-11, 2016, in sunny Dallas, Texas. 
Unique Happening
An Exchange is unlike any other live event. Attendance is capped to provide a truly intimate and exclusive environment for true peers to come together to network, learn and meet face-to-face with the most innovative solution providers in the market. Unlike a traditional conference that is filled to the brim with attendees and vendors frantically vying for each other's attention, an Exchange provides a chance for conversation in pre-scheduled workshops, one-on-one meetings, and networking events. 
In addition to offering these exciting opportunities for discussion between pre-qualified solution providers and senior-level decision-makers, the Exchange serves as a forum for collaboration among supply chain leaders. This collaboration takes place during thoughtfully planned conference sessions led by incredible speakers, interactive Brainweave sessions, master classes, executive roundtable discussions and networking activities that bring an air of enjoyment to an incredibly business-focused event. 
The theme of this year's Chief Supply Chain Officer Event is "Transforming the Supply Chain While Managing Risk, Innovation, Visibility, Resiliency, Transparency and Sustainability in Today's Omni-Channel World!" This theme carries over into the individual and panel session topics delivered by world-class supply chain leaders. The aim of these sessions is to provide supply chain leaders with ways to excel at streamlining the use of the latest technology while trimming internal costs and achieving greater efficiencies while also meeting the needs of tech-savvy customers who want quick delivery, sustainable solutions and ongoing customization. Some of this year's sessions include:
+ Developing the Talent Ecosystem to Excel in a Connected World and Create an Innovative Culture to Drive Enterprise Growth
+ Exploring the Potential of the Industrial Internet of Things
+ Supply Chain & Cyber Security: Navigating Secure Data Management in a Breached World
+ Creating a Holistic Supply Chain Built on Resilience and Security
+ Flipping the Supply Chain to Meet Consumer Demand and Increase Return on Investment
+ Supply Chain of the Future: Managing Risk, Innovation and Visibility in Today's Omni-Channel World
These incredibly thought-provoking sessions will be led by senior-level executives from these best-in-class companies and more:
Chance to Collaborate
One of the best things about attending the Chief Supply Chain Officer Exchange is that it offers a chance for supply chain executives to collaborate with true peers. A great deal of care goes into making sure that everyone at the Exchange is on the same level. This allows for a true exchange of ideas and opinions and, therefore, a greater level of honesty to work towards real solutions for today's supply chain challenges.
Another major difference in the Exchange model is the choice of venue. Traditional conferences often take place in expo halls to accommodate large (read: hectic) crowds. 
However, the Exchange is held at a four-star resort that provides the level of intimacy that is necessary for true collaboration and also accommodates a little rest and relaxation at the end of a full day of learning and excitement.  
Previous attendees and solution providers alike have been amazed at the level of planning that goes into making the event relevant and worthwhile. Comments from attendees and solution providers from this year's Chief Procurement Officer Exchange included, "The CPO Exchange was a very informative and content-rich experience," "exceeded my expectations. Attendees were alive and engaged and genuinely interested in networking," and "this was a genuine and unique opportunity to capture the undivided attention of key decision makers at target companies."
Comments also included, "When I first heard there would be solution and service providers sponsoring my attendance in exchange for a business meeting, I feared the high-pressure sales pitch. I'm so glad I was wrong. The providers took the time to listen to my needs and discuss only relevant ways to meet my needs. I left the conference with as many network opportunities with peers as providers." 
If you are a senior-level supply chain executive, you cannot afford to miss the 2016 Chief Supply Chain Officer Exchange! Get ready to be fully engaged – and to have a little fun with your peers.
To attend the Exchange, request an invitation at www.csco-exchange.com/request-an-invitation-mc. If you are a solution provider, visit www.csco-exchange.com/opportunities.