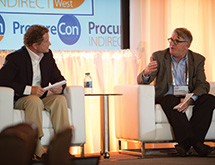 Procurement executives are prepared to keep moving the ball forward towards the ultimate goal of establishing the department as a strategy leader within the C-suite. In several months' time, procurement executives from across the country will convene at the Omni Orlando hotel, brought together to participate in the ProcureCon Indirect East thought leadership conference.
Along with them, they will bring decades of experience, case studies and best practices to be shared towards advancing the role of the department as a co-architect of strategic business goals. While many will have important victories to relate, part of the conference will also focus on what the ongoing challenges are, which make it necessary to continue advancing the role. 
Freeing Resources 
According to data from the annual benchmark survey delivered this year at ProcureCon Indirect West, one of the core challenges slowing down procurement's redefinition as a strategic unit is simply a lack of adequate personnel to handle the tactical side of operations and allow for greater strategic advancement. In fact, only 50 percent of executives reported that their team was adequately staffed for peak effectiveness, with 39 percent saying they were not and the remaining 11 percent reporting that they were not sure. 
As technology continues to support increased automation, executives can look to this as a potential support around tactical workloads. Technology can also be used to more effectively track savings and quantify the impact of strong procurement policy, which can in turn advance the case of bringing in talent to contribute to the department's growth. Many executives feel that internal salesmanship, or the ability to win hearts and minds to the cause of procurement across the organization, will be the defining characteristic of the next generation of procurement leaders. Partly, this skill is in high demand to facilitate procurement's argument for increased jurisdiction and resources in the long and short term. 
Building Alliances 
The other major reason why executives are prioritizing internal salesmanship is to increase the perception among other departments that procurement is there to serve them. The department is being rebranded as playing a consultative, value-unlocking role for other business units. In particular, it is a priority for procurement to create deeper relationships with IT. 
The high costs around technology are seen as a prime area to create savings by 64 percent of procurement executives, but in order to effectively identify where there is potential for savings, procurement must deepen their knowledge of solutions and make their case to IT effectively. The same situation can apply to the management of contingent labor, an area where procurement teams will often be expected to coordinate their efforts with HR leaders. 
In fact, this issue extends in a similar fashion to many other departments on a case-by-case basis depending on just how far procurement has come within their organizations. While the opportunity to create value is often clearly present to procurement leaders, it's not always easy getting other departments on board and enthusiastic about new strategies when they may have had more independence in the past. 
Many executives at ProcureCon Indirect East will be coming specifically to hear how their peers have enabled this shift in perspective.
Continued Development 
Only nine percent of executives reported that they were fully complete with their strategic transformations, meaning that everyone but the most advanced procurement leaders still acknowledge they aren't yet where they want to be. The large majority of teams are somewhere on the route towards the strategic influence that is the end-game of a redefinition years in the making. 
In the months leading up to the ProcureCon Indirect East conference, hundreds of executives are not only putting the polish on the techniques and strategies they hope to share with their peers, they are also putting together lists of the questions that they still have around how to get where they are going. While in the next three months, the simple answer may be Florida, the ultimate destination is towards a future where their roles have a lot more say, and a lot more strategy to share.
Visit procureconeast.wbresearch.com for more.