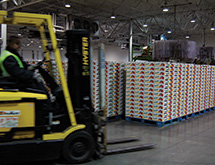 Driscoll's has a straightforward mission: To continually delight berry consumers by aligning with its customers and berry growers.
The company has a lot of consumers to please and a vast network of customers and berry growers to work with. Driscoll's strawberries, blueberries, raspberries and blackberries are shipped to more than 400 customer locations before finding their way into the homes of more than 350 million consumers around the world. Driscoll's is now recognized by global consumers as a brand that stands for great-tasting berries.
The company has operations on five continents, and its independent grower base employs more than 115,000 farm workers who pick and package its berries, which are then sent to cooling facilities owned and operated by either Driscoll's or a third-party partner.
There are 56 cooling and distribution sites located in North and South America alone, including locations in California, the Pacific Northwest, Florida, central Mexico, Chile and Peru.
Driscoll's berries enjoy the greatest market share globally among fresh berries. In terms of sales volume, fresh berries are the largest produce category worldwide. "We've seen strong growth in this category for the past 10 years for a number of reasons, one of those being the incredible flavor experience," Group Vice President of Supply Chain Scott Komar explains. "Our berries are definitely a part of an overall consumer trend of people shifting to fresh, simple, natural food.
"What consumers aren't willing to give-up as part of the health macro-trend is great taste. All fruits and veggies are healthy, but berries, especially Driscoll's berries, offer incredible flavor."
Driscoll's supply chain team, which consists of 90 employees at multiple sites, plays a critical role in ensuring it accomplishes its mission. "We are very mission and vision focused as a company," he adds. "Everything we do orients around that focus, and it guides our supply chain strategically. We're proud to have innovated a supply chain that can run at the scope and pace that it does, along with the visibility we've been able to achieve."
A True Community
Driscoll's supply chain begins with its network of independent growers. "Our community grower program is an example of our vision, which is to become the world's berry company, enriching the lives of everyone we touch," Komar says. "We've chosen to take a local grower model, which enables them to stay and reinvest in their community. We think this model gives them a strong sense of pride of ownership, which can be felt in our consumers' homes when they enjoy our fruit."
Farming locations vary by season. "We're following the sun and Mother Nature," he adds, noting that the company's winter growing locations include Mexico and South American nations. "We always want to be in optimal growing positions, so we move our supply chain around as the seasons change," he explains.
Growers are provided with plants that bear fruit that meets with Driscoll's high standards for taste. The company does not irradiate or genetically modify its plants. "For the past 100 years, we have advanced our proprietary varieties through natural cross-pollination techniques," Komar says. "We breed for better texture, flavor, shape and size."
The company's research and development department studies thousands of potential plants, choosing the top 1 percent to farm and sell under the brand. Typically, it takes between five to seven years to produce a seedling ready for commercial production. "Every season, we flavor-test more than 500 selected varieties from our test plots around the world," the company says. "Every Driscoll's berry must be flavorful, attractive, resistant to disease and hardy enough to ship well and arrive fresh at the store."
Berries are picked and packed into clamshells by growers. The company estimated that it packed 1.2 billion clamshells in 2015.
Staying Cool
Packed products are promptly taken to cooling centers, where they are palletized. Quality assurance inspectors take random samples from each pallet, which they inspect for weight, berry counts and berry defects. Products that fail the inspection are flagged, and the grower is notified.
Products that pass the inspection are returned to the pallet, which is staged and consolidated with other pallets. Berries are cooled in tunnels until they reach a temperature of 33 degrees, then loaded onto trucks and shipped.
"We want to get our berries from the field to your home in the shortest possible amount of time, and we want to make sure berries remain at a temperature of 33 degrees all the way through the process," Komar says.
To accomplish this, the company utilizes several technologies including mobile cooling units in trailers that are deployed in remote growing locations. "We can take these mobile cooling trailers and move them to any region where we're growing berries; they're a highly flexible supply chain solution," he explains. "Once we determine we have found a good place to grow, we can work to put a more permanent solution in place."
The company places Bluetooth-enabled probes manufactured by Inteligistics into pallets to collect and transmit temperatures. Temperatures are reported to what the company calls its "Delight Platform," a traceability system developed by vendor HarvestMark that allows the company to follow its 1.2 billion clamshells throughout the shipping and distribution process. "Our customers can see into their supply chain and know if their fruit is being handled and shipped optimally," Komar says.
The Delight Platform also captures freshness audits at retail stores and flavor ratings from customers. Last year, the company recorded 500,000 individual audits and ratings, which it used to find opportunities to increase its speed to market, he adds.
Driscoll's also uses Inteligistics' Intelicool units, which notify the company when berries are ready to be moved.
Keeping Tabs
The company works with a number of third-party logistics providers to ship its products, including C.R. England Inc., DHL and C.H. Robinson. In addition to shipping to its own distribution centers, Driscoll's also offers delivery to customers' facilities.
This "delivered sale" service ensures that the berries arrive directly to their customer's distribution center at the optimal temperature in the shortest time possible.
All trucks carrying Driscoll's products are equipped with Locus Traxx sensors, which monitor trailer location, security and temperature.
"If a truck is on time, it will show up on our monitoring screen as green," Komar says. "If a truck is running late, it will be displayed as yellow, and will send a note to our transportation team, which will check to see if a temperature or other issue has arisen. If needed, we can have a driver pull over to the nearest service center to adjust temperature or address other concerns. This allows us to get proactively involved with each delivery."
'A Fun Challenge'
Driscoll's supply chain operations differ from other consumer product or food companies because it does not allow for inventory anywhere in the system. "We're constantly moving our product forward in the supply chain and try to ensure that it never stops," Komar says. "Our berries come out of the field, are cooled, put on a truck, taken to a customer's distribution center, then we want it to leave there and get to a store immediately."
Maintaining this supply chain is what Komar considers "a fun challenge." "We're always moving," he adds. "Unlike other produce items where you may harvest once, with berries, we're in the fields every day picking optimally ripe berries and feeding them into our supply chain, where they keep going all the way to consumers' homes."
The company aligns its demand, supply and nursery plans to a rolling five-year strategic plan. From there five year visioning for supply chain is developed.  Archstone Consulting, based in Chicago, has been a key partner in this visioning work.
The plan helps Driscoll's develop a vision and strategy for functional areas of its supply chain such as procurement, distribution, food safety and transportation. "We synchronized supply chain operations with the company's overall business plans," the company notes.
Driscoll's regularly invests in supply chain network and facility improvements. Recent investments include  new cooling facilities in the Mexican states of Jalisco and Michoacan. "The architectural design of the coolers we have built over the past five years incorporate features that optimize our supply chain for freshness and efficiency," Komar says. "In turn, we have extended these design features to cooler construction projects in Australia, Portugal and Morocco."
The company is also investing in design improvements to the clamshells used to package and, ultimately, merchandise Driscoll's products. Driscoll's co-develops new packaging designs in collaboration with one of its vendors. New products are jointly patented. The lead supplier produces new packaging.
One new package under development is designed to further optimize airflow into the package, which would enable more rapid cooling. "These new clamshells are designed so, as the fruit is getting packed, it can be packaged nicely in the field and protected before it is merchandised," he adds.
'Something Special'
Driscoll's traces its history back to 1904, when friends Joseph "Ed" Reiter and R.O. Driscoll began producing strawberries in California's Pajaro Valley. The company remains family owned, with Reiter's grandson Miles Reiter at the helm.
The company's history and family ownership helped it create a culture based around the corporate values of passion, humility and trustworthiness. "I feel fortunate to work in a culture that engenders enthusiasm for what we do – we believe in our products, and take our fruit home to our own families," Komar says. "Each of us feel like we have ownership in what we're doing, and we have a fun, feel-good product.  Many of our supply chain partners have told us they really enjoy working with Driscoll's and it's easy for them to get excited about a new product or direction we're going in because they feel like they're a part of something special."