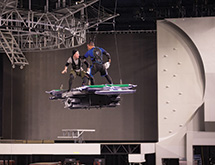 "The circus is coming to town" is an iconic phase that has excited children and adults alike for decades. Yet a significant amount of planning and procurement is required to ensure that The Greatest Show On Earth® comes off without a hitch each week in numerous locations throughout the United States.
Ringling Bros. and Barnum & Bailey® Circus is a production of Feld Entertainment, the world's largest producer of live touring family entertainment. Circus fans enjoy a show that features animal performances, clown escapades and high-wire acts combined with other thrills and surprises.
Behind the Scenes
What circus lovers don't see is the extensive, detailed work that's performed days before the shows arrives in their community. Indeed, each show presents logistical and procurement challenges that are the responsibility of team headed by Karen Bowser, vice president of procurement and sourcing. "We buy everything," Bowser says. "It's pretty amazing." She's not exaggerating. A member of her team once had to find a back scratcher for an elephant. On another occasion, a pool for tiger was needed, Bowser recalls.
Simply put, neither the circus nor any of Feld Entertainment's other productions would happen without the commodity team. The group provides all the necessary products for the circus, as well as Feld Entertainment's ice, stage and motor sports shows including pyrotechnics, lighting and sound, wardrobe, building materials, props, makeup, rigging, railcar suppliers, IT equipment, repairs and ice floors.
When you consider that multiple shows occur each week, it's not difficult to understand that the commodity team is constantly on the go. Additionally, new shows are nothing new for the procurement team. "We're always buying items for new shows," Bowser says. "We're always looking to be on the cutting-edge with lights and sound. There's a lot of creativity that goes on behind the scenes."
Procuring Everything
Members of Bowser's team all have different responsibilities. One member, for example, is in charge of purchasing food, hiring temporary labor, concessions and managing the company's Sam's Club account. Another team is in charge of procuring water, concrete barriers, industrial gases and propane, as well as tents and heavy equipment rentals.
Indeed, someone on Bowser's team is responsible for acquiring practically every piece of equipment used in the show or necessary to support the extravaganza. Animal needs, for instance, must be met on a daily basis and include food, medicine, grooming, bedding, ice and freezers. Elephants require harnesses, head plates and conchos, each made by a different vendor, Bowser says.
"We set up the little cities in every town that we go to," Bowser says. "We load in and we load out."
Her team also manages what-if services that might be needed at any given moment by identifying the location of the nearest Home Depot or Lowes, as well as sources for welding gases, propane, CO2 recharges, generator repairs and locksmiths.
Shows Galore
Ringling Bros. has two independent units: the red and the blue tours. The circus travels to more than 90 cities in North America each year. Additionally, there are approximately 40 motocross shows and nine Disney On Ice and Disney Live shows occurring weekly.
The circus typically arrives in a city on Tuesday and leaves on Sunday night. "There's just so much to do," Bowser says. "We have to hit a moving target every week. It's very, very challenging." Products cannot arrive at a venue too early because they can be turned away. Ice show crews are responsible for manufacturing and removing ice at venues that don't have an ice rink.
Approximately 350 people travel with the circus, which journeys from city to city on a train. The train transports everything including animals, supplies, even the bus that is used for local transportation in each city, Bowser says. Members of the crew also sleep on the train. Semi trucks are used to carry materials from the train to the circus venue.
"We build all of our own rail cars," she says. That work occurs at the company's Florida headquarters, which includes manufacturing and rehearsal facilities. A warehouse is maintained in Jessup, Md., where most of the company's inventory is stored.
Bowser's primary role is to negotiate favorable pricing, delivery, payment terms, extended warranties, best practices and consolidate the number of suppliers used, she says. "It's crazy amazing what we do," Bowser says. "You never get bored."
She says the vendors Feld Entertainment works with are a key to the company's success. "We have partnership support," she says. "They work very well with us. A good long-term supplier understands our business. They go to our shows; they see what we do. The bottom line is relationships and relationship building."
Feld Entertainment's supplier evaluation program grades suppliers on a wide range of categories important to the procurement process. It includes an annual procurement team meeting designed to identify areas for improvement or applaud areas of excellence, Bowser says.
The company also has a continuous supplier improvement program designed to develop long-term relationships with a select group of suppliers. This group provides the highest-quality materials, equipment and services with a commitment to improvement.
Other Entertainment
Feld Entertainment's offerings are not limited to the circus. The Palmetto, Fla.-based company also produces Disney On Ice, Disney Live, Monster Jam, AMA Supercross, AMSOIL Arenacross and Marvel Universe Live. More than 30 million people in 75 countries attend Feld Entertainment's productions annually. Approximately 50 percent of the company's shows are international, Bowser says.
Feld Entertainment is a third-generation family company started in 1967 when Irvin Feld and his brother, Israel, purchased Ringling Bros. and Barnum & Bailey Circus. He is widely credited with revolutionizing the circus by bringing it to indoor arenas and stadiums. Today, Irvin's son, Kenneth, is CEO and his three daughters are executive vice presidents.
Personal Satisfaction
Bowser says her job is extremely satisfying, especially because the shows that her department helps organize are enjoyed by so many. "I love the people that work for us," she says. "I love going to the shows. It's really heartwarming."
She's also proud of being part of Feld Entertainment during a period of considerable growth. "As a company, we've grown by leaps and bounds," she says. The growth has allowed Feld Entertainment to save money. "As a supply chain, you can leverage your spending more efficiently," she says.
The ERP system is another place where Feld Entertainment is looking to improve efficiencies. The company has hired a consultant to determine "if what we're doing is what we should be doing," Bowser explains. It might update its existing system or purchase a new one, she says.
"It's a huge commitment," she says. "We want to take great pains to make it successful."
Bowser's formula for success is quite simple. "Be flexible and ready for anything," she advises. "You have to be really efficient."