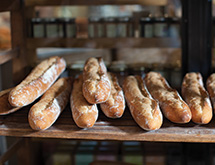 Step into any Le Pain Quotidien location and the smell of fresh baking bread fills the air. Place a pastry breakfast order or soup and salad lunch order and take a seat at the large, communal table made of reclaimed wood. Then, enjoy the meal surrounded by décor that feels warm, inviting, yet with a Belgian flair that harkens back to its roots.
"We try to create a home away from home, a third base beyond home and work," says Ralph Mercuro, director of supply chain and logistics for the United States. "We do a lot of research when going into a new neighborhood, so that we organically reflect the community that already exists there. We pick up old and new elements that can be subtle but each location always incorporates something unique. The guests that are local to our restaurant often think it's a local gem, and the only one in the world."
Le Pain Quotidien, French for "the daily bread," was founded in 1990 in Brussels, Belgium, when chef Alain Coumont could not find quality bread to supply the restaurant in which he worked. Instead of outsourcing it, he opened his own bakery to make bread from scratch to mirror the bread his aunt made for him as a child. At a local flea market, he found a long table made of reclaimed wood where his bakery guests could sit and eat together.
While bread remained the cornerstone of the menu, his bakery quickly grew and expanded not only its menu offerings, but also its locations, where some even include dinner options. Le Pain Quotidien expanded to the United States in 1997 and New York City became its headquarters in 2004. Now, the company has 241 bakery-restaurants in 18 countries worldwide.
In 2015, the company opened 11 new locations in the United States and has a number of new locations already in the pipeline for this year. "We're trying to be responsible in our growth, not grow too fast, too big and try to be sustainable," Mercuro notes. "We're looking at a few markets and we want to be responsible about where and how we grow."
In the Ingredients
Le Pain Quotidien uses organic ingredients in its menu items whenever possible, especially organic wheat, eggs and milk. It applies this approach to a plethora of items including breads, coffee, tea and most of the products in its retail pantry. 
"My philosophy in the food business is that everyone who sells food is in competition with each other so you really have to stand out, and I think we do," Mercuro says. "We use organic ingredients where we can and always choose simple and quality ingredients that will shine on their own in every dish they are in. Most of our guests seek a nutritious, quality-driven menu, and they find our restaurants appealing."
Mercuro has been with Le Pain Quotidien for seven years, but has 40 years of experience in the food industry. As director of supply chain and logistics, he's responsible for sourcing, procuring and distributing all the ingredients and food items to the U.S. store locations, which entails importing goods as well. 
One of the biggest daily challenges Mercuro faces is ensuring organic wheat and milk are always available. A very limited number of farmers in the United States produce those items, so they can be challenging to come by. "Demand for those items has gone through the roof with retail establishments getting on the organic food kick and devoting more shelf space to those products, so we're competing with them," he explains. "Plus, there's no increase in the number of organic farmers producing those items. We're lucky enough that we have a good partner that makes sure we get allocated enough for our needs."
In return, Le Pain Quotidien tries to be a good partner for its suppliers and vendors by monitoring the inventories from week to week. Every quarter, Mercuro shares a forecast with all of the company's suppliers. "Our suppliers really appreciate us giving them forecasts because a lot of their customers don't," he says. "So then it's hard for them to manage supply chain and it's another good reason we partner with our vendors."
Constant forecasting has been helpful as Le Pain Quotidien steps into the e-commerce market and maintains the retail shelves of its U.S. locations. The LPQ Pantry, as the company calls it, mostly contains imported items, but Mercuro always needs to be aware of the inventory for those items that are separate from the everyday menu items. Along with the LPQ Pantry, the retail shelves are filled with organic jams and spreads and a range of organic teas, as well as organic cold-pressed olive oil, balsamic, grey sea salt and black Malabar pepper mills, which are all shared on the communal tables in every location. 
25 Years
"We consider ourselves a close-knit family here," Mercuro says. "We try to keep an entrepreneurial spirit even though we're getting larger every day. We're small enough in our infrastructure that we can interact very easily within departments."
Le Pain Quotidien marked 25 years in October 2015 and the company did many things to promote this significant anniversary. Leading up to it in September, the company supported an organization called the FEED Foundation. Le Pain Quotidien hosted suppers at its locations throughout the United States and raised 250,000 meals for FEED's larger goal of raising two million meals for children and families in need. The company even developed signature items for these dinners that it is now incorporating into its catering and some dinner menus. 
At its Bleecker Street location in New York City, the company, with Founder and Chief Creative Officer Alain Coumont, hosted an intimate celebration and served favorites from the original menu from Belgium in 1990. "It was really nice for everyone to come together to celebrate this really great company that's still going strong after 25 years," Mercuro says.