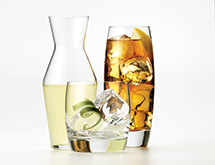 The food may be exceptionally cooked and the wine may pair perfectly, but for many diners – and chefs – presentation is as important as what they're putting in their mouths. The role of tableware in that presentation has only become more important with the rise of the craft beer, farm-to-table and, more recently, molecular gastronomy trends.
Restaurant patrons today are just as likely to be given a beer list as a wine menu, and glassware producers such as Libbey Inc. must provide the products that support those dining trends. A decade ago, nearly every beer was served in a standard pint glass. Now consumers understand that an India Pale Ale or a hard cider experience is better with a specially designed vessel.
In addition, "All of these major chains have a need to maintain their relevancy with millennials," Libbey Director of Global Sourcing Mike Bunge says of the company's foodservice customers. "That has changed our market considerably."
Libbey is a leading global manufacturer and marketer of glass, metal, wood and ceramic tabletop products. "If it's for the tabletop, it's fair game for us right now," Bunge says. The company traces its roots to 1818 when it was founded as the New England Glass Co. in East Cambridge, Mass. In 1878, William Libbey took over the business. He relocated it 10 years later to Toledo, Ohio, where the company still maintains its headquarters.
The company today sells more than 1 billion items annually to well over 500 foodservice distributors and major retailers. It also has a business-to-business strategy where Libbey sells glasses direct to breweries, vases to floral shops, containers to candle makers, blender jars to small appliance companies and door windows to washing machine manufacturers.
Bunge joined the company in 1991, first in the accounting department but moved over to supply chain in 1994. His role has taken him all over the world. At various times, Bunge has lived in Canada and Asia. In 2013, he returned from China to Toledo to take over as the director of global sourcing. But little global sourcing occurs in northern Ohio, so Bunge still travels frequently and has team members located as far away as China, Bangladesh, Thailand, Myanmar and Vietnam.
When Bunge started with Libbey, the company had only three factories. Since then, it acquired Syracuse China in New York, World Tableware in Texas, Crisal Glass in Portugal, Royal Leerdam Glass in The Netherlands and Mexico-based Crisa Glass. Its expansion was driven by Libbey's desire to become a global company. It now has six factories in five countries – the United States, Mexico, The Netherlands, Portugal and China – along with warehouses in West Chicago, Ill., Laredo, Texas, Gorinchem, Netherlands and at each factory location.
Libbey's goal is to "own every moment." The company wants its products to be part of life's every celebration – from good grades on a test to formal parties. "Our purpose is to deliver favorite moments through all of our products. We want to be part of the celebration. Every occasion is an opportunity to celebrate life and own the moment," Bunge says. One way the company is doing that is through new products, such as Perfect Signature for the retail market and its counterpart for foodservice, Master's Reserve. 
The tall, thin stems, beadless edge and flat feet of the Perfect Signature line make for a fabulous presentation, but the true differentiator is in the brilliance and clarity of the glass.  "This product exceeds the qualities of the best wine glasses in the world – no exception," Bunge boasts. Perfect Signature is made using a unique to Libbey high-brilliance soda lime formula. The batch composition does not feature the heavy metal additives found in lead crystal and crystalline products. "From a health and environmental perspective, it's far superior to other products," Bunge says. 
The quality of the Perfect Signature line was made possible by Libbey's investment in its Shreveport facility. Within the building, the specialized furnaces, machines and molds used to make Perfect Signature glassware are almost a factory within a factory. "We're the only people in the world capable of making a product of this caliber," Bunge explains.
Optimizing Supply Chain
Global sourcing and supply chain play a key role in the company's "Own the Moment" strategy: "We're always looking for ways to optimize our global footprint," Bunge says. Much of that optimization occurs through network optimization analysis complimenting make-or-buy decision making. 
Libbey's market strategy in China, where it has a manufacturing facility, differs from India, where it lacks a physical presence. Depending on the needs of an individual customer and Libbey's ability to fill orders from one of its own plants, the company may decide to contract out production or produce in an alternate factory. 
The supply chain side of the business must align with the demand from local consumers. Chinese end-users, for example, might prefer drinking tea out of a ceramic vessel while a farm-to-table restaurant in Chicago is looking for earth tone plates to match its food. "All of these different applications change the way our products are consumed by region," Bunge says. With so many cultural differences and regional trends, contract factories can be utilized to meet needs that are not reasonable to meet from one of Libbey's own facilities.
To understand those markets and make informed decisions, Libbey utilizes a combination of factory sales representatives and local distributors to engage with customers on a personal level. None of Libbey's distributors operates autonomously. "We rely on the distributors for the day-to-day service in the markets we don't serve directly and we back up our distributors with factory-trained salespeople," Bunge explains.
Bunge is constantly scouring the world for new partnerships that can improve efficiency. Its relationships with contract factories has become even more vital as the cost of production in China rises due to Chinese government policies aimed at encouraging domestic consumption. Labor rates in the Middle Kingdom are on the rise, there's a greater focus on the environment, fewer incentives to export and an increasing number of reasons for domestic manufacturers to move up the value chain away from commodity goods such as glassware to technological goods such as aerospace development. Libbey's own objective in China is not to purely export, but to sell into the Asia-Pacific region. Its factory in Langfang, China fits that domestic goal, but does not benefit the company from a sourcing perspective.
Global Operations
With offices and facilities around the world, Libbey must not only consider how it serves its customers, but also how its internal teams communicate. "We're putting a lot of effort right now in the way we align ourselves globally," Bunge says. The company has adopted lean principles and is working to ensure that products and information flow in the right direction. A lot of that occurs through coordination – no easy task with multiple teams in multiple time zones.
Many companies have come to rely on email to coordinate those global teams, but Bunge says that is often a slow process. An email sent from Ohio at noon might not be seen in Asia until the next shift starts a day later. It can take several days to resolve an issue and come to a decision when communication isn't happening in real time. To counter that problem, Libbey adopted flexible work arrangements. Now, if an employee needs to call China to hash out a problem at 10 p.m., they can shift their hours the next day to accommodate the extra work. "We're no longer a company that focuses on an 8 a.m. to 5 p.m. workday but on a work day that best aligns with the requirements of our roles," Bunge says.
The improved flow of communication means that when the day ends in Ohio, the Toledo team can more easily pass their project along to the team in Asia to continue their work. That can result in as much as 20 or so hours of headway a day. "Often, we're able to complement each other's progress," Bunge says. This global workforce benefits customers as well with improved speed to market and speed of accurate communication.
Libbey's global footprint and services are a testament to the company's ability to adapt to new trends while continuing to provide the service that sets it apart in the tableware industry. "For our company to drive trends in the marketplace, and for our company to still be a domestic United States manufacturer in addition to a global designer, marketer and manufacturer – I think that's a pretty cool accomplishment that many other firms can only strive for," Bunge says.