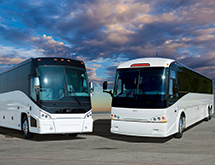 Thomas M. Babineau doesn't hesitate when asked about the key to Motor Coach Industries' (MCI) long-term success. "We are only as good as our supplier partners," says Babineau, executive vice president of procurement. "We are committed to engaging our suppliers earlier in the coach development process to better leverage their technology, which helps provide a competitive advantage in the market."
Babineau is a veteran of the automotive industry, having spent the first 35 years of his career working for Tier I automotive companies. As a result, he is intimately familiar with the importance of an effective supply chain and how it connects to success. Indeed, escalating MCI's supplier expectations has been his primary goal since arriving at the Des Plaines, Ill.-based company in 2014.
"Our customers depend on the reliability MCI offers," Babineau says. "They bank on MCI's initial quality and reliability to support their ability to provide a luxury experience and generate revenue. They also measure quality in terms of lowest total cost of operations. Downtime is something we strive to mitigate. We seek to differentiate ourselves by providing the lowest total cost of operations and by delivering the most reliable coaches in the industry."
MCI manufactures and services luxury coaches for both the private and public sectors and serves the tour, charter, line haul and commuter transit markets. The private sector represents approximately 60 percent of MCI business while 40 percent is represented by the public sector, Babineau says.
MCI's installed base of 28,000 motor coaches is the largest in North America, nearly twice the installed base of its nearest competitor, Babineau says. MCI manufactures between 800 and 1,000 motor coaches annually, he says.
Procurement Process
MCI's procurement restructuring initiative is at the heart of the company's supply chain improvement, Babineau says. "The focus of this restructuring is supplier development, advanced purchasing and strategic sourcing," he says. "Supplier development and advanced purchasing are new to MCI's procurement structure."
A key component of the plan is to ensure that MCI is aligned with the right strategic supplier partners, Babineau explains. "When you have suppliers that are more quality minded and understand the total-cost-of-ownership concept, you will have a supply base that has the foundation to ensure MCI's cost competitiveness in the market," he notes.
But simply identifying good suppliers is not sufficient. MCI also is committed to eliminating substandard suppliers. "We no longer accept the practice of receiving substandard quality," Babineau notes. "During the past year, we've added a new supplier development structure that focuses on systemic supplier manufacturing and quality processes."
Early Steps
Babineau says that MCI is in the early stages of maximizing supply chain efficiencies. "We have a lot of work to do here," he says. Ultimately, however, the company plans to reduce its direct material supply base from approximately 500 to 250 suppliers.
Additionally, MCI is striving to be a better partner by improving communication and transparency, Babineau says. One example is the recent launch of MCI's first balanced supplier scorecard, which allows suppliers to access their ratings every month on a supplier web portal, Babineau explains. Key elements of the scorecard include quality, delivery and cost management, he says.
Ultimately, MCI requires supplier development to be strategic rather than reactive, Babineau says. "The purpose of supplier development is to address systemic supplier issues, not to be firefighters," he says. 
"Again, as part of our procurement restructuring initiative, we're looking to partner with more quality-minded suppliers that are best positioned to provide the lowest total cost of ownership," Babineau says. "Our commitment to supplier development is one example of a significantly different and more strategic approach with our supplier partners.
"During the past couple of years, we've converted a lot of suppliers to vendor-managed inventory (VMI)," Babineau adds. "Moving forward, we plan to significantly increase the use of supplier VMI arrangements. In addition to the obvious benefits of VMI, we value how VMI favorably impacts our supplier parts availability." 
When it comes to technology, MCI continues to evolve at a rapid pace. Coaches are equipped with collision-avoidance systems, onboard diagnostics and telematics as well as increasingly sophisticated vehicle electronics systems.
"The market continues to demand lighter vehicles [and] improved fuel economy to ensure the lowest total cost of operation," Babineau says. "Our supplier partners are key in helping us deliver these technologies."
MCI's coaches also feature EPA-compliant clean-diesel engines with near-zero emissions and fuel savings, as well as hybrid and compressed natural gas options.
A New Chapter
Babineau says that supply chain improvement initiatives are more important than ever during a time of transformation for the coach manufacturer. In December 2015, New Flyer acquired MCI.
"New Flyer is North America's No. 1 brand in heavy duty transit buses, and MCI is North America's No. 1 brand in motor coaches," Babineau says. "This is an exciting time for MCI as it finds a permanent home with New Flyer's acquisition, which is based on strategic rationale of growth, diversification, potential synergies and collaboration and sharing of technology and best practices."