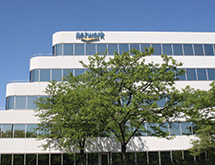 Founded as Network Services Company in 1968, NETWORK has grown to become a leading expert in a number of specialized markets. The company has been on a journey of ongoing evolution ever since a handful of independently owned distribution companies realized that a collaborative partnership would allow them to expand their services. 
"It allowed them to leverage logistics capabilities that ultimately included servicing national and multi-regional customers," Executive Director of Value Chain Chris Adams says. "The idea [was] that multiple resources, centrally managed, working together to deliver unprecedented efficiency, dedicated service and local support for multi-site customers, would create value. Over the years, we have grown to become a leading expert in markets such as healthcare, foodservice, commercial real estate, lodging, industrial packaging and commercial printing with operations in 44 countries."
Market Leaders
Today, NETWORK is known for having  the best distributors and a proven corporate account support infrastructure that services janitorial/sanitation, foodservice, lodging,  industrial packaging, and commercial printing customers. It is recognized for its connection to  the local markets it serves and its willingness to provide the extra service that elevates the purchasing experience.
"We focus on providing centralized account management for multi-site customers in our market segments," Adams says. "Whether they are large publicly traded organizations or privately held multi-regional customers, we utilize a consultative approach to determine what is important to our customers, and then tailor our delivery processes and procedures to their business needs."
The company's goal is to deliver best practices and extensive logistics process expertise for customers looking for janitorial and sanitation supplies and equipment, foodservice disposables, industrial packaging supplies and equipment, and commercial printing supplies. It aligns closely with industry-leading manufacturing partners to ensure it brings the latest innovations to market quickly. 
"The combination of the category expertise of our distribution representatives, coupled with their extensive knowledge of their local markets allow us to identify opportunities for growth," Adams says. "We are able to spot microtrends in the businesses we serve and deliver on new strategies before other companies have identified the opportunity. We couple that with the premier suppliers in our core categories, resulting in a higher level of end user experience for our business-to-business customers while delivering the price and value they expect."
Additionally, the company's infrastructure, reputation in the industry and track record of successfully supporting nearly $1 billion in corporate account sales position the company to deliver distribution solutions tailored to customers' needs. By providing more competencies to the corporate account arena along with its vast distribution infrastructure, it can create unparalleled value. 
At the heart of its work is the ability to integrate many distribution solutions to drive the success for its distributors and customers. Its growing e-commerce capability allows its distributors to evaluate and sustain key customer relationships at all levels. 
"Our uniqueness is our ability to align customer business requirements with the value chain services we provide," Adams says. "Additionally, our unique platform provides an experience that customers want and need. The synergies created through the leveraging of our value chain competencies and logistics platform coupled with our supplier partners' vast network of resources has driven our success."
Improvement Continues
Strategic investments in systems and resources make it easier for business partners to transact with NETWORK. The company continues to enhance IT infrastructure to accelerate and improve business processes while also investing in development of staff. Recently, the company also looked at its data analytics capabilities. 
"One of the largest assets that any distributor has is the ability to evaluate their data to spot trends, look for selling opportunities and perform predictive modeling," Adams says. "Recent investments have focused on the advancement of understanding the ecosystem in which we distribute products, and data plays a significant role."
Another ongoing effort is its scorecard initiative, which has its genesis in the work of the inventors of the balanced scorecard. The tool provided the opportunity for its distributors to evaluate their corporate strategy with a supplier against the performance that they actually see through a series of metrics and key economic indicators. 
"We facilitate a common language that provides context for deployment of resources," Adams says. "This eliminates redundancy and reinforces the spirit of a collaborative approach." 
Among the trends the company sees shaping its future is increased consumer sophistication. Business customers want to replicate the experience of purchasing for themselves in the retail space, making a robust e-commerce platform critical to their experience. Additionally, fulfillment of products is becoming increasingly more demanding and traditional demand-planning processes have become more complex. 
"Our ability to provide products on an accelerated timeline for that last mile of delivery is vital," Adams says. "We have made large investments in infrastructure, e-commerce and fulfillment capabilities. We understand the importance of those investments to remain relevant as a premier distributor."
With new logistical processes advancing quickly, the company knows that investment in talent and infrastructure is critical for distributors to compete and grow. The ability to partner with redistributors and wholesalers will allow some leverage and mitigate some of the investment that might be required to ensure that there is a level playing field. It is important to NETWORK that those relationships provide required value, are sustainable and are aligned to its strategy. 
"The ability to service the business consumer in the manner they have grown accustomed is important," Adams explains. "We must create the positive experience they expect."