Perry Ellis International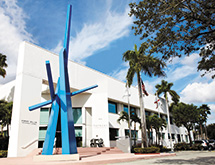 Now a leading designer, distributor and licensor of men's and women's apparel, accessories and fragrances, Perry Ellis International is truly the embodiment of a company born of the American dream. Initially formed as Supreme International in 1967 by Chairman and CEO George Feldenkreis, Perry Ellis International sprang from the mind of a Cuban Jew who had fled Castro's regime to build a $900 million-plus international company.
"He is a visionary who saw the potential of Asia as a garment source before anyone else did," Executive Vice President of Global Sourcing Bradley Arkin says. "We opened an office in Beijing in 1989 and were in Vietnam as soon as relations were restored by the late 1990s. To this day, China and Vietnam remain our two largest sources of supply."
Extensive Footprint
Today, Perry Ellis International is based in Miami and has seven buying offices in five countries. It also has two quality-assurance offices, business offices in London, Ireland, Mexico and Canada, and more than 2,500 employees. The corporation boasts a portfolio of brands that are distributed through multiple channels and focuses mainly on sportswear and casual clothing for niche markets.
"We sell to everyone from Walmart to Neiman Marcus, and we have about 30 brands and make products for multiple licensees," Arkin says. "We are the largest supplier of men's golf wear in the U.S. through our own brands, as well as licensee brands. We make men's sportswear, with Perry Ellis and Original Penguin serving as the jewels in the crown, but we also make ladies dresses and evening wear, men's and ladies' activewear and swimwear."
Like its founder, Perry Ellis International remains highly entrepreneurial. It regularly acquires new brands and entered new product categories, always immersing itself in learning how to design, make and sell the product. 
"This entrepreneurial spirit and flexibility is really the foundation of the company and is what has allowed us to continually grow," Arkin says.
Given the size and scale of its operations, ensuring an efficient supply chain can certainly be a complex undertaking for Perry Ellis International. But the company has taken steps to ensure that its supply chain is as nimble as possible. 
Today, the company has a 10-person team in China that helped develop an in-house product lifecycle management (PLM) system. PLM incorporates the entire life cycle of its products from initial fabric selection all the way through inputting garment and fabric testing and quality audit results. Perry Ellis International also trained an individual at its Miami office and moved him to Asia, where he constantly meets with offices and agents to iron out issues and tweak the system to make it more user-friendly and efficient. 
"We have a team in the U.S. and Asia dedicated to PLM training that takes place in-house, as well as with our factories, offices and agents," Arkin says.
Seeking Improvement
Always looking for ways to streamline its design, merchandising and production cycle, the company has done everything from paring down its design calendar time frame and making samples faster, to getting faster approvals on colors, trims and samples. In fact, Perry Ellis International brought in a consulting company within the last year, and spent nearly half a year analyzing its operations in order to enhance speed to market.
"We eliminated testing that we used to do in Miami and created mini-labs in many overseas offices to do testing at the origin," Arkin says. "Additionally, we've created more sophisticated tech centers in several countries to improve the fit and fit approval time."
The company also works closely with vendors to train them up. Its quality assurance team spends a lot of time at factory locations to help avoid issues in production and works with factories and sewing operators to show them more efficient ways to operate and avoid quality issues. 
"Our fabric development team works with mills at the inception to help them solve potential dyeing or other quality issues," Arkin says. "We also conduct training for mills' final fabric audits, explaining what our requirements are and helping to train their teams."
Other key elements of Perry Ellis International's supply chain operations include in-house clearance and logistics teams that track all shipments and are always looking at ways to improve transit times. Additionally, its planning team in the United States has helped the company to better plan and forecast sales and purchasing. The company also makes use of video conferencing for technical fitting issues.  Beyond that, it is also regularly building on the strengths of its PLM system. 
"In general, our in-house reporting systems are phenomenal and allow us to get clear and precise overviews of where our sourcing and supply chain history has been and where it is going," Arkin says. "This helps us to reinforce or diminish overseas staffing, determine where to deploy quality assurance measures, and alerts logistics teams on where they need to be focused." 
Having secured a long-term reputation for growth and quality, Perry Ellis International's success is thanks to the integrity of its founder, which has trickled down throughout the entire company. The company remains committed to quality, product development and on time delivery, and it has no fear of jumping into new opportunities. In the years ahead, an entrepreneurial spirit that shuns layers of bureaucracy will continue to allow the company to make quick decisions and shift strategies as needed. 
"We always try to be as proactive as possible and never allow ourselves to get stuck on any pre-conceived ideas or notions that we have formed," Arkin says. "Our goal is to continually reinvent ourselves by stepping back to look at the ways we are doing things, finding ways to be better, smarter and faster by being open minded about new ideas."