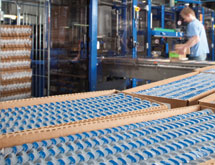 "We stock a lot more SKUs than anybody else would care to take on," says Lee Dame, vice president of the global supply chain for Cooper­Vision. "We deal with all market segments, covering all the core market needs as well as niche market requests. Furthermore, we are one of the few companies who can and will manufacture private-label products for our partners."
CooperVision's parent – The Cooper Companies Inc. (NYSE:COO) – traces its origins back to 1958. Cooper Tinsley Laboratories changed its name to Cooper Laboratories Inc. in 1967.
In 1978, however, the company reorganized as four independent business units focused on various specialized market segments. CooperVision was incorporated in 1980 and went public in 1983. Over the next few years, the company acquired several ocular lens companies to increase its product lines and capabilities.
In 2005, CooperVision acquired Ocular Sciences Inc., helping it to become the third-largest soft contact lens company today with products sold in more than 100 countries. With nearly $1.2 billion in global sales in fiscal year 2012, CooperVision accounts for over 80 percent of The Cooper Companies Inc.'s overall revenues.
The company's products include a range of soft disposable contacts that serve a variety of vision issues. These products help patients with astigmatism, nearsightedness, farsightedness and other visual ailments see more clearly through standard and custom made lenses.
After the acquisition of Ocular Sciences in 2005, Dame says CooperVision faced the challenge of integrating 17 different enterprise resource planning (ERP) systems across eight platforms between the two companies.
To help with this process, Dame says CooperVision installed an advanced planning tool called Logility that is now the planning application for the company's worldwide operations. Logility allows the company to conduct demand planning, inventory planning and replenishment, along with helping CooperVision with global visibility and standardization of its manufacturing and distribution practices.
"We're in the middle of our effort to focus on master data management," Dame says. "At some point we will consolidate our ERP functions and the Logility system is a major step in this process."
CooperVision's intention, according to Dame, is to get the entire company on a common set of master data and business intelligence tools before too long. This should give CooperVision the transparency it needs before it move all operations to a single implementation.
"We should be able to gain some of the visibility we need through improved business intelligence tools. The Logility system will allow us to act as if we were in an integrated environment in advance of moving to a common ERP platform and run operations consistently on a worldwide basis, Dame says.
While addressing this need, CooperVision is also focused on its sales and operations planning processes, which it will supplement with an integrated supply planning process once it is ready.
"We brought in some outside eyes [Plan4Demand] to help make sure we're focusing on the right things to allow us to get as close to an integrated approach as we can to our system's framework," Dame says.
The company also must address its use of electronic data interchange transactions as it relates to the ERP systems in place. Right now, CooperVision has launched some proprietary programs to make sure all parties involved can monitor transactions and deliveries of intercompany shipments in real time.
"We've just recently written some interfaces on our major ERP instances using TIBCO [software] as a way to improve visibility between our entities," Dame says. "It allows us to track all kinds of things – what product is in transit, quantity and date changes, along with diagnostics for various process steps – all these things give us better visibility within our supply chain."
Endgame in Sight
CooperVision has a lot riding on the successful implementation of a single overriding planning process for its global operations. Dame says this process will be the key company's success going forward because of the vast number of products it offers sourced from numerous facilities it owns throughout the world.
"For us, the cornerstone of successfully managing this model is being able to deal with complexity of our product portfolio in an efficient and effective way," Dame says.
"Once we have consolidated our ERP solutions, I know that one of the next steps will be to develop a more segmented supply chain to meet the various needs of specific channels or different customer segments," Dame continues.
Despite the daunting task that lies ahead, Dame insists this is the reason why he joined CooperVision three years ago and the reason he looks forward to meeting the challenges over the coming years. "I was really excited about the opportunities from the supply chain perspective," he says. "There were lots of good things to work on, and people were very excited about trying to have the best supply chain in the contact lens industry. The enthusiasm within the company continues to grow."­­­