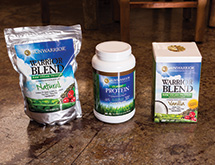 Many companies in Sunwarrior's market focus on growth, but the firm holds another mission in a higher regard. "We really try to stay true to our values, which are to provide the best protein powders and supplements," Chief Supply Chain Officer Emerson Carnavale says.
The company makes sure to focus on its client service, as well. "If you just do what your customers ask you to do, they'll take care of you," he asserts.
Sunwarrior's history goes back to 2007, when its owners came up with the idea for a vegan product that also enabled them to build muscle. "Little did they know that there were a lot of people like them," Carnavale explains, noting that the company started operations one year later. 
Today, Sunwarrior offers eight lines of products, Carnavale says. "Much of our business comes from our protein lines, he says. "We also have greens, capsule vitamins and liquid vitamins."
Creating a Win-Win
Sunwarrior's recent initiatives have included reworking its packaging. Two years ago, Carnavale says, the company had three types of packages: a Mylar bag, a round tub and a box that contained a bag inside. "Manufacturing, storing and distributing in three different packaging was an operational nightmare," Carnavale says, describing the challenges faced by Sunwarrior with its variety in packaging. 
Although these three packaging styles created a lot of problems operationally, Sunwarrior found that opinions varied about the types of packaging among its retailers and end users. Some retailers liked the tub, while online retailers preferred to buy its products in the bag because they were more ship-friendly, and the boxes really looked good on the shelves. 
"But we knew we couldn't continue down that road," Carnavale says. "It made no sense!" He explains that the company needed to drive change.
"So we started a year-long market analysis and research on what would be the best packaging. It was a tremendous team effort," Carnavale recalls. "We included everyone in supply chain, marketing and sales in trying to address this issue from all angles." 
He notes that Sunwarrior's most important consideration belonged to its customers. "We do business in over 40 countries, so we had to take into consideration what our customers from outside the United States expect from us as well." Sunwarrior set its project's success target on achieving three goals: make its customers happy, reduce its footprint in the environment and reduce costs. 
What Sunwarrior eventually developed was a square tub container that is molded from recycled plastic. "It is shorter and skinnier than the older tub," he says, noting that it combines the best traits of all three packages. 
In addition, this new package will allow Sunwarrior to achieve its three main goals. "We nailed on all three," Carnavale says.
Square is The New Cool
The new square tub has won great acceptance from Sunwarrior's customers. "It is easier to close once opened, and it is very easy to hold – contrary to our previous box that was big and awkward," Carnavale says. 
Sunwarrior's customer base largely consists of women between the ages of 18 and 45 who are very health conscious, he says. "We needed to create a packaging that our customers could easily handle and store," he states.
This move was also very positive to Sunwarrior retailers. Sunwarrior's main channels of distribution are brick and mortar health food stores, and online retailers. "It appeals to the retailer because it is very easy to stack and occupies a lot less space on the store shelves – plus it is unique," Carnavale says. "Our online retailers like it because of its smaller size and durability during shipping."  
Illuminate Our Planet
The new square tub was designed with the planet in mind. "We wanted to make a positive impact in helping reduce wasteful materials," Carnavale says, noting that the new square tub is comprised of recycled plastic from discarded milk jugs.  
The new packaging also meant that creating its delicious protein powder became much easier and efficient, and it requires a lot less resources. "With one packaging, we were able specialize our manufacturing facilities and processes," Carnavale explains.
"Also, in our bulk and pallet utilization, we were able to increase the amount we could load on a pallet by 45 percent," Carnavale says. "We really nailed that on the logistics end." 
This huge improvement in pallet cubic utilization also will reduce Sunwarrior's CO2 emissions by 72 metric tons in 2015. "With better pallet utilization, we don't need as many trucks," Carnavale explains. 
Cost Savings
The cherry on top for Sunwarrior came when it realized that, by meeting its first two goals, it would enjoy some significant cost savings. "The design and shape of the tub plays a huge role in how it reduces our costs," Carnavale says, noting that the new packaging has allowed Sunwarrior to reduce shipping, manufacturing and storage costs. 
"Our old packaging created dimensional weight challenges for our small parcel shipments," Carnavale explains, noting that it also limited sales of Sunwarrior products through its online retailers. 
"The boxes were bulky and expensive to ship," Carnavale says. "Now our new packaging has a 1:1 ratio of dimensional and actual weight which is fantastic for small parcel shipments."
The new packaging has also had a tremendous impact in Sunwarrior's international business. When commenting on the impact of the new packaging in the international business, Carnavale says, "We are now able to fit 25 percent more product into a shipping container."
Sunwarrior also reduced its manufacturing costs by an estimated 10 percent due to the efficiencies gained in the manufacturing process. 
Carnavale joined Sunwarrior in December 2013, after working for multiple firms, including UPS, Honeywell Aerospace and Henkel Corp. "I've always been in supply chain," he says.
He credits Sunwarrior's success to its ability to manufacture products its customers really want. "We are crazy about quality," Carnavale says. "We go above and beyond to get the best ingredients. Everything we use is natural and comes from the ground. It's as green as it could possibly be."
He sees a strong future for Sunwarrior, particularly after the redevelopment of its packaging. "We have all of our ducks in a row now," Carnavale says. "We have a brand that really speaks to what the company believes. 
"I think Sunwarrior is in the right place to grow in 2017, 2018 and beyond."