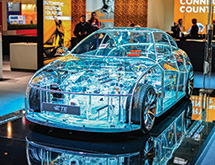 TE Connectivity is focused on integrating its supply chain by developing cost-saving opportunities, shortening lead times and increasing flexibility to meet customers' demands. "In general what you can see happening is everything goes quicker and quicker," Chief Procurement Officer and Vice President, Global Procurement Niklas Hamnstedt says. "Lead time requirements and our ability to respond to customer requests more quickly are being elevated over time here."
The Schaffhausen, Switzerland based B2B company manufactures connectors, sensors and electronic components to meet connectivity challenges in a wide array of environments and conditions. TE's products deliver power, data and signal more efficiently and allows technology to more accurately react to the environment around it. 
"TE products are built to perform in the toughest, harshest environments created by humans and nature," Hamnstedt explains. "What we make works in severe conditions, from factories operating at full capacity to the crushing pressure of the deep sea. More than 80 percent of our revenue comes from products made for harsh environment applications." 
TE is expanding the possibilities and promise of the Internet of Things by advancing the connectivity of devices, systems and services. "From the Mars Rover to subsea communications networks, electric cars to wearable fitness trackers, smarter appliances to smarter buildings, our connectors, sensors, antennas and other products are helping to make the future more connected," Hamnstedt says. 
The company also is focusing on developing the sensor business by strengthening its capabilities and resources. TE Connectivity produces 24 billion parts per year that range from small pieces inside handheld devices to two-meter long components for high power applications. The procurement department manages $6.4 billion on direct and indirect commodities, with the main categories being metals, electronics and resins. 
Implementing Change
"We continuously focus on being strategic and proactive in our approach," Hamnstedt adds. "When I joined TE in 2010, it was clear that there was opportunity to upgrade our approach to procurement. By being more proactive, we are 'preventing fires instead of fighting fires' and the key to success for all that is strengthening our team." 
Building a strong team required TE to invest in recruiting and training, establish career paths, develop best practices and cross-train its employees. A procurement council was created to review initiatives and ensure alignment with internal policies and procedures while also sharing best practices across the different business units within the company. We created a strategic vision and developed action plans to address the gaps in terms of people, processes and infrastructure.
In 2008, TE implemented TE Operating Advantage (TEOA), an initiative focused on lean practices that started in manufacturing and spread throughout the company. "We were the third department to roll out TEOA, which is based on continuous improvement and lean principles," Hamnstedt says. "For procurement, lean means that you focus on eliminating waste in every process and ensuring standard work processes are being used across the function. 
"It can include anything from how one stores information and transfers knowledge between team members to how to engineer a complete supply chain for the best performance." 
A baseline was established and each department was measured against it to determine what improvements needed to be made. 
One of the ways TE increased efficiency and found cost savings was by outsourcing the tactical work within indirect material procurement. The company outsources to a third-party that operates service centers in India, China and Romania. "It was a massive change in 2013 to roll that out, get all the plans connected with the service centers and build confidence in the services they provided," Hamnstedt explains. "Our strategic team that previously was bogged down by tactical issues, now could focus on driving productivity to the next level. With this decision, we had more time to spend on strategic procurement matters and thereby drive supplier consolidation, improve supplier performance and provide better service to our internal stakeholders."