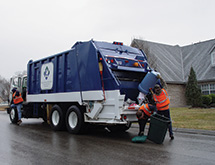 Everybody has garbage, but if you had a choice of being in the business of picking it up, wouldn't you want to be the best company in town that offers solid waste services? That is the plan for Waste Connections Inc. "Our strategy is we want to be the No. 1 or No. 2 player in our markets and make a positive impact in the communities in which we operate," Vice President – Maintenance and Fleet Management Gregory Thibodeaux declares. "We focus more on non-urban markets; that's our niche. I don't see that changing because it works for us."
For example, Waste Connections just acquired a company named Rock River Environmental Services Inc. that is in a very large secondary market, Rockford, Ill. The city has a population of more than 150,000 and is a one-and-a-half hour drive northwest of Chicago. Waste Connections does not plan to offer its waste disposal services in a large city such as Chicago.
Waste Connections' second strategy is to be vertically integrated where it is strategically needed to maintain the lowest operating cost position. "The most important thing is that when we do an acquisition, we want it to be vertically integrated, where necessary," Thibodeaux says. "The reason for that is we want to be able to take the waste to our own facilities. This Rockford acquisition came with two landfills, five hauling companies and two transfer stations. We handle everything from the point of origin to the point of disposal. We do have some markets that aren't vertically integrated due to their regulatory structures." Waste Connections owns approximately 60 landfills nationwide.
Tablet Roll-out
Waste Connections handles commercial, industrial and residential solid waste throughout the United States. The company does not specialize in disposal of electronic waste such as computers, monitors or cell phones. "We allow our customers to bring it to us, but we have a third party that picks it up," Thibodeaux says. "It's a service we offer our customers."
The company has no warehouses or distribution centers – it picks up solid waste and disposes of it directly. In January 2015, Waste Connections began rolling out a tablet computer-based system to one fleet of drivers at a time as part of a multi-year project. The tablets will have GPS capabilities and provide much of the record-keeping capabilities the drivers will need.
So far, the tablet system has been provided to approximately 25 to 30 of the company's operations. Waste Connections has a total of approximately 170 fleet locations. "Converting about 170 will take some time," Thibodeaux concedes. "Acceptance debugging is going very well. That's why we're doing one operation at a time. We have a specific team of corporate operations and IT people to assist the field in this process to do the installs and train all the drivers in how it works so it's a smooth transition. It's too big of a change to go from paper to electronic and just throw the whole company on at one time. We could get it done a whole lot faster, but it's dangerous. We want to take the time to roll this out efficiently and train the drivers correctly."
Thibodeaux estimates the rollout will be completed by June 2018. The trucks will continue to use the DriveCam video recording system, which archives views of the road ahead when an accident occurs.
Fleet and Service
Waste Connections has approximately 550 service mechanics company-wide that work at the company's 170 fleet operations. The company's fleet of approximately 4,000 routed garbage trucks and from 25 to 30 130-barrel oil tankers are maintained and repaired by these employees, although heavier repairs such as engine or transmission rebuilds are usually sent to third-party mechanics.
Thibodeaux also oversees the maintenance and purchase of approximately 2,200 pieces of heavy construction equipment used in Waste Connections' landfills. He supervises the writing and development of the company's maintenance programs and the placement of four maintenance managers company-wide.
Approximately 10 percent of the fleet is replaced every year, which works out to each vehicle being driven for eight to 12 years depending on the severity of its use and the amount of automation. The vehicles are mostly purchased new and usually do not carry the Waste Connections logo. "Our business model is that when we buy a privately held company, we don't change the name because we believe it's a local business and these names have tremendous local brand equity," Thibodeaux explains.
"There's very few of our operations that are actually called Waste Connections," he continues. "The only reason we have some operations that are Waste Connections is because they were purchased form a publicly traded company, from one of our partners, so we had to rebrand the assets. That would be the only reason – the majority of our fleet across the country keeps the local name. There's very little return to the shareholders by changing the name." For example, the company's recent acquisition in Rockford, Rock River Environmental Services Inc., will retain its name.
Disciplined Execution
Thibodeaux attributes the company's success to its "discipline in executing what we set out to obtain." The company's niche, culture and employees also are crucial to its success.
Waste Connections faces a shortage of its specialized trucks. "Probably one of the biggest challenges we have had over the last couple of years is the availability of our hauling company equipment," Thibodeaux declares. "The waste collection industry is slowly growing, but the reality is that the manufacturers of the equipment that we use aren't necessarily growing at the same pace. So we have to really plan strategically as to how we're going to deploy capital."
For the future, Thibodeaux expects Waste Connections' growth to continue. "We're hoping to continue our current pace of expansion and are looking for opportunities in those secondary markets that make sense for us," he concludes.