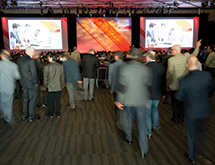 Today's supply chain executives aren't simply being asked to do more with less; they're expected to develop new approaches that get better results faster – while cutting cost and increasing profit. In an era of fast-moving upstarts and collaborative business models, supply chain is the nexus of a company's transformation. With changes necessary across operational and technical siloes of old, more than 2,000 supply chain professionals descended on San Jose, California, in late January for Oracle's Modern Supply Chain Experience (formerly Value Chain Summit) to explore new approaches and network with peers from around the world.
The supply chain challenges of today are a bit ironic, according to Oracle CEO Safra Catz. "While supply chain systems are absolutely what helped revolutionize our world and enable our global competitiveness, these same systems are now holding us  back," she told attendees during a panel discussion. 
Simplify
Just seven years ago, Oracle didn't really have a supply chain to worry about. It was a database and software company selling products that were delivered over the Internet (and occasional physical media packs). 
Then one of its competitors made a move to acquire Sun Microsystems – and Oracle saw a big opportunity.
"We thought we should do this [acquire Sun] because it was necessary to be completely in charge of our supply chain – for cloud ultimately, and in the meantime for engineered systems," Catz said. But the hardware business was a whole new game, with a complex global supply chain to be managed – and significantly streamlined.
"It was an exciting first 12 months," said Cindy Reese, who joined Catz onstage. Now Oracle's senior vice president of worldwide operations, she previously held that same position at Sun. 
Catz met once a week with Reese and hardware engineers to review bills of material line by line. Processes and products were standardized. Offerings that weren't selling were eliminated.
That activity went on for three years and saved $110 million. None of this would have been possible by doing a little around the edges, Catz emphasized, which is why collaboration between operations, development, the business and IT was critical.
Since then, standardized processes have proven critical to Oracle. "When we do an acquisition, we change them to our standard processes and it just runs," Reese said. "It's the gift that just keeps giving. We're not fundamentally changing the business that we bought, but we recognize that complexity costs a lot of money." 
Move to the Cloud
With today's competitive pressures for speed and agility across a global supply chain, many companies are taking a similar look at their systems and processes. 
On-premises applications that were designed and built in an era of slower change are proving to be a hindrance to executives' ability to move forward. Often these applications use customizations that make updates difficult, lack modern analytic capabilities and don't offer a modern user experience.
Small wonder that 80 percent of organizations are already leveraging the cloud for some part of their supply chain, or are considering it within the next 12 months, according to Rick Jewell, senior vice president, Applications Development at Oracle.
"We are on the precipice of a major sea change in supply chain," Jewell said during his keynote. "We believe that at some point in time, 100 percent of customers [will] migrate to the cloud."
Jewell highlighted some advantages that cloud provides for the supply chain:
•Agility in times of volatility; 
•Lower total cost of ownership in a world of unpredictable, rising costs;
•The ability to gain new capabilities without complex processes; and
New Worlds
In addition to new, more flexible systems and processes, there are two more trends critical to supply chain: the potential for collaboration with the maker movement, and the coming talent shortage in the industry.
Ayah Bdeir, founder and CEO of LittleBits, which offers electronic building blocks for inventors, described the challenges she faced to get her company launched. Despite an engineering background, it took more than two years to get her initial components produced.
"I knew what I wanted, and I could speak the language because I was an engineer," she said in her keynote. "Today, we are seeing a generation of inventors that don't have that background."
LittleBits is both an example of and a huge enabler for the maker movement, which is comprised of independent inventors, designers and tinkerers. Supply chain organizations are now working with makers in a variety of ways.
In the conference exhibit hall, a popular area was where attendees could watch makers at work building prototypes, robots and solar devices as well as demonstrating 3-D printing. Among these was a bike designed and built by S-Works using 3-D printed components. That bike has proven to be 120 seconds faster in a 40-kilometer ride than recent Tour de France-winning bikes. 
But in addition to looking for ways to harness such creativity externally and internally, supply chain organizations are also looking for ways to attract more young professionals into the industry.
"Half of the leadership is going to retire in five to 10 years, so who's going to replace these people?" said Rich Kroes, director of sustainability strategy at Oracle. According to the 2015 MHI Annual Industry Report, companies will need to fill 1.4 million new jobs in the logistics and supply chain field by 2018.
Among the possibilities for those slots were more than 80 students majoring in supply chain-related areas invited to the conference by Oracle. With three days of networking with Oracle employees, partners, and supply chain customers, the students – many who already have work experience with the likes of Boeing Commercial Airplanes, Pepperidge Farm and freight-forwarding company Savino Del Bene USA – got an in-depth look at where the industry is headed.
And while many of the students said they knew there was a range of opportunities in the field, they were excited by the ways technologies like big data analytics and sensors are changing supply chain management – as well as customer expectations for sustainability and 24/7 product tracking.