Allen Brothers Wholesale Distribution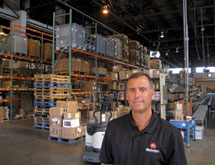 Allen Brothers Wholesale Distribution has come a long way since it was founded in 1910 in a South Philadelphia row house. Defined by an ability to adapt to the changing environment of its customers and vendors, Allen Brothers has managed to handle the uncertainty of the recent economic turmoil by being flexible.
"Tobacco tax increases, challenges with fuel, and the change in consumer spending habits are issues that our customers have been dealing with," said Jeff Allen, Allen Brothers president. "We pride ourselves on adding new lines and bringing many new products into our facility so we can service our customers fully."
With a 60,000-square-foot distribution facility and about 85 employees, Allen Brothers serves more than 1,200 convenience retailers. It also serves hotel/hospital gift shops, liquor stores, drugstores, country clubs, supermarkets, grocery
stores, and schools. Its three primary states are Pennsylvania, Delaware, and New Jersey, and the company reaches into parts of Maryland, New York, Connecticut, and Washington, DC.
Mixing it up
As most of its customers are independent convenience retailers, Allen Brothers knows it has to stay ahead of industry evolution to help clients adjust to bumps in the road. Such is the case of declining tobacco sales. What was once the most profitable item in the store is no longer reliable. Allen Brothers has added product lines and programs that have helped customers generate new revenue streams, mostly around food.
"Convenience retail is all about food, like breakfast on the go, heat-and-eat sandwiches, and lunchtime meal replacement," Allen said. "We carry a lot of those types of products, from pastries all the way to traditional frozen meals and dinners. Our frozen food lines are geared toward the c-store."
In addition, the company made a recent acquisition that added about 1,000 SKUs that cater to the small independents. In July, Allen Brothers announced the acquisition of Arleen Foods. Founded in 1938, Arleen Foods specializes in the frozen and refrigerated sectors as well as dairy products, ice cream, grocery, candy, and ethnic foods.
"The acquisition allowed us to add traditional supermarket frozen and refrigerated foods. Some neighborhoods don't have great supermarket access, and people head to bodegas and small retailers for daily grocery needs," said Allen. "This is an opportunity to continue expanding our product mix. It also improves our ability to fully serve traditional food markets, supermarkets, and neighborhood grocery stores."
Getting technical
Of course, the right product mix is only part of operating a successful wholesale distribution company. Allen Brothers has also found ways to improve and enhance internal operations wherever possible. With a widespread coverage area and a fleet of 20 trucks that includes tractor-trailers and refrigerated trucks, the use of a Trimble web-based software system allows management to monitor trucks through satellite and GPS tracking. The system helps oversee deliveries and ensures driver safety.
The company also uses Esri's ArcLogistics routing software
to optimize delivery routes and schedules. In addition, Allen Brothers has computer systems that ensure the picking and packing accuracy of deliveries, monitoring picking and receiving as well as allotted taxes for the states the company trades in.
The company is already using ProCat's TaxRight and PickRight software, and it will be implementing ShipRight and ReceiveRight as well. These investments ensure smooth operating procedures, which saves time and money for Allen Brothers and its customers.
"A lot of our scan technology has centered on improving efficiency and accuracy for store owners. One problem they face is inaccurate picking and missing items. If they have to reorder, that creates lost sales on their part and overhead on our part," said Joe Shott, VP and operating partner. "Technology can eliminate that because every item is scanned and barcode-read before going into a container, drivers scan them at the loading level at the store, and everything is tied into a reporting system that lets us see if products are picked properly or not."
"We have 7,000 SKUs, and accuracy would be much harder without the PickRight software," added Allen. "Adding the final pieces of software will integrate routing software with picking software and tie it to the delivery to close the loop on the whole process."
All of the company's software is run through its main Activant operating system, a distribution technology system that allows Allen Brothers to manage everything from financials, inventory, order management, and point-of-sale to customer relationship management, warehouse operations, transportation, and logistics.
More changes in store
With so many changes in the wholesale environment, Allen Brothers has found ways to improve relationships with vendors as well. The company hasn't changed its philosophy and identity to suit vendors, but it has adapted to their needs, working with manufacturers' programs to maximize efficiency and profitability.
"We embrace vendor programs and work to perform for them because that will benefit everyone," said Allen. "We don't look at programs as something we have to do; we look at them as opportunities to perform and be rewarded for that performance."
The company is right now enhancing and redesigning its facility so it can increase frozen and refrigerated space from 6,000 square feet to around 11,000 square feet. Allen said the company is always looking several years down the road to make sure it has enough room for new business and product lines.
Another initiative is focused on the company's Internet presence. Allen Brothers is working on a website that will be more interactive and provide retailers with a portal for access to account information, real-time pricing data, and access to reports.
As the industry has been in consolidation mode lately, Allen Brothers is no stranger to change, nor is it timid about expansion, having acquired six companies in recent years. But Allen Brothers will only make acquisitions that help it adapt to industry movements and improve service to customers.
"We think we're in a good position right now and will consider any acquisition that allows us to exceed the level of service that we have provided in the past," Allen concluded.