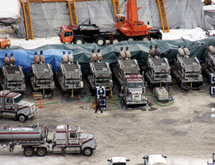 Encana Corp., the Canadian leader in natural gas and oil exploration, has implemented ways to reduce supply chain cost without compromising employee or environmental safety. In fact, the company encourages collaboration across the entire supply chain to reduce costs and increase safety and environmental performance.
That spirit earned the company several awards in 2012. Encana was ranked among the world's most ethical large companies by the Ethisphere Institute. It also was selected as one of Canada's top employers for young people by the editors of Canada's Top 100 Employers, and it was ranked 76th overall in the 2012 Global 100 Most Sustainable Corporations list, based on its 2011 environmental, social and governance performance.
All that was achieved in spite of low natural gas prices and increased competition in the industry. One of the ways the company stayed competitive in the market was by establishing a "resource play hub."
Kevin Smith, team lead for Encana's supply chain, explains that his company put this system in place "because it allowed us to leverage our technology and focus on operational efficiency, and it allowed supply chain management to increase its influence and bring value to the table."
Promoting Well-being
The resource play hub fosters technological innovation and company-wide collaboration to achieve long-term capital and operating efficiency and promotes shareholder value. "Traditionally, companies would go in and do one well at a time, execute them and move on," Smith explains. "The new model tried to do it in a repeatable fashion, which opened up the opportunity to leverage the expense of the company and lower the cost." A clear example of the new model was the way Encana approached working in remote locations. "The traditional industry approach was that each function within the organization would mobilize a hotel-type environment in the middle of nowhere," Smith says. "The seismic guys would be in very early on, do their work and leave. The next team from the company would come in, drill their wells and mobilize their team and so on. That would continue until operations shut down a location multiple years in the future."
Smith's team with its internal stakeholders identified that model as highly inefficient and set out to establish a model that would improve employee well-being, safety and lower the cost per worker for Encana.
"We came up with a larger-scale camp from where everyone would operate," he says. "The cost to have a guy in camp went from $300 to $200 per day. We also gave them a safer place to live by putting bear fencing around the place and managing access to the location."
Encana also made sure to monitor drug and alcohol use and provide some creature comforts such as recreation and good food. "That is really important when you are in the middle of nowhere and that is the one thing you have to look forward to after 12 hours working outside," Smith adds.
Change Pioneers
Smith thinks one of the main things that separates his company from others in the industry has been its willingness to be an early adopter. "We have been pioneers in many ways," he says. "For example, we were one of the first companies to have electronic invoice approval – 98 percent of our invoices are presented electronically."
The company was also one of the first companies in North America to purchase oil well casings directly from the mills. "Traditionally mills didn't want to sell to end-users and users wanted to have a distributor in the middle, we changed that," Smith says. The mills quickly realized that a mill-direct relationship allowed them increased visibility of demand, allowing them to plan their production runs in an optimal way.
Encana was also one of the first suppliers to manage a rig fleet on a companywide basis as opposed to by rig basis. "That enabled us to go to a supplier and pool our demand and manage a fleet of rigs as opposed to managing one contract at a time, which gave us flexibility, and for the supplier the resource play hub model provides load leveled utilization," Smith notes.
Smith notes that oil and gas industries are not traditionally supply chain leaders, so Encana is looking at industries that are notable for best practices in the arena to benchmark itself against.
"We looked at supply chain leaders outside of our industry, such as automobile manufacturers like Honda," he explains. "We took one of the things they were doing – engaging suppliers early on in the development of a new car model, which had an impact in the final cost of the car – and we looked at comparable drivers when designing a new well."
Encana is constantly coming up with new ideas on how to complete a job more efficiently. "From a supply management side, we look at suppliers that have the knowledge to be engaged in the process early on," Smith explains. "The other piece we're trying to do is integrate some of our continuous improvement initiatives and make that part of the process, so when I meet with suppliers, that is one of the things we emphasize."
Smith says he sees Encana continuing to improve its supply chain capabilities and remaining a pioneer in its industry and an example of efficiency for other companies to follow.­­­